Follow-up
Further Outpatient Care
Continued, possibly lifelong, follow-up care of peripheral ulcerative keratitis (PUK) is necessary even after complete resolution since relapses may occur. Furthermore, many patients may require prolonged systemic steroid, nonsteroidal anti-inflammatory, and/or chemotherapeutic medications for the systemic disease despite a quiet eye.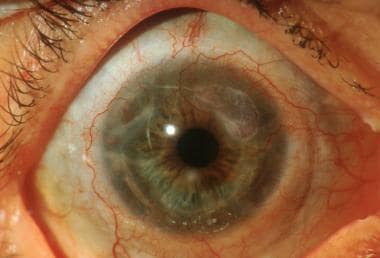 Same patient as in previous image, 1 year posttreatment.
Complications
Ocular complications include corneal scarring and neovascularization with irregular astigmatism, corneal thinning and perforation, loss of vision, and even blindness.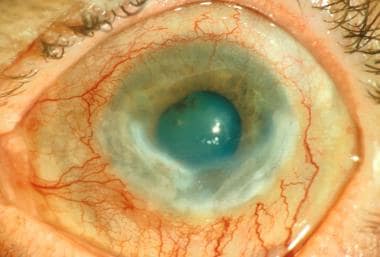 Left eye of same patient as in previous images. Note the corneal thinning and scarring.
Prognosis
In patients with collagen vascular diseases, peripheral ulcerative keratitis (PUK) with necrotizing scleritis is associated with poor life expectancy because of the presence of subclinical systemic vasculitis.
Patient Education
Inform patients about both ocular and systemic components of the disease, treatment options, and possible complications. Emphasize lifelong follow-up care.
For excellent patient education resources, visit eMedicineHealth's Eye and Vision Center. Also, see eMedicineHealth's patient education article Corneal Ulcer.
What would you like to print?