Treatment
Medical Care
Local treatment of peripheral ulcerative keratitis (PUK) is aimed at preventing or reducing corneal damage. Systemic therapy is aimed at controlling the underlying disease. A goal is reepithelialization of the epithelial defect to halt progressive corneal ulceration.
Surgical care may be combined with adjunctive local therapy with topical 1% medroxyprogesterone (which inhibits collagenase synthesis) or topical 20% N -acetylcysteine (a competitive inhibitor of collagenase). Lubricating drops, gels, and ointments and antibiotic drops or ointments can be helpful in aiding reepithelialization.
Topical steroid use is not recommended and should be used with caution in the treatment of patients with PUK associated with systemic disease because it may aggravate corneal melt due to collagen synthesis inhibition. However, some physicians would recommend its use only if the extent of corneal involvement is less than 2 quadrants and/or if stromal thickness is more than 50%. [39]
Systemic collagenase inhibitors (tetracycline 250-mg tab qid or doxycycline 100-mg tab bid) may help slow the progression.
Some physicians recommend oral vitamin C given at 500 mg 4 times a day to facilitate corneal healing. [39]
There is limited experience in the use of topical cyclosporine [40, 26] and topical tacrolimus. [41] Topical cyclosporine combined with lamellar keratoplasty (see Surgical Care) was noted to improve the healing rate in Mooren ulcer. [42] However, an underlying systemic vasculitis is not addressed with this route of treatment.
Many studies have documented that patients with PUK who have associated systemic diseases have recurrences following localized temporizing treatment unless they are given adequate systemic immunosuppressive therapy. To address the underlying problem, both systemic steroid and cytotoxic immunosuppressive medications have been used, alone or in combination, and are effective at controlling ocular and systemic inflammation. Immunosuppressive agents have been indicated for management of the following:
PUK associated with necrotizing scleritis with vasculitis based on histopathologic analysis

Bilateral and/or progressive Mooren ulcer

PUK unresponsive to aggressive conventional medical and surgical therapy
Cyclophosphamide is the drug of choice for almost all PUK associated with a connective tissue disorder. The intravenous route has been used with success in PUK associated with rheumatoid arthritis. [43] Methotrexate (MTX), azathioprine, cyclosporine A, and chlorambucil have been found to be effective. [8] High-dose oral prednisone may be started, while the chemotherapeutic agents take effect after 4-6 weeks. When local or systemic infectious causes are suspected, therapy must be aimed at eliminating the infectious organism using the appropriate antibiotic medications based on clinical presentation or culture.
The use of the tumor necrosis factor alpha (TNF-alpha) antagonist infliximab has been reported to be effective in rheumatoid arthritis-associated PUK cases refractory to the above conventional immunomodulatory therapy. [44, 45] For its use in treating PUK in Crohn disease, see Pham et al. [46] Adalimumab, a human monoclonal antibody against tumor necrosis factor, has been used with success in combination with other immunosuppressives to treat RA-associated PUK. [47]
Rituximab, a chimeric monoclonal antibody directed against the CD20 protein found in B cells, has been used in treatment-resistant PUK in GPA [48] and RA [49] , and was noted to have the highest success rate in achieving steroid-free remission in GPA-associated PUK. [50]
Early use of immunosuppressive therapy (within 4 weeks of disease onset) in RA-associated PUK were noted to have earlier inflammatory control, fewer recurrences and better visual outcomes. [51]
Surgical Care
Tissue adhesives, such as cyanoacrylate glue, are recommended for use in impending perforation and perforation size smaller than 1-2 mm. [6] Adhesive application follows keratectomy and conjunctival resection to remove sources of collagenase, cytokines, and inflammatory cells from the ulcerated cornea, temporarily preventing further stromal loss.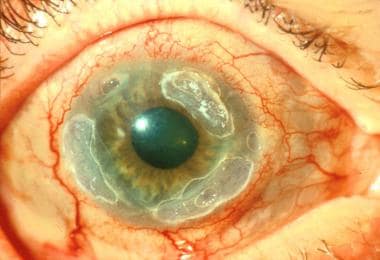 Peripheral ulcerative keratitis in the right eye of a patient with rheumatoid arthritis. Cyanoacrylate glue has been placed.
Application of a bandage contact lens prevents discomfort and dislodging of the adhesive. [6]
Amniotic membrane transplantation has been used in the management of Mooren ulcer. [52] Amniotic membranes have properties that promote rapid healing and reduce inflammation by sequestering inflammatory cells infiltrating the ocular surface. [53, 54] However, they may have a limited role in treating eyes with severe ischemia (eg, rheumatoid arthritis). [55] .
In severe cases of peripheral ulcerative keratitis (PUK) associated with membranous endothelial exudation, anterior chamber washout may be combined with amniotic membrane transplantation. [56]
Tectonic procedures, including lamellar keratoplasty, penetrating keratoplasty, and corneoscleral patch grafts, are performed as needed to maintain the integrity of the globe when corneoscleral perforation is imminent or has occurred.
The corneoscleral rim of donor grafts have been used in partial lamellar keratoplasty and may be an alternative in areas where donor corneas are scarce. [57]
Visual results of corneal transplantation may be disappointing. However, corneal clarity may be maintained with good visual outcomes when accompanied by aggressive systemic anti-inflammatory therapy in selected patients. [17]
A novel technique using a limbal advancement technique has been described in the repair of corneal perforation in Mooren's ulcer. The tissue used to cover the corneal perforation is a pedicle of the limbus, sclera and conjunctiva. [58]
Consultations
Referral to an appropriate specialist may be necessary. In patients with connective tissue diseases, comanagement with a rheumatologist is necessary to address the systemic disease. Pulmonary, nephrology, cardiac, hematology, and infectious disease consults may be necessary depending on the patient's symptoms and laboratory findings. Regular consultation with an oncologist may be necessary for those patients who are receiving chemotherapy.
Activity
Decreased visual acuity and systemic disorders may be limiting factors.
What would you like to print?