Treatment
Medical Care
Medical care for patients with megalocornea includes correction of refractive error and thorough evaluation for findings of anterior megalophthalmos. Also, routine examination for the development of cataracts and glaucoma is necessary.
Surgical Care
Surgical amelioration of glaucoma and cataract is performed when necessary.
Cataract is common with megalocornea, and the cataract surgery is difficult. The zonules supporting the lens capsule surrounding the cataract are often weak. Weakened zonules make it more difficult to support an artificial intraocular lens (IOL). This leads to increased surgical complications, such as vitreous loss and loss of lens material to the back of the eye during cataract surgery. [4, 5, 6]
The large size of the anterior segment makes IOL selection difficult as standard IOLs are too small. A standard lens will often not work. Oetting and Newsom at the University of Iowa reported on the use of a special IOL called the Artisan lens (see the image below) that clips onto the iris. [7]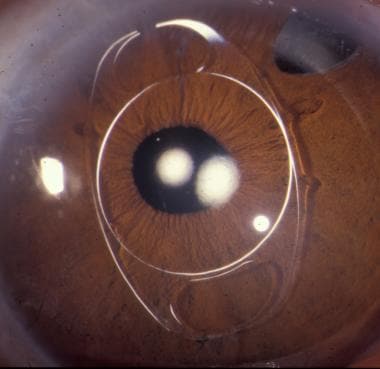 Megalocornea patient with Artisan lens.
Because this IOL clips onto the iris rather than fitting into the angle, it allows for a safe and stable placement, even with the large anterior segment. Basti and colleagues reported using suture based iris fixation to allow placement of a standard IOL in these large eyes. [8]
Consultations
What would you like to print?