Workup
Approach Considerations
Diagnostic workup of a patient with congenital corneal clouding or opacity begins with a detailed maternal obstetric and perinatal history, family history, and systemic examination. A thorough ocular examination often requires general anesthesia with slit-lamp examination, measurement of corneal diameter and intraocular pressure, gonioscopy, refraction, and dilated fundus examination. A-scan, B-scan, and ultrasound biomicroscopy may also be required.
Laboratory Studies
Corneal clouding is a clinical and not a laboratory finding unless it is due to mucopolysaccharidoses.
If MPS VI is suspected, quantification of glycosaminoglycans (GAGs) in the urine and measurement of N -acetylgalactosamine-4-sulfatase (ARSB) activity in leukocytes may be warranted.
In addition to the mucopolysaccharidoses, the differential diagnosis of bilateral corneal stromal opacification includes HDL-deficiency diseases (eg, LCAT deficiency, Tangier disease, fish-eye disease), Schnyder crystalline stromal dystrophy, cystinosis, gout, and mucolipidoses. Scheie syndrome (MPS I S) may easily be detected by finding alpha-L-iduronidase deficiency in leukocytes and increased mucopolysaccharide levels in the urine.
Imaging Studies
The imaging studies below may be performed depending on the physical findings to assess for conditions that may accompany corneal clouding.
Photoscreening is designed to detect abnormalities in children's eyes, particularly abnormal refractive errors, which can lead to amblyopia. Photoscreening can also be used to detect congenital glaucoma. Newborn PCG can be recognized at birth because of the associated corneal opacification. The evaluation of congenital glaucoma should include the following: a complete eye examination, including anterior segment evaluation, with slit lamp biomicroscopy (see image below), funduscopy, tonometry, and gonioscopy.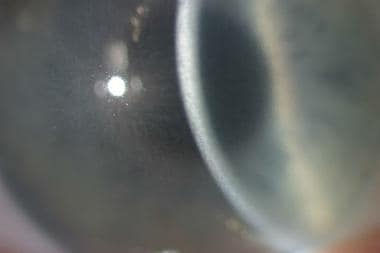 Congenital stromal dystrophy. The cornea is particularly opaque in the anterior stroma by slit-lamp biomicroscopy. Courtesy of Wikipedia (© 2009 Klintworth; licensee BioMed Central Ltd).
Ocular examination of a patient with congenital glaucoma can reveal anterior segment abnormalities of the cornea, iris, and filtration angle as well as related elevated IOP. A-scan ultrasonography can reveal an enlarged globe (buphthalmos). Genetic analysis can be done to detect syndromes associated with congenital glaucoma.
Gonioscopy can be performed with a Koeppe lens. IOP can be measured with an applanation tonometer. Photographs can be taken of the anterior segment and all 4 quadrants of the iridocorneal angle to record the presence of abnormalities. The iridocorneal angle can be graded according to the classification proposed by Spaeth.
Tonometry is an essential component of the examination but can be the most difficult part of the examination with a fractious child.
Inspection and examination of the anterior segment are facilitated by the use of a penlight and a handheld slit lamp, which allow maneuverability regardless of the child's position.
The optic nerve head may be examined with a direct or indirect ophthalmoscope.
MRI of the abdomen is indicated to rule out genitourinary abnormalities.
MRIs of the brain and spinal cord are also indicated to rule out neurologic defects.
Echocardiography is indicated to rule out cardiac defects.
Ocular ultrasonography may be useful in assessing other ocular abnormalities. This includes patients with type II and VI mucopolysaccharidosis (MPS) in whom clinically marked corneal clouding is present; measuring the corneal thickness can evaluate intraocular pressure and possible coexistent glaucoma. [26]
Ultrasound biomicroscopy (UBM) is often helpful in the evaluation of anterior segment structures that cannot be observed clearly because of the corneal opacity. UBM and histopathology can play a role in the evaluation of sclerocornea. [27]
B-scan ultrasonography is necessary to evaluate the posterior segment if the corneal opacity is dense and central.
Other Tests
Hearing tests may be performed to rule out hearing abnormalities.
Corneal clouding, as observed by using a slit lamp, may be used in the differential diagnosis of mucopolysaccharidoses. Corneal clouding is present in MPS I, VI, and VII but absent in MPS II.
Procedures
Maroteaux-Lamy syndrome (MPS VI) can be evaluated by means of slit lamp biomicroscopy, Orbscan II slit scanning elevation topography, and in vivo confocal microscopy.
Slit lamp biomicroscopy can reveal bilateral, altered corneal transparency involving the posterior half of the stroma.
Funduscopy reveals bilateral small, crowded optic discs, and radial macula retinal folds.
On in vivo confocal microscopy, the middle and posterior stroma can be visualized and show well-defined, unusually shaped keratocytes. These cells contain single or several hyporeflective regions with well-defined borders 1-11.6 micrometers in diameter. These abnormal keratocytes are particularly abundant in the posterior stroma and sparse in the anterior stroma.
Histologic Findings
Histologic findings depend on the etiology of the corneal clouding.
Histopathologic results are often diagnostic for Peters anomaly. Histologic findings show either thinning or absence of the Descemet membrane or the endothelium. The lens may be normal, or it may be cataractous and adhere to the cornea. The stromal lamellae are irregular and more closely packed. Undifferentiated iris strands attach to the posterior surface of the cornea.
Perry states, "Histopathologic findings include absence of Descemet's membrane, corneal endothelium, and, usually, Bowman's membrane, as well as thinning of corneal stroma. The defects in Descemet's membrane, although usually single and central, may be multiple and isolated to the periphery, or they may be limited to an area of adhesion of iris. Descemet's membrane has been found to have embryonal ultrastructural characteristics combined with attenuated endothelium. The corneal stromal lamellae are more irregular and closely packed when compared to normal stromal lamella." [8]
Histochemical studies have shown absence of keratan sulfate in both the cornea and the sclera.
Immunohistochemical studies have shown increased amounts of fibronectin and type VI collagen in the corneas of patients with Peters anomaly.
In MPS VI B, the histopathologic and ultrastructural features of the corneal button reveal the accumulation of membrane-bound vacuoles containing fibrillogranular and lamellated material in keratocytes and endothelial cells and thinning of the Descemet membrane with excrescences. Other MPS diseases can have other histologic findings.
In sclerocornea, the numbers of collagen fibrils are increased and their diameter varies in the normal corneal stroma. The Descemet membrane appears thin. Scleralization of the collagen fibrils often stops in the pre-Descemet membrane region, permitting deep lamellar keratoplasty.
Histological examination of corneal keloids reveals thick collagen bundles haphazardly arranged, with focal areas of myofibroblastic proliferation. [12]
In dermoids and lipodermoids, the surface epithelium may or may not be keratinized. Bowman membrane is often absent. The stroma is replaced to a variable degree by irregularly arranged, dense, vascularized, collagenous connective tissue containing hair follicles, hair shafts, sebaceous glands, fat, smooth muscle, striated muscle, cartilage, teeth, or bone. [8]
Perry notes that, in congenital corneal ectasia, "Histologically, the corneal epithelium has normal thickness but may be keratinized secondary to exposure. Often, local attenuation of Bowman's membrane occurs. The stroma is thickened, disorganized, hypercellular, and vascularized. A double layer of pigment-containing cells lines the posterior corneal stroma. Usually, no sign of an inflammatory infiltrate is present. Descemet's membrane and corneal endothelium are absent." [8]
In congenital hereditary stromal dystrophy or congenital stromal corneal dystrophy (CSCD), the epithelium is normal. Amorphous areas consisting of thin filaments randomly arranged in an electron-lucent ground substance separate lamellae of normal appearance. [3] Collagen fibril diameter is approximately half the normal size. The keratocytes and the endothelium are normal. The anterior banded zone of Descemet membrane may be absent. [12]
In congenital hereditary endothelial dystrophy (CHED), light microscopy shows diffuse epithelial and stromal edema, defects in the Bowman layer, degenerated corneal endothelium with multinucleated sparse and atrophic endothelial cells, and a thickened laminated Descemet membrane due to abnormal and accelerated secretion by the endothelial cells. Electron microscopy shows multiple layers of basement membrane–like material on the posterior part of Descemet membrane, degeneration of endothelial cells with many vacuoles, and stromal thickening with severe disorganization and disruption of the lamellar pattern. [3]
Posterior polymorphous corneal dystrophy (PPCD), formerly known as posterior polymorphous dystrophy, shows an endothelial cell layer with blebs, discontinuities, or reduplication. Descemet membrane has multiple layers of collagen on its posterior surface that manifest as focal fusiform or nodular excrescences. [3]
What would you like to print?