Overview
Background
In 1950, California ophthalmologist Phillips Thygeson described multiple case reports of an unusual superficial punctate keratitis that he described as a transient, bilateral disease, having coarse corneal epithelial opacities and no associated stromal involvement. [1]
Today, this condition is known as Thygeson superficial punctate keratitis (TSPK). It is a chronic, often bilateral, recurring illness, with relapses over years to decades. Multiple, whitish gray, intraepithelial corneal lesions, with minimal to no conjunctival involvement, are trademark characteristics of the disease.
Although TSPK has a genetic association with HLA-DR3, controversy exists regarding its exact etiology.
Artificial tears, topical corticosteroids, topical cyclosporine, and therapeutic soft contact lenses are the typical treatment methods for the disease, and the success of these treatments varies according to the severity of the disease.
Although vision may be mildly decreased during the active disease, the long-term visual prognosis is excellent.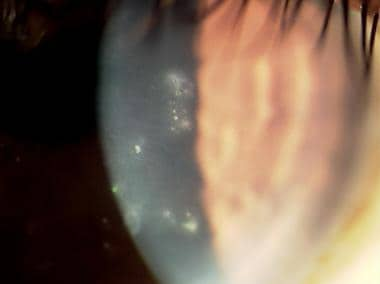 The cornea of a 33-year-old African American man with active Thygeson superficial punctate keratitis (TSPK).
Pathophysiology
A review of the literature suggests the pathophysiology of TSPK remains unclear, although viral and immunogenic components are both likely in the disease's formation.
Epidemiology
Frequency
United States
The frequency of TSPK in the United States is currently unknown.
International
The worldwide frequency of TSPK is unknown.
Mortality/Morbidity
TSPK does not cause mortality and the morbidity of the disease is unknown.
Race
A review of the literature suggests statistics on race for TSPK are currently unknown.
Sex
TSPK has a slight female predilection.
Age
TSPK can affect individuals of all age groups. Cases of TSPK in patients ranging in age from 2.5 years to 70 years have been reported, with a mean age of 29 years. [2]
Prognosis
Regardless of the treatment method selected, the visual prognosis in patients with TSPK is excellent. [2, 3, 4] Visual acuity of 20/20 to 20/30 is maintained in the majority of cases. [5]
Patient Education
Due to the chronic nature of the disease, with exacerbations and remissions, patients need to be educated that their symptoms may recur no matter which course of therapy is followed. Patients on topical steroids need routine follow-up examinations.
What would you like to print?