Overview
Background
Atopy is the hereditary predisposition to allergy or hypersensitivity. Symptoms may present as a dermatitis, hay fever, or asthma. According to Rapoza, Besnier first characterized atopic dermatitis, and many Europeans still use his name to describe the disease (prurigo Besnier). [1] This disease was labeled eczema for many years in the United States until Coca and Cooke coined the term atopy as a skin hypersensitivity seen in patients with hereditary allergies. Wise and Sulzberger have been credited with the term atopic dermatitis to describe a group of diseases associated with atopic conditions that may be seen in all age groups. [2]
See the image below.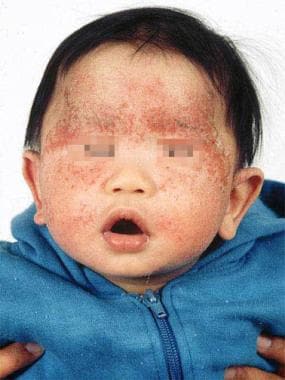 Typical atopic dermatitis on the face of an infant.
Pathophysiology
Atopic dermatitis is primarily caused by cellular immune deficiency and elevated immunoglobulin E (IgE). The pathogenesis can be traced to a genetically inherited, bone marrow–derived cell associated with chromosome 11q. Abnormal skin reactivity also plays a major role in the development of the disease. Irritants to the skin are believed to predispose an individual to develop dermatitis more often than simply exposure to an allergenic trigger. Nonetheless, patients frequently have a history of food or inhalant allergies or eventually develop them. [3]
Epidemiology
Frequency
United States
An estimated 3-12% of the population will be affected at some point during their lifetime.
Race
The highest incidence is in urban areas and in cooler temperature zones, although no clear racial predisposition appears to exist.
Sex
Males appear to be affected more frequently by vernal and atopic conjunctivitis than females. [4]
Age
Children most commonly are affected, with 80% developing the disease before age 7 years. Less than 2% will have an onset after age 20 years. Most sources agree that persistence after age 20 years is uncommon. Only an estimated 10% of patients older than 20 years continue to be symptomatic. [5]
Prognosis
The prognosis is good if the inflammation can be kept under control with therapy. Patients need to understand that atopic disease cannot be cured, but rather controlled. However, some patients have such severe disease that treatment will not prevent vision loss and other potential complications.
Patient Education
What would you like to print?