Overview
Practice Essentials
Pituitary apoplexy is a vision and potentially life threatening disorder with which every physician needs to be acquainted. The diagnosis is based on history, examination, and neuro-imaging. Treatment can vary between conservative management and surgery, which generally is by the trans-sphenoidal route. Prognosis can vary, but is generally favorable if diagnosed and treated in a timely manner.
Background
The word apoplexy is defined as a sudden neurologic impairment, usually due to a vascular process. Pituitary apoplexy is characterized by a sudden onset of headache, visual symptoms, altered mental status, and hormonal dysfunction due to acute hemorrhage or infarction of a pituitary gland. An existing pituitary adenoma usually is present. The visual symptoms may include both visual acuity impairment and visual field impairment from involvement of the optic nerve or chiasm, and also may include ocular motility dysfunction from involvement of the cranial nerves traversing the cavernous sinus. [1] It is important to note that pituitary apoplexy may be divided into hemorrhagic or ischemic, each with unique neuroimaging findings, and some patients have elements of both.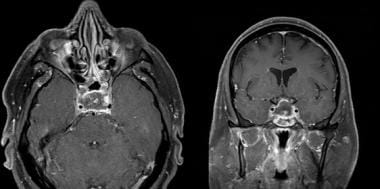 Enhanced T1-weighted axial and coronal MRI showing a large pituitary tumor that has recently undergone ischemic apoplexy showing a necrotic (hypointense) center and ring of gadolinium enhancement (hyperintense), ie, the "pituitary ring sign." There is a small area of hemorrhagic blush in the center of the necrosis.
Pathophysiology
Pituitary apoplexy stems from an acute expansion of a pituitary adenoma or, less commonly, in a nonadenomatous gland from infarction or hemorrhage. The anterior pituitary gland is perfused by its portal venous system, which passes down the hypophyseal stalk. This unusual vascular supply likely contributes to frequency of pituitary apoplexy. It is more common in macroadenomas and nonfunctioning adenomas, and it rarely has been reported in microadenomas. [2]
Some postulate that a gradually enlarging pituitary tumor becomes impacted at the diaphragmatic notch, compressing and distorting the hypophyseal stalk and its vascular supply. This deprives the anterior pituitary gland and the tumor itself of its vascular supply, apoplectically causing ischemia and subsequent necrosis.
Another theory stipulates that rapid expansion of the tumor outstrips its vascular supply, resulting in ischemia and necrosis. This explanation is doubtful, since most tumors that undergo apoplexy are slow growing.
Epidemiology
Frequency
International
Pituitary apoplexy results in an estimated 1.5-27.7% of cases of pituitary adenoma, although the figure is probably closer to 10%.
Mohr and Hardy reviewed hospital records of 664 patients who had surgery for pituitary adenomas. [3] Typical symptomatic pituitary apoplexy occurred in only 0.6% of patients with significant hemorrhagic and necrotic changes in 9.5% of surgical specimens.
Frequency of intratumoral hemorrhage increases to 26% if using only MRI criteria without clinical evidence of apoplexy. However, hemorrhagic pituitary apoplexy may be fatal. Kurisu et al described a 68-year-old man who developed pituitary apoplexy resulting in massive intracerebral hemorrhage and death 1 month later. [4]
Sex
Pituitary apoplexy has a male-to-female ratio of 2:1.
Age
The usual age range is 37-57 years. Pediatric pituitary apoplexy has been described. [5]
Prognosis
Pituitary apoplexy can be a life-threatening condition, and it is not easily diagnosed or treated. When appropriately managed, visual symptoms often improve, but endocrinologic function may remain compromised. [6]
Patient Education
Educate patients about the disorder and the complications that can arise from its treatment.
What would you like to print?