Treatment
Medical Care
Nonsurgical treatment is indicated in patients with excellent or good control of the deviation as measured by normal distance stereoacuity and in young children where the risk of surgical overcorrection is undesirable.
Nonsurgical treatment modalities
Correction of refractive error: All kinds of refractive errors, particularly astigmatism and anisometropia, must be corrected. The associated improvement in visual acuity could be associated with increased fusional ability and better control of intermittent exotropia.
Minus lenses: The lenses stimulate convergence through the accommodative convergence synkinesis and help control divergence. The efficacy largely depends on the patient's AC/A ratio. The larger the AC/A ratio, the larger the effect (ie, patients can compensate for larger deviations). Various studies have reported not only an improvement in quality of fusion but also a quantitative decrease in the angle of deviation. Minus lenses range from –2 D to –4 D; they may be most helpful in younger children with exodeviations of 5-15 PD. A study showed that the overcorrecting minus lenses worked well in children aged 2-17 years and that the average reduction in the exodeviation was approximately 10 PD. [1]
Occlusion: Patching the dominant eye or alternate patching of either eye is suggested to interrupt the process of suppression and to reduce the progression of the exotropia.
Prisms: Base-in prisms may aid control and relieve asthenopic symptoms in small comitant exodeviations of up to approximately 20 PD.
Orthoptics: Convergence exercises improve convergence fusional amplitudes and the near point of convergence. Convergence exercises are indicated for patients with symptoms of the convergence insufficiency type of intermittent exotropia. Near point exercises, prism convergence exercises, and red glass convergence exercises are recommended.
Role of botulinum toxin (BOTOX®) injections in the extraocular muscles to treat secondary exotropia: A study showed good results in 383 subjects with exotropia who were treated with BOTOX®. [2] Multiple injections may be required, but they were well tolerated with no permanent adverse effects.
Sensory exotropia
The most important aspect of the management is to find and/or eliminate and/or reverse a treatable cause of the exotropia. Prisms and botulinum toxin injections do not play a significant role in the treatment of sensory deviation.
Exotropia with neurologic causes and field defects
Exotropia with bilateral homonymous visual field defects: Nonsurgical methods of treatment, such as patching, prisms, or botulinum toxin injections, should be tried before surgical realignment.
Exotropia with bitemporal visual field defects: Nonsurgical treatment includes the use of prisms to increase the separation of images and to avoid diplopia without sacrificing the total visual field.
Surgical Care
Opinions vary widely with regard to the appropriate timing of surgical intervention for patients with intermittent exotropia. Surgery is indicated in the following:
Poor control of the deviation: When the tropic (manifest) phase is present at least 50% of the time, poor control of the intermittent exotropia is indicated, and surgery should be considered.

Deterioration of control of intermittent exotropia: Serial observations of an increase in the size of the deviation, a progressive deterioration in distance and/or near stereoacuity, a loss of control, and a progressive inability to re-fuse after manifestation of the deviation all indicate deterioration of control, and surgery should be considered.

Bothersome diplopia: Surgery is indicated for patients with this condition.

Severe asthenopia: Orthoptic exercises may be tried. If unsuccessful, then surgery should be considered.
Surgical procedures that can be used are lateral rectus muscle recession, recess-resect procedure (ie, lateral rectus muscle recession and ipsilateral medial rectus muscle resection), and bilateral medial rectus muscle resection. Indications for each surgical procedure are outlined in the image below.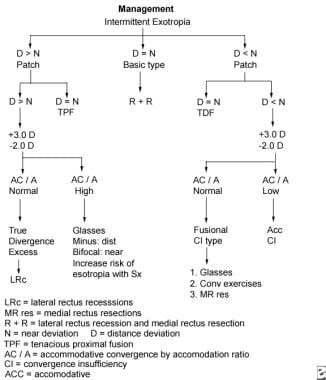 Management options for various types of intermittent exotropia.
A unilateral recess-resect procedure can also be performed in children with exotropia of the convergence insufficiency type where the exodeviation is more at near and less or absent at distance. [3]
Comparison of treatment options for intermittent exotropia have shown that surgery with preoperative orthoptic/occlusion therapy have the highest success rates compared to treatment with prisms alone or horizontal muscle surgery alone. [4]
Since undercorrection is a frequent sequela to surgery for intermittent exotropia, it is recommended that the largest angle ever measured be taken as the target angle for surgery and that the surgical dose be based on this angle. [5]
Sensory exotropia
If possible, surgery should be confined to the eye with the visual defect. The recess-resect procedure (lateral rectus muscle recession combined with ipsilateral medial rectus muscle resection) is recommended. When indicated, the recess-resect procedure should be combined with recession of the conjunctiva in a long-standing deviation.
Exotropia with bitemporal visual field defects
Surgical correction is difficult because of the varying nature of this alignment. Adjustable sutures may be used, but results tend to be unstable because of the absence of fusion.
Consecutive exotropia
Management depends on the amount of exodeviation and the type of previous surgical procedure.
If the deviation is small, it can be treated with minus lenses, which can be started immediately after surgery. Base-in prisms can be tried for small angle comitant deviations. If the deviation is large, a reoperation is the procedure of choice.
The choice of a reoperation procedure depends on the type of previous surgery, the amount of exodeviation present at distance and near, and any limitation of ocular rotations as a result of the previous surgery.
If the previous procedure was a bilateral medial rectus recession for esotropia, a limitation of adduction may indicate a slipped medial rectus muscle. In such cases, medial rectus advancement must be performed to correct the secondary exotropia.
In situations where adduction is full and the exodeviation is greater at distance than at near, lateral rectus recessions may be considered.
A repeat recess-resect procedure on the same eye or the contralateral eye can be performed when the deviation is the same at distance and near.
Consultations
Patients with exotropia associated with a neurologic disorder should be referred for a neurologic consultation.
What would you like to print?