Workup
Laboratory Studies
Positive test results from a serum enzyme-linked immunosorbent assay (ELISA) for anticysticercal antibodies help confirm the diagnosis; however, negative test results do not exclude cysticercosis. In fact, only 50% of ocular cysticercosis cases test positive on ELISA, whereas 80% of neurocysticercosis cases test positive. [28]
A CBC count may reveal eosinophilia; however, anterior chamber paracentesis reveals a high count of eosinophils. [1]
Imaging Studies
Imaging findings are more reliable than laboratory investigations in establishing a diagnosis.
B-scan ocular ultrasonography reveals a well-defined cystic lesion with clear contents and a hyperechoic area suggestive of a scolex. [29] This may be observed intraocularly or within the extraocular muscles. Associated retinal degeneration, if present, may also be observed. Ultrasonography is an effective and economic alternative to MRI and CT scanning to detect cysticerci in the orbit and in eyes with hazy media. [30, 31] See the image below.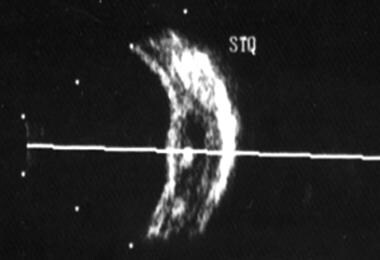 B-scan ocular ultrasonography demonstrating cysticercus within an extraocular muscle observed as a well-defined cystic mass with a central hyperechoic area.
CT scanning of the orbits is a reliable technique to help establish a diagnosis of ocular cysticercosis. Compared with MRI, CT scanning is less expensive and less time-consuming. The characteristic feature is a hypodense mass with a central hyperdensity suggestive of the scolex. Usually, a solitary cyst with wall enhancement is observed. [32] Adjacent soft-tissue inflammation may be present. The scolex may not be visible if the cyst is dead or ruptured and has surrounding inflammation. Concurrent neurocysticercosis may be present and should be excluded. [33] See the image below.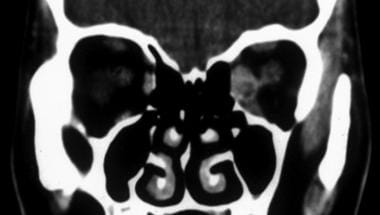 CT scanning of the orbit demonstrating cysticercus within the medial rectus muscle observed as a hypodense area with a central hyperdensity suggestive of the scolex.
MRI reveals a hypointense cystic lesion and hyperintense scolex within the extraocular muscle. See the image below.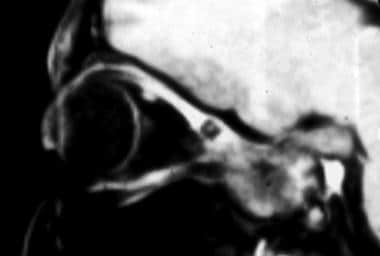 MRI of the orbit demonstrating deep orbital cysticercus within superior muscle complex observed as a hypointense area with central hyperintensity compressing the optic nerve posteriorly.
Procedures
Fine-needle aspiration of the cyst may be obtained to confirm the diagnosis.
Histologic Findings
Tissue reaction is less or minimal when the cyst is alive. Scolex with hooklets may be identified within the cyst. Gradual absorption of the dead parasite results in a violent tissue reaction. The fibrous cyst wall may be surrounded by a florid inflammatory response consisting of eosinophils, polymorphs with granulomatous reaction, and giant cell formation without caseation.
What would you like to print?