Overview
Background
Phacomorphic glaucoma is the term used for secondary angle-closure glaucoma due to lens intumescence. The increase in lens thickness from an advanced cataract, a rapidly intumescent lens, or a traumatic cataract can lead to pupillary block and angle closure.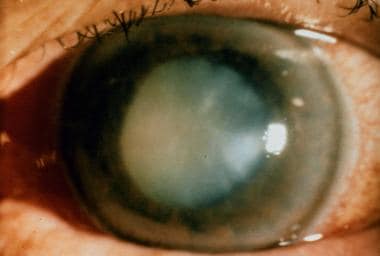 Phacomorphic glaucoma.
Pathophysiology
In an eye with advanced cataract formation, the lens is swollen or intumescent. Progressive reduction occurs in the iridocorneal angle. In such eyes, pupillary block glaucoma is caused by changes in the size of the lens and the position of the anterior lens surface. Angle closure may be secondary to an enhanced pupillary block mechanism, or it may be due to forward displacement of the lens-iris diaphragm.
Epidemiology
Frequency
International
Although no formal epidemiologic statistics are available, angle closure from hypermature cataracts is more common in countries where cataracts are common and surgery is not readily available.
Race
Phacomorphic glaucoma can occur in any race.
Sex
Phacomorphic glaucoma occurs equally in men and women.
Age
Generally, phacomorphic glaucoma is observed in older patients with senile cataracts, but it can occur in younger patients after a traumatic cataract or a rapidly developing intumescent cataract.
Patient Education
What would you like to print?