Workup
Laboratory Studies
Hypotony is usually diagnosed based on only the history and the physical examination.
In patients with undiagnosed but suspected uveitis, evaluate for systemic inflammatory disease, especially if the condition is recurrent.
In patients with suspected temporal arteritis, measure C-reactive protein and erythrocyte sedimentation rate.
In patients with bilateral hypotony, test for glucose, blood urea nitrogen, and creatinine.
Imaging Studies
Determining if the etiology is predominantly increased outflow or decreased inflow helps to establish treatment approaches.
Ultrasonic biomicroscopy or anterior optical coherence tomography (OCT) can help to further evaluate the anterior chamber depth, the position of the ciliary body, and the presence of anterior ciliary detachment, cyclitic membrane, or cyclodialysis cleft. OCT of the posterior pole can help to better demonstrate subtle macular fluid or folds and follow progression over time.
Fluorescein angiography is useful in helping to distinguish retinal folds from choroidal folds.
Intraoperatively, the ciliary body can be directly visualized to evaluate rotation, traction, and atrophy using endoscopy. [8]
B-scan ultrasonography is especially useful when the fundus is not easily visualized. It can help in determining the size and the extent of ciliochoroidal detachment, choroidal hemorrhage, and retinal detachment. An example is shown in the image below.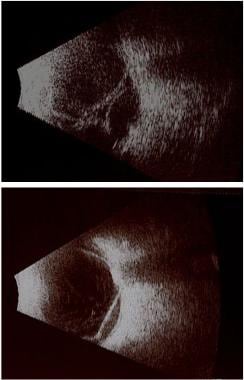 B-scan ultrasound of choroidal effusions before and after surgical drainage.
Ultrasound studies of the carotid arteries are recommended for patients with suspected ocular ischemia.
Other Tests
Wound leaks can be identified using the Seidel test.
Concentrated fluorescein on a paper strip is preferable to topical fluorescein/anesthetic solution.
The slit lamp is set to blue light, and the paper is stroked over the surface of the eye.
Aqueous humor escape can be detected as spots of brighter yellow that slowly expand. Gentle pressure on the globe may be required to detect subtle leaks or "sweaty" blebs.
Wound leaks with overlying intact conjunctiva cause filtering blebs and remain Seidel negative.
What would you like to print?