Presentation
History
A thorough history is essential to evaluate the causes of gynecomastia. The following should be included:
Note the age of onset and the duration

Ask about recent changes in the size of the nipples and the presence of pain or discharge from the nipples

Inquire if the patient has any history of mumps, trauma to the testicles, alcohol use, or drug use (eg, prescription medications, over-the-counter medications, recreational drugs)

Note any family history of gynecomastia

Evaluate the patient's history for sexual dysfunction, infertility, or hypogonadism (impotence, decreased libido and strength)
Gynecomastia is often reported on CT scans. The image below illustrates bilateral gynecomastia in a 72-year-old man with an esophageal cancer. Prominent areolae with dense subareolar ductal tissue are seen. This can be a normal finding in 50% of men at autopsy.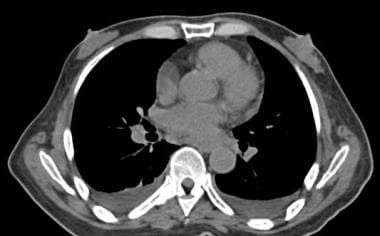 Prominent areolae with dense subareolar ductal tissue.
Pseudogynecomastia
In pseudogynecomastia, a condition that occurs in obese men, there is only fat deposition, found in the subareolar area. This is not pathologic or physiologic. Patients with pseudogynecomastia typically have bilateral deposition of fat, and, over time, these deposits do not change in shape or size unless a significant increase in aromatization occurs in the fatty tissue, leading to true gynecomastia. A careful history may reveal that the lesions have remained unchanged over a span of several years. If mammography demonstrates no evidence of malignancy, a treatment option would be observation alone.
Physical Examination
Perform a thorough examination of the breasts, noting their size and consistency. In addition, determine the presence of any nipple discharge or axillary lymphadenopathy.
Differentiate between true gynecomastia and pseudogynecomastia. These 2 entities may be distinguished by having the patient lie on his back with his hands behind his head. The examiner then places a thumb on each side of the breast and slowly brings the thumbs together. In true gynecomastia, a ridge of glandular tissue will be felt that is symmetrical to the nipple-areolar complex. With pseudogynecomastia, the fingers will not meet until they reach the nipple.
Also note the following in gynecomastia:
Glandular tissue - Gynecomastia can be detected when the size of the glandular tissue exceeds 0.5 cm in diameter

Testicles - Examine the testicles, noting their size and consistency; carefully look for nodules or asymmetry

Feminization - Note signs of feminization, including typical body hair distribution and eunuchoid habitus

Stigmata - Check for any stigmata of chronic liver disease, thyroid disease, or renal disease
Note that hematoma, lipoma, male sexual dysfunction, and neurofibroma can be included in the differential diagnosis of gynecomastia.
What would you like to print?