Treatment
Approach Considerations
Generally, no treatment is required for physiologic gynecomastia. Pubertal gynecomastia resolves spontaneously within several weeks to 3 years in approximately 90% of patients. Breasts greater than 4 cm in diameter may not completely regress.
Identifying and managing an underlying primary disorder often alleviates breast enlargement. [29] If hypogonadism (primary or secondary) is the cause of gynecomastia, parenteral or transdermal testosterone replacement therapy is instituted. However, testosterone does have the potential to exacerbate gynecomastia through the aromatization of the exogenous hormone into estradiol.
For patients with idiopathic gynecomastia or with residual gynecomastia after treatment of the primary cause, medical or surgical treatment may be considered.
A major factor that should influence the initial choice of therapy for gynecomastia is the condition's duration. It is unlikely that any medical therapy will result in significant regression in the late fibrotic stage (a duration of 12mo or longer) of gynecomastia. As a result, medical therapies, if used, should be tried early in the condition's course. The diagram below is a suggested treatment approach for patients presenting with breast enlargement.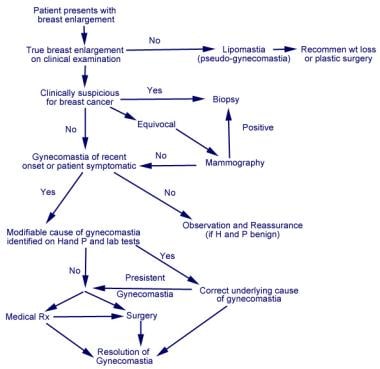 Suggested algorithm for the management of gynecomastia.
A study by Innocenti et al suggested that the reason patients undergo gynecomastia surgery and their level of satisfaction with the operation vary with body type. The report involved adult patients classified according to one of three different body types—high muscle mass, normal, or overweight—who were treated with subcutaneous mastectomy. The investigators found that the primary reason patients with normal body type underwent surgery was emotional distress owing to a feminine appearance. In contrast, most of those with high muscle mass wanted the operation because unsatisfactory contouring of the pectoralis area had damaged their self-confidence, while the majority of patients in the overweight group underwent surgery because they looked upon gynecomastia as a weight disorder. The study also found that patients with normal body type had higher levels of satisfaction with their surgical outcomes than did members of the other two groups. [30]
Pharmacologic Therapy
With the administration of clomiphene, [31] an antiestrogen, approximately 50% of patients achieve partial reduction in breast size, and approximately 20% of patients note complete resolution. Adverse effects, while rare, include visual problems, rash, and nausea.
Tamoxifen, an estrogen antagonist, is effective for recent-onset and tender gynecomastia. [32, 33] Up to 80% of patients report partial to complete resolution. Nausea and epigastric discomfort are the main adverse effects. [34]
Other drugs used, albeit less frequently, include danazol. [35] Danazol, a synthetic derivative of testosterone, inhibits pituitary secretion of LH and follicle-stimulating hormone (FSH), which decreases estrogen synthesis from the testicles.
Breast Surgery
Reduction mammoplasty is considered for patients with macromastia or long-standing gynecomastia or in persons in whom medical therapy has failed. [6] It is also considered for cosmetic reasons (and for accompanying psychosocial reasons). [36, 37, 38, 39, 40, 41, 42, 43, 44, 45]
More extensive plastic surgery may be required in patients with marked gynecomastia or who have developed excessive sagging of the breast tissue due to weight loss. If surgery is necessary for patients with pseudogynecomastia, liposuction may be warranted.
A retrospective study by Zavlin et al found the prevalence of gynecomastia surgery complications in pediatric and adult patients to be low, with 30-day surgical complication rates of 3.9% and 1.9%, respectively, and 30-day medical complication rates of 0.0% and 0.3%, respectively. The investigators also found that the mean operative time for pediatric patients (111.3 minutes) was almost double that for adults (56.7 minutes). [46]
A Chinese study indicated that endoscopic subcutaneous mastectomy, without skin excision, could be an effective treatment for gynecomastia. [5] In a report on the procedure's use in 65 patients (125 breasts) with gynecomastia, grade IIB or III, the authors stated that only a few operative complications occurred, including 2 cases of partial nipple necrosis and 1 case of subcutaneous hydrops. They also reported that postsurgical chest contour was satisfactory in all patients and that no recurrences were seen during the 3- to 36-month follow-up period.
Complications of surgery include sloughing of tissue due to a compromised blood supply, contour irregularity, hematoma or seroma formation, and permanent numbness in the nipple-areolar area.
A literature review by Innocenti et al found that among patients with gynecomastia who underwent surgical excision, aspiration, or combined treatment (such as open excision and liposuction), those in the combined treatment group had the lowest complication rate (11.76%). The rates in the first two groups were 30.64% and 14.87%, respectively. Hematoma was the most commonly recorded complication (22.88%), occurring mostly in association with surgical excision. [47]
What would you like to print?