Workup
Imaging Studies
Anterior segment slit-lamp optical coherence tomography (OCT) is an effective tool in diagnosing as well as monitoring small interval changes in these types of tumors. [3, 4]
Ultrasound biomicroscopy (UBM) may be helpful for evaluating leiomyoma of the iris. [5]
Electron microscopy shows the characteristic features of a smooth muscle neoplasm (thin basement membrane; plasmalemmal vesicles; and numerous, longitudinally aligned cytoplasmic filaments with scattered associated densities).
Hyperfluorescence is noted in the peripheral part of the tumor using fluorescein angiography. Reported as a preoperative mapping procedure in the 1970s, fluorescein angiography is perceived to be of limited value today.
Other Tests
Immunohistochemistry
The findings are consistent with a myogenic tumor.
The tumor cells are positive for smooth muscle actin and desmin.
The tumor cells are negative for S-100 and melanin.
Procedures
Fine-needle aspiration biopsy
This test may be performed when clinical suspicion is high.
The sample may be sent for cytologic study with the use of electron microscopy and immunohistochemistry.
Its value may be limited because of the small sample obtained.
Transillumination
A leiomyoma transmits more light than a melanoma.
The more peripheral part of the tumor may be translucent.
Even amelanotic melanomas contain small amounts of melanin sufficient to cast a relative shadow.
Histologic Findings
Light microscopy shows the characteristic appearance of a leiomyoma with interlacing, densely packed, elongated, spindle-shaped cells, with long oval nuclei that tend to be arranged in a palisading manner, and granular eosinophilic cytoplasm of the cells and myofibrils.
This is best seen with phosphotungstic acid hematoxylin stain.
Examples of histologic findings are shown in the images below.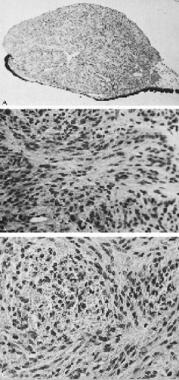 Leiomyoma of iris. (A) Spindle cell tumor arising in region of sphincter muscle of iris. Hematoxylin and eosin, X30. (B and C) Tumor is composed of uniform spindle-shaped cells with an abundant admixture of fibrillary cell processes. Hematoxylin and eosin, X500. Armed Forces Institute of Pathology Acc. 68490.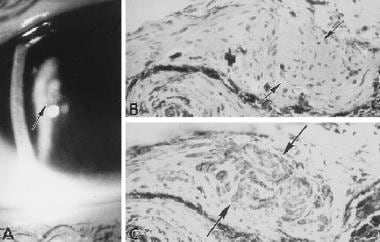 (A) Incidental iris leiomyoma (arrow) in 16-year-old female with uveitic glaucoma removed at time of glaucoma procedure. Courtesy of Alan L. Robin, MD. (B) Tumor (between arrows) is composed of spindle-shaped cells with an abundant admixture of fibrillar material. Hematoxylin and eosin, X340. (C) The cells stain positively for smooth muscle actin. Immunoperoxidase, X340. EP 96159.
What would you like to print?