Treatment
Approach Considerations
The management of patients with JIA-associated uveitis is difficult primarily because children rarely complain about their vision and are generally difficult to examine. Therefore, the authors of this article advocate a top-down approach in treatment, contrary to the stepladder manner frequently reported. [21, 11, 22, 23] Based on the top-down approach, systemic management is started as soon as possible and at the highest systemically tolerated level to eliminate intraocular inflammation in order to preserve vision potential.
The authors of this article advocate zero tolerance to ocular inflammation. If slit-lamp biomicroscopy examination reveals cells and flare or keratic precipitates, medical management is necessary, regardless of the absence of ocular complaints by the child.
Biologics, anti–tumor necrosis factor (TNF)–alpha agents in particular, are now accepted as the mainstream therapy for JIA-associated uveitis.
Systemic immunomodulatory agents may be useful for patients with limited or no response to systemic corticosteroids or those who develop unacceptable adverse effects. [9, 24, 25, 26, 27, 28, 29, 30, 31, 32]
The decision to use regional corticosteroids depends on the patient's response to topical therapy and/or the presence of posterior segment involvement. Monocular involvement also weighs in more toward regional corticosteroid use. Bilaterality may favor the use of systemic corticosteroids.
The presence of vitreous cells, severe disease, or chronic inflammation increases the risk for CME. These patients may be given additional nonsteroidal anti-inflammatory drugs (NSAIDs).
During the period of quiescence, some cells and flare may be noted, despite previous control with systemic or regional management. Topical corticosteroid treatment may be sufficient in managing the residual or recurrent inflammation. Most patients respond to this initial treatment. Around 20% of patients with JIA-associated uveitis have little or no response and may need systemic or regional management.
Surgical Care
Ethylenediaminetetraacetic acid (EDTA) chelation for band keratopathy may be performed. The procedural technique for EDTA chelation is as follows:
This procedure is ideally performed in a minor operating room setting using an operating microscope as well as topical (proparacaine or tetracaine) anesthesia.

Apply a self-retaining lid speculum to keep the eyelids open.

Perform epithelial debridement using an ophthalmic surgical blade (blade 15) or a sharp spatula to expose the underlying calcium.

Apply Weck-cel sponges, soaked with 0.05 mol, 1.5% neutral disodium EDTA, to the corneal surface. A corneal well, similar to a corneal trephine, may be used to soak the exposed calcium to EDTA.

Using a blunt (Paton) spatula, firmly scrape the corneal surface to remove calcium deposits.

Repeat the procedure of soaking and scraping as often as necessary to clear up the central visual axis. Usually, thin calcium deposits are dissolved in 5 minutes. Sometimes, it may take as long as 30-45 minutes to remove thick plaques.

Place topical antibiotic and nonsteroidal agents on the cornea. Use the topical medications until the bandage contact lenses are in place.

Place a bandage contact lens over the cornea. Maintain the bandage contact lens for 1-2 weeks until the cornea is completely reepithelialized.
Cataract surgery is reserved for those patients with poor visual acuity or in cases where the vitreous and retina cannot be visualized. The decision to perform cataract surgery should be weighed against the risks and benefits. Routine placement of an intraocular lens is contraindicated in most patients with JIA. [33, 34, 35]
Glaucoma surgery is reserved for patients in whom medical therapy has failed and evidence exists of progressive optic nerve damage.
If vitreous debris prevents optimal vision or examination of the fundus, core vitrectomy for clearing inflammatory debris is a good adjunct to cataract surgery.
Membranectomy/vitrectomy for cyclitic membranes may be performed to prevent phthisis resulting from prolonged hypotony (see the images below).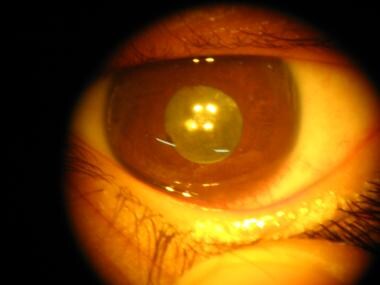 Juvenile idiopathic arthritis uveitis. Pseudophakia with posterior chamber intraocular lens with anterior membrane and posterior capsular opacification with cyclitic membrane formation. Courtesy of Manolette Roque, MD, Roque Eye Clinic.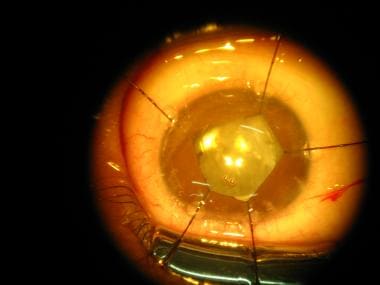 Juvenile idiopathic arthritis uveitis. Use of Grieshaber iris hooks to create and maintain a large enough pupil for adequate visualization during membranectomy and pars plana vitrectomy in a pseudophakic child. The intraocular lens was clear after the anterior lenticular membrane was peeled off. Courtesy of Manolette Roque, MD, Roque Eye Clinic.
With proper selection of patients and appropriate surgical technique and follow-up, the implantation of an intraocular lens simultaneous with cataract extraction has been shown to yield better visual results than cataract extraction alone. The risk of ocular hypertension, cystoid macular edema, and optic disc swelling was not higher with lens implantation with control of perioperative inflammation. [36]
Whenever the implantation of an intraocular lens is performed simultaneously with cataract extraction, posterior capsulotomy, anterior vitrectomy, and posterior steroid injection (or implantation) appear to improve the prognosis after surgery. [37, 38]
Consultations
A team approach to management of patients with severe, chronic disease requiring systemic immunomodulatory treatment is recommended, as follows:
Ocular immunology and uveitis specialist
Prevention
The cause of JIA-associated uveitis is unknown. Therefore, the prevention of the disease has not been established.
Evaluate children who are at risk for JIA-related ocular complications on a frequent regular basis and monitor closely for the development of ocular inflammation.
Long-Term Monitoring
Patients with JIA-associated uveitis need to be seen by an ophthalmologist regularly, every 3 or 4 months (more often if with active uveitis). It is easy to miss flare-ups due to the white and quiet presentation of this type of uveitis. Moreover, children often do not complain of visual problems, precluding the possibility of early detection.
Children with JIA-associated uveitis on systemic medications require meticulous monitoring (CBC, LFTs, BUN, creatinine) for drug toxicity (bone marrow, liver, kidney), disease complications (eg, glaucoma, cataract, band keratopathy), disease exacerbations, or breakthrough inflammation.
What would you like to print?