Presentation
History
Phacoanaphylactic uveitis/lens-induced uveitis typically develops 1-14 days after traumatic or surgical perforation of the lens capsule. In rare instances, the inflammation may develop several months after the disruption of the lens capsule. In the large pathologic study by Thatch and Marak, there was no history of trauma or histopathologic evidence of a penetrating wound in about 20% of cases where phacoanaphylaxis was verified histopathologically. [29]
Clinical symptoms may include severe light sensitivity, epiphora, pain, floaters, decreased vision, and redness of the eye.
Decreased vision may be due to refractive error (myopic or hyperopic shift) associated with such factors as macular edema, hypotony, or change in lens position.
Visual acuity in patients with phacoanaphylactic uveitis is quite variable, ranging from 20/20 to no light perception.
Physical
Typically, the onset of lens-induced uveitis occurs 1-14 days after traumatic or surgical capsular disruption. However, unusual cases have been reported where the reaction occurred as early as several hours or as late as several months following capsular rupture.
The inflammation can vary from a mild anterior uveitis to a fulminant endophthalmitis. Typically, the inflammation is unilateral and involves only the traumatized eye.
The most important clinical signs of lens-induced uveitis are lid swelling, perilimbal or diffuse injection, corneal haze, keratic precipitates (nongranulomatous or mutton fat), cells and flare, fibrin in the anterior chamber (occasionally), peripheral anterior synechiae, posterior synechiae, pupillary membrane, and iris nodules.
In the posterior segment, lens fragments, inflammatory cells, traction bands in the vitreous, retinal edema, inflammatory cuffing of blood vessels [30] , cystoid macular edema, and epiretinal membrane formation can be observed.
If untreated, lens-induced uveitis/phacoanaphylactic endophthalmitis may result in chronic cystoid macular edema, cyclitic membrane formation, tractional retinal detachment, and phthisis bulbi.
Causes
Phacoanaphylactic endophthalmitis/lens-induced uveitis is usually the result of traumatic or surgical disruption of the lens capsule and liberation of lens proteins into the aqueous or into the vitreous cavity. [31, 7, 32, 33, 34, 35, 36, 37, 38, 39, 40, 41] Posterior capsular rupture during phacoemulsification is the most common cause of posterior displacement of lens fragments. This complication is more common in patients with pseudoexfoliation syndrome, zonular dehiscence, a small pupil, friable iris, and hard nuclei or hypermature cataracts. [42]
Penetrating injury of the globe may result in severe lens-induced uveitis. The uveitis may remain undiagnosed clinically because of hyphema, decreased corneal clarity, and inflammation related to the trauma. A small punctured perforation site may remain unnoticed initially (see the images below), and severe inflammation and cataract will be present 1 week later.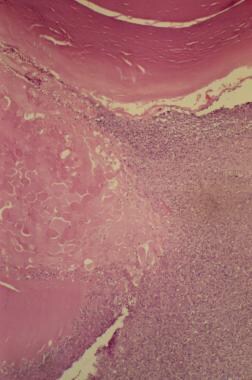 High (X50) photomicrograph of phacoanaphylactic reaction to lens protein in eye enucleated with penetrating injury. Note polymorphonuclear leucocytes around lens protein (hematoxylin and eosin).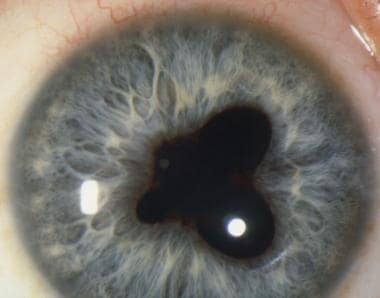 Phacoanaphylactic reaction to penetrating injury of lens. This patient was a 25-year-old woman whose eye was penetrated with a 27-gauge needle during an attempt to anesthetize the eyelid for chalazion removal. One week later, a marked uveitis was present. Notice perforation site and posterior synechiae.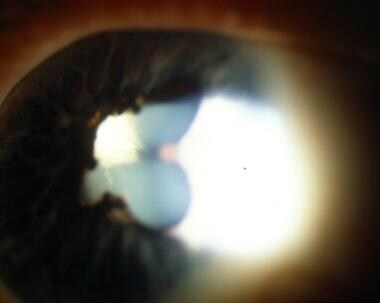 Same patient as in Media file 5. Notice cortical cataract at perforation site.
Early and total removal of the lens material may prevent trauma-related phacoanaphylaxis and should be performed if the lens capsule is disrupted and a high probability of cataract exists.
What would you like to print?