Overview
Background
Ectropion is an abnormal eversion (outward turning) of the lid margin away from the globe. Without normal lid globe apposition, corneal exposure, tearing, keratinization of the palpebral conjunctiva, and visual loss may result. [1]
Ectropion usually involves the lower lid and often has a component of horizontal lid laxity.
Treatment is individualized based on the appropriate identification of the etiology. [1, 2]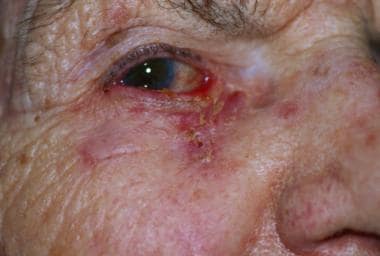 Medial cicatricial ectropion in a patient with extensive basal cell carcinoma.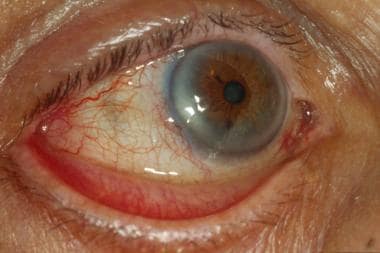 Complete (tarsal) paralytic ectropion in a patient with an ipsilateral parotid tumor.
Pathophysiology
The pathophysiology depends on the type of ectropion and is discussed within this article.
Epidemiology
Frequency
International
The prevalence of involutional lower lid ectropion in elderly patients in Brazil has been estimated at 2.9%. [3]
Mortality/Morbidity
The primary morbidity is associated with corneal/conjunctival exposure. Tearing may also cause significant patient complaints. Ectropion can adversely affect the patient's appearance.
Race
In developed countries, age-related involutional ectropion is more common. In sub-Saharan Africa, cicatricial ectropion from trauma is more common. [4]
Sex
No sexual predilection has been described.
Age
Ectropion can affect patients of any age but is most commonly seen in older adults.
What would you like to print?