Overview
Background
Entropion is a malposition resulting in inversion of the eyelid margin. The morbidity of the condition is a result of ocular surface irritation and damage. Successful management of this condition depends on appropriate classification and a procedural choice that adequately addresses the underlying abnormality.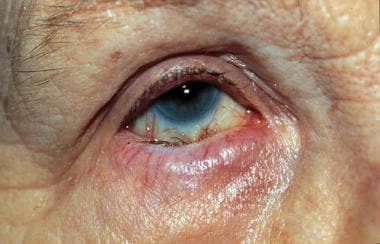 Involutional entropion. Note overriding orbicularis oculi muscle, eyelid margin entropion, and relative enophthalmos with deep superior sulcus.
Pathophysiology
The pathophysiology depends on the type of entropion seen and is discussed below.
Epidemiology
Mortality/Morbidity
The primary morbidity is ocular surface irritation. Corneal abrasions and scars can occur.
Sex
Entropion has no sexual predilection.
Age
Although all ages can be affected, entropion is seen primarily in older adults.
What would you like to print?