Treatment
Medical Care
Medical therapy may be warranted for patients with entropion who decline surgery and as a temporizing maneuver in patients who may improve spontaneously. [4]
Ocular lubrication and tear preparations are helpful for protecting the ocular surface and also may break the cycle in patients with spastic entropion due to dry eye syndrome.
Eyelid hygiene, antibiotics, and corticosteroids are useful for the treatment of blepharitis, which may cause spastic entropion.
Small amounts of botulinum toxin (BOTOX®) (approximately 5 U) are quite effective for the treatment of spastic entropion by weakening the pretarsal orbicularis oculi muscle.
Patients with cicatricial entropion secondary to ocular cicatricial pemphigoid may benefit from systemic chemotherapy, usually dapsone.
Surgical Care
Multiple surgical procedures have been described for the management of entropion. [5, 6, 7, 8] The procedure chosen must be appropriate for the class of entropion being treated.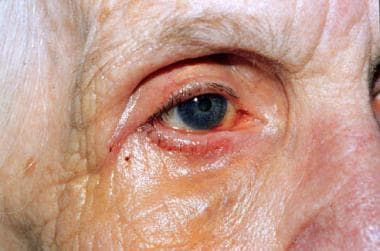 Involutional entropion. Correction of entropion with eyelid retractor reattachment and lateral canthopexy.
The most common procedures utilized in the management are discussed below. [8]
Temporizing Quickert-Rathbun sutures
They are effective for many cases of spastic entropion, as well as for some cases of involutional entropion in which the patient refuses or is medically unable to undergo more definitive procedures.
Full-thickness eyelid sutures (usually gut suture) from the inferior fornix anteriorly toward the lashes are used to torque the eyelid margin away from the globe. Tissue reaction to the gut suture helps to create a cicatrix in the eyelid that maintains the eyelid in the everted position.
Repair of involutional entropion
This may require repair of the horizontal laxity via medial and/or lateral canthal tightening.
The vertical component is best repaired by vertically shortening or reattaching the lower eyelid retractors to the inferior border of the tarsus via a lower eyelid transcutaneous approach.
A small amount of the pretarsal orbicularis oculi can be resected concurrently to prevent further overriding of the tarsus.
Procedures for the repair of cicatricial entropion
They will depend on the degree of scarring and entropion, the etiology of the cicatricial changes, and the status of the tarsal plate. [9, 10]
Mild cases can be treated with a transverse blepharotomy with marginal rotation (Wies procedure).
More extensive scarring may require oral mucous membrane (eg, buccal mucosa) or cadaveric dermis (eg, Alloderm) grafts.
It is important that the inflammatory process is in a quiescent state in patients with OCP prior to any procedure that violates the conjunctiva. Any manipulation of the conjunctiva in these patients may cause a recurrence of inflammation with failure of the procedure.
Assess the status of the tarsal plate in all cases of cicatricial entropion. If it is distorted, place a facsimile of tarsus following excision of the distorted portions of the tarsal plate. Materials such as autologous tarsus, hard palate grafts, and chondromucosal grafts have been used successfully for this purpose.
Consultations
Consultation with an internist or a hematologist is recommended for patients with OCP requiring immunosuppressive medications, as well as for systemic evaluation to rule out other autoimmune diseases.
Complications
Any surgical procedure can have immediate or delayed complications.
Immediate complications include hemorrhage, infection, wound dehiscence, graft failure (donor and recipient sites), corneal injury, and recurrence of the entropion, as well as consecutive ectropion.
Hemorrhage is treated with cauterization of the bleeding points, and infection is managed with antibiotics directed at culture-specific organisms.
Wound dehiscence may require immediate surgical repair if extensive or conservative management if mild.
Maintain grafts by stenting the grafted site for the purpose of graft immobilization.
Graft failure may require debridement with delayed re-operation.
Donor site complications, particularly bleeding, are managed with appropriate packing material.
Consecutive ectropion may occur and may respond to conservative observation during the healing period with late secondary repair.
What would you like to print?