Follow-up
Further Outpatient Care
Patients with trichiasis should receive follow-up care as needed. [13]
Complications
Overly aggressive surgical treatment of entropion may lead to ectropion; this condition usually resolves with time. See the image below.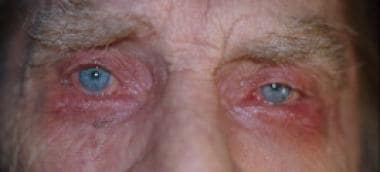 Bilateral involutional entropion. Note the periocular redness from constant lid rubbing due to irritation.
To avoid rubbing of the conjunctiva, all sutures should be resorbable and buried; a collagen shield or a bandage contact lens can also help avoid this problem.
Although not truly a complication, if only a few lashes are being epilated/ablated, warn the patient that the lashes may grow back or that new lashes may grow. Recurrence is common.
Discuss the normal complications of bleeding, infection, recurrence, need for more surgery, scarring, and cosmesis with all patients.
Prognosis
Prognosis is generally good. Frequent follow-up care and immediate attention to complications, recurrence, or corneal complications improve the long-term prognosis.
A single dose of oral azithromycin (1 g) after surgery can help to prevent recurrence. [14]
Patient Education
Instruct patients to watch for signs of new lash growth, and advise them to return for retreatment (if appropriate).
What would you like to print?