Overview
Background
Trichiasis, a very common lid abnormality, is defined as the misdirection of eyelashes toward the globe. The misdirected lashes may be diffuse across the entire lid or in a small segmental distribution.
Trichiasis has numerous causes, and the strategies to correct this problem are dictated by the anatomic abnormality causing the lash misdirection. See the image below.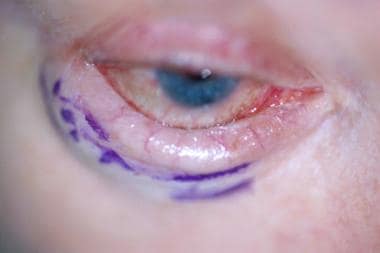 Entropion (close up). Note that the lashes of the lower lid are not easily visible because they are turned in under the lower lid. The pen markings are for lower lid retractor reinsertion and orbicularis debulking. The patient also will have a lateral tarsal strip.
Pathophysiology
The primary causes of trichiasis are involutional changes, posterior lamellae scarring (superior or inferior), epiblepharon, and distichiasis.
Epidemiology
Frequency
United States
Trachoma is relatively uncommon in the United States. Exact numbers on the frequency of trichiasis are unknown. Simple trichiasis involving only a few lashes is relatively common. Diffuse trichiasis involving the entire lid margin is much less common, and it is seen primarily in countries where trachoma is endemic. [1]
Mortality/Morbidity
The primary morbidity associated with trichiasis is corneal abrasion, corneal scarring, and microbial keratitis. This condition can be vision threatening.
Race
No known racial predilection is evident.
Sex
No known sexual predilection is evident.
Age
Trichiasis can occur in all ages; however, it is seen most commonly in the adult years.
Epiblepharon, one of the common causes of trichiasis, is found primarily in children.
What would you like to print?