Overview
Practice Essentials
Idiopathic intracranial hypertension (IIH) is a disorder of unknown etiology that predominantly affects obese women of childbearing age. [1] The primary problem is chronically elevated intracranial pressure (ICP), and the most important neurologic manifestation is papilledema (see the image below), which may lead to secondary progressive optic atrophy, visual loss, and possible blindness. Although IIH, pseudotumor cerebri, and benign intracranial hypertension (BIH) are synonymous terms in the literature, IIH is the preferred term.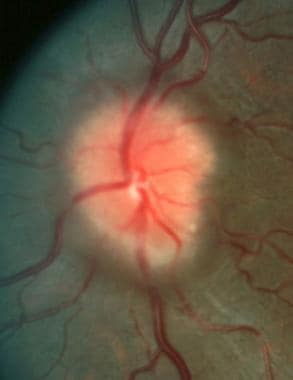 Left optic disc with moderate chronic papilledema in a patient with idiopathic intracranial hypertension (pseudotumor cerebri). Paton lines (arc-shaped retinal wrinkles concentric with the disc margin) are seen along the temporal side of the optic nerve head.
Signs and symptoms
Patients with IIH usually present with symptoms related to increased ICP and papilledema. Symptoms of increased ICP may include the following:
Headaches

(typically nonspecific and varying in type, location, and frequency)

Visual loss (typically visual field but rarely visual acuity loss)

Transient visual obscurations (typically lasting seconds at a time)

Diplopia (typically horizontal due to nonlocalizing sixth nerve palsy but rarely vertical)

Pulsatile tinnitus

Radicular pain (typically in the arms, uncommon symptom)

Nonspecific symptoms such as nausea and vomiting may also be present.
Rarely, patients presenting with increased ICP with related optic nerve edema may be asymptomatic.
Visual symptoms of papilledema may include the following:
Transient visual obscurations, often predominantly or uniformly orthostatic

Progressive loss of peripheral vision in one or both eyes (nerve fiber layer defects, enlargement of the blind spot)

Blurring and distortion (ie, metamorphopsia) of central vision due to macular edema or optic neuropathy

Photopsia

Rapid development of visual loss (eg, fulminant IIH)
The most significant physical finding in IIH is papilledema (ie, bilateral disc edema due to increased ICP).
See Clinical Presentation for more detail.
Diagnosis
Typically, no laboratory testing is mandatory for typical IIH, but some authors have recommended blood tests (eg, CBC count) and special CSF studies depending on clinical circumstances, including the following:
Complete blood count

Electrolytes, bicarbonate

Full procoagulant profile (typically obtained only in patients with a previous history of thrombosis or magnetic resonance imaging [MRI] or MR venographic evidence of a dural venous sinus)

Neuroimaging studies (preferably cranial MRI with magnetic resonance venography [MRV] with and without gadolinium) are essential to rule out the possibility of an intracranial lesion prior to performing a lumbar puncture. In addition, it is necessary to rule out the potential associated diagnosis of a dural sinus thrombosis. As a result, a combined MRI/MRV of the brain with gadolinium is the preferred study. At the very least, initially, CT scanning of the brain to rule out an intracranial lesion can be performed if a MRI is not immediately available.
Once an intracranial mass lesion is ruled out, a lumbar puncture is usually indicated to measure the opening pressure, to confirm elevated ICP, and to evaluate the CSF contents.
See Workup for more detail.
Management
The goal is to preserve optic nerve function while managing increased ICP. Pharmacologic therapy may include the following:
Acetazolamide (the most effective agent for lowering ICP and the only agent shown to be effective in a randomized, controlled, clinical trial) is the first-line therapy.

Furosemide or, rarely, other diuretics, as well as topiramate, have been used with anecdotal success as second-line agents.

Primary headache prophylaxis (eg, amitriptyline, propranolol, other commonly prescribed migraine prophylaxis agents, or topiramate)

Corticosteroids (for lowering ICP in IIH of inflammatory etiology or for supplementing acetazolamide) (Typically, this should be considered only on a short-term basis and only in patients who present with marked loss of visual function because steroids can cause weight gain and withdrawal of steroids may worsen IIH)
If visual function deteriorates while on maximal medical therapy, surgical interventions should be strongly considered. Such interventions include the following:
Optic nerve sheath fenestration (a protective measure to decompress the fluid surrounding the optic nerve)

Cerebrospinal fluid diversion (ie, via a lumboperitoneal or ventriculoperitoneal shunt)

Intracranial venous sinus stenting (in the presence of an area of evident focal stenosis of the dural sinus venous system)
Treatment of IIH with repeated lumbar punctures is considered to be of historic interest only, as the CSF volume reforms rapidly. However, serial lumbar punctures have been considered in some patients who refuse or cannot undergo conventional medical or surgical therapy (eg, pregnant patients). Placement of a lumbar drain as a temporizing measure in hospitalized fulminant IIH cases can be considered while awaiting a definitive surgical procedure.
Weight loss is a cornerstone of long-term management of these patients. No activity restriction is required; in fact, exercise programs are strongly recommended in conjunction with the weight-reduction diet. Some patients with IIH have experienced dramatic improvement after bariatric surgery.
See Treatment and Medication for more detail.
Background
Idiopathic intracranial hypertension (IIH) is a disorder of unknown etiology that predominantly affects obese women of childbearing age. [1] The primary problem is chronically elevated ICP, and the most important neurologic manifestation is papilledema, which may lead to progressive optic atrophy and blindness.
The presentation of acute/subacute symptoms of increased ICP and papilledema should be considered a clinical urgency/emergency until a neuroimaging study results confirm the presence or absence of an intracranial mass. Patients with symptoms and signs of longer duration (months) may not require urgent evaluation, and the timing of such evaluation may be limited by patient choice, insurance approval/coverage, and neuroradiology scheduling availability. A significant number of patients presenting in this manner whose neuroimaging study results do not reveal a mass lesion are diagnosed with IIH. Although IIH, pseudotumor cerebri, and benign intracranial hypertension (BIH) are synonymous and refer to the same diagnosis, IIH is the preferred term.
The diagnostic criteria for IIH, including those of the Dandy criteria as described by Dandy in 1937 and later modified, are as follows:
There are only symptoms and signs of increased ICP

There are no other localizing neurologic signs other than those related to increased ICP (eg, unilateral or bilateral sixth nerve paresis, papilledema, or papilledema-related visual loss)

Cerebrospinal fluid (CSF) may show increased pressure, but there are no cytologic or chemical abnormalities

Neuroimaging reveals radiographic signs of increased ICP but no structural cause or hydrocephalus

No other causes of increased ICP found through workup
Subsequent additions to these criteria include the following [2, 3, 4] :
The diagnostic

lumbar puncture

should be performed with the patient in the lateral decubitus position.

MRI and MRV should be considered the ideal imaging studies to rule out intracranial venous sinus thrombosis. However, some patients cannot undergo MRI (eg, ferromagnetic foreign body, non-MRI compatible aneurysm clip or cardiac pacemaker), so CT scanning and CT venography (CTV) may be necessary as alternative neuroimaging studies.
Pathophysiology
The pathophysiology of IIH is unclear. A dominant early theory held that cerebral edema played a role in the pathogenesis of elevated ICP in these patients. Against this view was the observation that no altered levels of alertness, cognitive impairments, or focal neurologic findings were associated with the elevated ICP. In addition, no pathologic signs of cerebral edema were documented in these patients. Early reports describing edema were later considered to represent fixation artifact (ie, from tissue preparation) rather than in vivo edema.
Current hypotheses include the link between relatively obstructive segments in the distal transverse sinus and IIH and the presence of increased arterial inflow with an accompanying low-grade stenosis of the transverse sinus. [5, 6]
In a series reported by Farb et al, 29 patients with IIH showed demonstrable narrowing of the transverse dural venous sinus on magnetic resonance (MR) venography, whereas none of the 59 control subjects had this finding. [7] The authors suggested that the narrowing is a consequence of elevated ICP and that when the narrowing develops, it exacerbates the pressure elevation by increasing venous pressure in the superior sagittal sinus. Their findings underscored the following points:
The CSF production rate (mL/min) should be equal to the CSF reabsorption rate

If production exceeds absorption, ICP rises until it exceeds the mean arterial pressure (MAP); if this rise should be sustained, it would be fatal

In IIH, the CSF production rate equals the CSF reabsorption rate; however, a higher than normal pressure is required to achieve this balance, owing to the increased resistance at the arachnoid granulations lining the dural venous sinuses
Bateman showed that some IIH patients with normal dural venous drainage have increased arterial inflow, which suggests that collateral venous drainage occurs in addition to the drainage provided by the superior sagittal sinus and transverse sinuses. [8]
Bateman also used MR venography and MR flow quantification in cerebral arteries and veins in 40 IIH patients, 21 of whom had venous stenosis; arterial inflow was 21% higher than normal, and superior sagittal sinus outflow was normal, resulting in a reduced percentage of venous outflow as compared with inflow. [9] The remainder of arterial inflow volume was presumed to have drained via collateral venous channels. With clinical remission of symptoms, arterial inflow volumes returned to normal.
Subsequently, Bateman et al proposed a mathematical model to address the role of collapsible dural venous sinuses in the pathogenesis of IIH; the model included arterial inflow volume, venous outflow resistance, and CSF pressure. [5] The investigators used combined flow rates in the 2 carotid arteries and the basilar artery (as measured by MRI in individual patients) as the measure of inflow blood volume and used measured values from the literature for the pressure gradient from superior sagittal sinus to jugular bulb and venous outflow resistance.
The model predicts 2 CSF pressure equilibrium points for the collapsible dural sinus cases with greater than 40% stenosis (usually of the transverse sinus), one in the normal range and the other in the range encountered in IIH patients. [5] This may account for the prolonged remission of symptoms that follows removal of CSF through lumbar puncture, presumably because this step relieves the venous sinus stenosis.
Without dural sinus collapse and stenosis, as is encountered in some patients with IIH, the model required increased arterial inflow volume to account for the elevated ICP; however, it did not require increased resistance to outflow of CSF across the arachnoid villi. [5]
IIH commonly occurs in women who are overweight; however, the role obesity plays in this disorder is unclear. In some instances, obesity and IIH may be familial. [10] It has been proposed that obesity increases intra-abdominal pressure and thereby raises cardiac filling pressures. These rises in pressure lead to impeded venous return from the brain (due to the valveless venous system that exists from the brain to the heart) with a subsequent elevation in intracranial venous pressure.
A link between obesity and an elevated level of cytokines, interleukins, and leptin suggests a possible inflammatory component for IIH. [11] Leptin is a protein secreted by adipose tissue, and its level is in proportion with total body fat content. In one case control study, a significantly higher serum leptin level was found in patients with IIH than in controls (P< 0.0001), and this did not correlate with body mass index (BMI). [12] Levels of other adipokines and the gastric hormone ghrelin were not consistently found to have an association with IIH. [13]
A role for vitamin A in the pathogenesis of IIH was reported in early studies, which noted elevated levels of vitamin A and its metabolites in CSF compared to controls. [14, 15] However, more recently, results from the Idiopathic Intracranial Hypertension Treatment Trial (IIHTT) in patients with IIH versus obese controls over 6 months showed no difference in CSF vitamin A levels except in those treated with acetazolamide. [16]
Hormones in women of childbearing age have also been suggested to have a role in the pathogenesis of IIH. To date, however, there is no proven hormone profile in individuals with IIH, and hormone testing is not typically performed in such patients. [17]
Low-calorie diets that have resulted in weight loss and ICP reduction have also been shown to decrease 11beta-HSD1, an enzyme that controls the level of active cortisol. [18] Currently, a phase II trial is ongoing to assess safety and efficacy of an 11beta-HSD1 inhibitor.
Aquaporins (AQP) are CNS membrane channel proteins. AQP4 has been studied in transgenic mice; its deficiency was associated with IIH-like pathology. [11, 19] In other studies, acetazolamide was shown to decrease AQP1, while steroids and retinoid increase its expression. [20, 21]
Etiology
Most cases of IIH occur in young women who are obese; a considerably smaller percentage occur in men who are otherwise healthy. Patients with higher body mass indexes (BMIs) and recent weight gain are at increased risk. [6, 22] If IIH presents in an individual who is not overweight, it is necessary to rule out associated risk factors, such as the following [4, 6] :
Exposure to or withdrawal from certain exogenous substances (eg, steroids, growth hormone)

Systemic diseases (eg, infectious and inflammatory etiologies)

Disruption of cerebral venous flow (eg, venous sinus thrombosis, dural fistula)

Certain endocrine or metabolic disorders
In 1994, Radhakrishnan et al reviewed the literature on IIH associated with other diseases and with drugs. They argued that for these diseases and drugs to be included in the list of causally related associations, the following criteria should be met [23] :
At least 2 cases should have been described

The reported cases should have met all the criteria for the diagnosis of IIH

Intracranial dural sinus thrombosis should have been ruled out with reasonable certainty
Exogenous substances
The list of exogenous substances associated with IIH is extensive. Although the association between these substances and this disorder is generally considered well established, the exact causal relation has not been fully clarified in the literature.
Exogenous substances reportedly associated with IIH include amiodarone, antibiotics (eg, nalidixic acid, penicillin, and tetracycline), carbidopa, levodopa, chlordecone, corticosteroids (topical and systemic), cyclosporine, danazol, growth hormone, indomethacin, ketoprofen, lead, leuprolide acetate, levonorgestrel implants, lithium, oxytocin, perhexiline, phenytoin, and vitamin A (>100,000 U/day)/retinoic acid. [4, 6] However, the Idiopathic Intracranial Hypertension Treatment Trial compared serum and CSF levels of vitamin A metabolites in patients with IIH and controls. No differences were found in patients with IIH and controls prior to treatment, leading the study to conclude that vitamin A does not affect the development of IIH. [16] Although many potential associations have been reported, few have been proven to be causal using typical causation criteria (eg, World Health Organization criteria).
According to the 1994 review by Radhakrishnan et al and numerous subsequent reports, [24, 25, 26, 27, 28, 29, 30, 31, 32, 33, 34, 35, 36, 37, 38, 39, 40] medication risk factors that meet minimal criteria but have not been confirmed in case-controlled studies include the following:
Cimetidine, corticosteroids, danazol, isotretinoin, levothyroxine, lithium,

[41]

minocycline, nalidixic acid, nitrofurantoin, tamoxifen, tetracycline, and trimethoprim-sulfamethoxazole

All- trans-retinoic acid (ATRA) used in the treatment of promyelocytic leukemia, cyclosporine, levonorgestrel implant, pancreatin

Recombinant human growth hormone/natural growth hormone (somatotropin)

Vitamin A in infants
However, a case-control study [42] found that several of the conditions that were thought to be associated with IIH were not more common than in the control patients, including iron deficiency anemia, thyroid disease, pregnancy, antibiotic intake, and use of oral contraceptives. [42] No direct causation has ever been established in cases of contraceptives, including birth control pills and drug-eluting intrauterine devices. It is believed that rapid weight gain after starting the contraceptives, rather than direct hormonal influence, is probably the trigger.
In some instances, although a patient may present with IIH after exposure to a certain medication, the disorder can continue despite discontinuance of the presumed offending agent.
Withdrawal from corticosteroids may result in IIH. [4] If corticosteroids are used for the treatment of IIH, their withdrawal may lead to a rebound increase in ICP. [2]
Systemic diseases
A myriad of illnesses are associated with IIH. Some of these disorders are known to result in increased viscosity of the CSF. In most of them, however, the causal link with increased ICP is not clear. The following diseases have all been reportedly associated with IIH. [4] As with the supposed medication-induced cases of IIH, many of these reports may be coincidental and not necessarily causal.
Chronic respiratory insufficiency

Familial Mediterranean fever

Hypertension

Polyangiitis overlap syndrome

Psittacosis

Chronic renal disease

Reye syndrome

Sarcoidosis

Thrombocytopenic purpura

Polycystic ovary syndrome (PCOS)

[49]
Disorders of cerebral venous drainage
Compression of cerebral veins by extravascular tumors, secondary thrombosis due to coagulopathy, or relative stenosis due to a venous flow anomaly can result in impaired absorption of CSF and, thus, IIH. [5, 58] Restriction of venous drainage from the head may be impaired with radical neck dissection, even if it is completed only on the right (drainage from the head takes place mainly via the right jugular vein). Spontaneous recanalization usually occurs, but if it is delayed, chronic papilledema may result.
The diagnosis of cerebral sinus thrombosis may be missed if only computed tomography (CT) is performed. Therefore, in patients who present atypically or in cases where management dilemmas arise, it is worthwhile to perform MRI or MR venography to rule out cerebral venous thrombosis.
Endocrine disturbances
Pregnancy is occasionally associated with IIH. [2] The disorder can present at any stage of pregnancy. In view of the limitations of neuroimaging studies and the restrictions on medical treatment in pregnant patients, it is advisable that both diagnostic and therapeutic strategies be formulated on a case-by-case basis. Any neuroimaging studies or therapeutic interventions should be performed in conjunction with the patient's obstetrician.
According to reports by Radhakrishnan and others, [24, 25, 26, 27, 28, 29, 30, 31, 32, 33, 34, 35, 36, 37, 38, 39, 40] endocrine risk factors that have been confirmed in epidemiologic studies include the following:
Female sex

Reproductive age group

Menstrual irregularity

Obesity

Recent weight gain
Endocrine risk factors that meet minimal criteria but have not been confirmed in case-controlled studies include the following:
Adrenal insufficiency

Cushing disease

Hypoparathyroidism

Hypothyroidism

Excessive thyroxine replacement in children (ie, low thyrotropin levels)
Other risk factors
Increased venous red blood cell (RBC) aggregation and relatively elevated fibrinogen concentrations have been demonstrated in patients with IIH as compared with matched control subjects. [59]
The ratio of retinol to retinol-binding protein is elevated in the CSF of patients with IIH as compared with non-IIH neurologic control subjects and with normal control subjects. [14]
Because IIH is concentrated in women between puberty and menopause, Fraser et al emphasized the potential role of sex hormones in the pathogenesis of IIH; they also pointed out that obstructive sleep apnea (OSA) has been proposed as a risk factor. [60] Because women taking exogenous estrogen and pregnant women are not at particular risk for IIH, the investigators suggested that low levels of testosterone might be the important hormonal link in women with IIH.
Fraser et al administered 2 standardized questionnaires embedded in a telephone interview of 24 men with IIH and 48 control subjects matched for gender, age, race, and World Health Organization (WHO) BMI category. [60] They found that the men with IIH were significantly more likely to have symptoms of testosterone deficiency and OSA than the control subjects were.
Epidemiology
United States statistics
Studies of American-based populations have estimated that the incidence of IIH ranges from 0.9 to 1.0 per 100,000 in the general population, increasing to 1.6-3.5 per 100,000 in women and to 7.9-20 per 100,000 in women who are overweight. [2, 4, 6]
For example, annual figures for IIH in Iowa and Louisiana in the late 1980s were as follows [61] :
0.9 case per 100,000 population

13 cases per 100,000 (Iowa) and 14.85 per 100,000 (Louisiana) in women aged 20-44 years and 10% over their ideal weight

19.3 cases per 100,000 in women 20% over their ideal weight

An 8:1 female-to-male ratio for a mean weight 38% over the ideal weight for height
Annual incidence figures for the Mayo Clinic (Rochester, MN) between 1976 and 1990 were as follows [62] :
0.9 case per 100,000 population

1.6 cases per 100,000 women

3.3 cases per 100,000 females aged 15-44 years

7.9 cases per 100,000 obese women aged 15-44 years
International statistics
The incidence of IIH varies from country to country. Because of the disease's relation to body habitus, its occurrence varies according to the incidence of obesity in the respective region.
In a study conducted between 1982 and 1989 that comprised 81 patients (76 females and 5 males) aged 8-55 years, the annual incidence of IIH in Benghazi, Libya, was as follows: [63]
2.2 cases per 100,000 population

4.3 cases per 100,000 women of all ages

12 cases per 100,000 women aged 15-44 years

21.4 cases per 100,000 obese women aged 15-44 years
Age-, sex-, and race-related demographics
Although IIH may affect individuals of any age, most patients with this disease present in the third decade of life. [6] IIH can occur in the pediatric population [64] ; these younger patients are often not obese.
IIH has a strong predilection for women. More than 90% of patients with IIH are women of childbearing age. [6] However, men with IIH are twice as likely as women to lose visual function as a result of papilledema. Thus, the visual function of men with IIH must be followed more closely to avoid irreversible damage. [65]
No evidence exists to suggest that IIH has a predilection for any particular racial or ethnic group over and above any variations in the prevalence of obesity that may be noted in the different groups.
A national prospective populated-based cohort study in the United Kingdom investigated the incidence of IIH in children aged 1-16 years and found a similar incidence in children of both sexes younger than 7 years, but the incidence in obese girls was double that of obese boys after age 7 years. Obesity remained a major risk factor for both sexes in childhood. [66]
Prognosis
IIH is not known to be associated with any specific mortality risk per se, but endovascular and surgical treatments (eg, venous sinus stenting or shunting) may cause morbidity and mortality. The increased mortality associated with morbid obesity has a selective expression in this group because of the strong predilection of the disease to affect obese females.
The morbidity of IIH is mainly related to the effects of papilledema on visual function. [67] If left untreated, long-standing disc edema results in an irreversible optic neuropathy with accompanying constriction of the visual field and loss of color vision. [68, 69, 70] In end-stage papilledema, central visual acuity is also involved. With timely and appropriate treatment of IIH, the visual prognosis can be encouraging.
The Idiopathic Intracranial Hypertension Treatment Trial examined quality of life (QOL) in 165 patients with IIH and mild vision loss using the National Eye Institute Visual Function Questionnaire. They found that the use of acetazolamide with a low-sodium weight-reduction diet resulted in improvement in visual field function compared with diet alone. When compared with published controls and obese controls, patients with IIH had lower QOL scores due to decreased visual loss and associated symptoms such as diplopia, headache, and neck pain. [71]
Unfortunately, the incidence of visual loss has been reported to be significant in some studies of this disease.
Since the increase in ICP tends to be chronic, all patients with IIH must be monitored for years after presentation. If necessary, medical treatment should be continued on a long-term basis.
Vision loss
The frequency and degree to which vision loss occurs in IIH is difficult to establish from the existing literature. Depending on the referral population and the rigor with which visual function is tested, the prognosis for vision loss in IIH has varied considerably in different series. Authors writing in the 1960s and 1970s indicated that fewer than 25% of these patients had functionally significant blindness; however, this figure has since been revised upward.
As outlined by Radhakrishnan et al in 1994, [23] the reported incidence of vision impairment is much higher in series from referral centers (as many as 96% of cases with some degree of visual field loss) than in population-based series (eg, 22% in Iowa [61] ). Two equally valid explanations for this discrepancy have been proposed:
The referral centers perform more extensive vision testing, including Goldmann and computerized automated threshold perimetry; thus, they discover visual deficits that are not tested for in the community-based studies

The worst cases are referred for tertiary care consultation; thus, the referral center series are biased toward more severe vision loss cases than the community-based studies are
In a major prospective study of visual function in IIH, Wall and George found that 96% of the 50 patients in a series had some degree of visual field loss on Goldmann-type perimetry, whereas 92% had abnormal findings on automated perimetry [72] ; 50% had abnormal contrast sensitivity, and 22% had abnormal Snellen visual acuity. During follow-up (2-39 months; average, 12.4 months), visual fields improved in 60% of patients and deteriorated in 10%.
The University of Iowa observed 20 IIH patients for more than 10 years and found that whereas 11 of the 20 had followed a stable course without visual-field changes or papilledema, 9 had experienced deterioration after initially following a stable course for a time. [73] In 6 of the 9, the deterioration occurred late (28-135 months after initial presentation), and in 3 of the 9, recurrences after resolution of papilledema developed 12-78 months after the initial resolution of IIH.
Patient Education
Informing patients who are overweight that weight control is a long-term factor in the management of IIH is important. Asking patients about their weight loss at the beginning of each visit reinforces this concept. In addition, it may be worthwhile to mention that the loss of as little as 6% of body weight may lead to the termination of this disorder and also may significantly diminish the risk of its recurrence. A recent clinical trial determined that acetazolamide and weight loss (compared with diet alone) was the preferred treatment in patients with mild visual loss (Idiopathic Intracranial Hypertension Treatment Trial at NORDIC Clinical Trials).
In particular, it is essential to educate patients regarding the potential for disabling blindness. The importance of weight loss as the only effective means of reducing the papilledema—and with it the threat of progressive blindness—cannot be overemphasized. [74, 75]
Patients should be urged to enroll in an aggressive weight-loss program, ideally one using a multidisciplinary approach that includes diet and exercise along with psychological and lifestyle counseling. Even when such a program is followed, many patients cannot sustain significant weight reduction and may require drastic steps such as gastric stapling or resection. These measures can be effective for patients who experience vision loss despite aggressive medical and surgical management. [76, 77]
Although IIH may appear to be self-limiting, it is considered to be a chronic disorder; therefore, once the medications given to treat it are tapered off, patients should be instructed to return to an ophthalmologist if symptoms of increased ICP recur. If a particular agent, such as tetracycline, is associated with the rise in ICP, the patient should be educated to avoid this agent.
What would you like to print?