Overview
Background
Optic neuritis implies an inflammatory process involving the optic nerve.
In children, most cases of optic neuritis are due to an immune-mediated process. These cases of optic neuritis may be associated with a viral or other infection or with immunization. Less commonly, optic neuritis may be the first manifestation of multiple sclerosis (MS) or part of a more diffuse demyelinating disorder, including acute disseminated encephalomyelitis or neuromyelitis optica (Devic disease). [1] Optic neuritis may be related to specific infections, diseases of the adjacent sinuses or orbital structures, and infectious and infiltrative diseases of the brain or meninges that involve the optic nerves. The image below depicts optic disc swelling in a child with bilateral optic neuritis.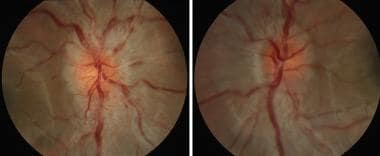 Optic disc swelling in the right eye and left eye in a child with bilateral optic neuritis.
The following definitions aid in further understanding optic neuritis:
Papillitis - Optic neuritis involving the optic disc with disc edema

Retrobulbar optic neuritis - Optic neuritis involving the optic nerve behind the globe. The optic disc appearance should be normal in first-time episodes of retrobulbar optic neuritis.

Bilateral simultaneous optic neuritis - Optic neuritis in both eyes occurring within 3 weeks of each other

Bilateral sequential optic neuritis - Optic neuritis occurring in both optic nerves but separated by a period of more than 3 weeks

Neuroretinitis - Inflammatory process involving the optic discs with exudative changes in the nerve fiber layer of the retina producing a partial or complete macular star. In the past, this condition was called Leber idiopathic stellate neuroretinitis, but now a number of underlying causes for this condition are known. Because this condition is not associated with demyelinating disease and does not imply a future risk of MS, the distinction is important.
Pathophysiology
Possible mechanisms of inflammation in immune-mediated optic neuritis are the cross-reaction of viral epitopes and host epitopes and the persistence of a virus in central nervous system (CNS) glial cells.
Epidemiology
Frequency
United States
Optic neuritis is much less common in children than in adults but is not rare. In one combined series, children comprised 5% of cases.
Mortality/Morbidity
Patients with optic neuritis have a good prognosis, but a minority of patients experience persistent visual loss. Patients with neuromyelitis optica generally have a poorer recovery. When optic neuritis is associated with other CNS diseases, the morbidity and mortality of those disorders contribute substantially to the final outcome.
Race
Optic neuritis is more common in whites than in other races. [2]
Sex
In both children and adults, a female predominance exists. Females comprise 60-75% of patients.
Age
Optic neuritis may occur at any age, including in infants younger than 1 year.
A comparison of adult optic neuritis and childhood optic neuritis is presented in Table 1. These features are generally true but are not absolute, and they do overlap.
Table 1. Comparison of Features of Optic Neuritis in Adults and Children (Open Table in a new window)
| | |
| --- | --- |
| Adult Optic Neuritis | Pediatric Optic Neuritis |
| Unilateral | Bilateral |
| Retrobulbar optic neuritis | Papillitis |
| Commonly associated with pain on eye movements | Commonly associated with headache |
| Most often idiopathic | Most often postinfectious or postimmunization |
| High probability of recurrent inflammatory demyelinating events in the CNS and a diagnosis of MS | Low probability of recurrent demyelinating events and a diagnosis of MS |
What would you like to print?