Workup
Imaging Studies
CT scanning
In the context of facial trauma and suspected fractures, noncontrast CT scans are the most appropriate initial imaging technique. [13, 14, 15, 9, 6]
Associated intracranial injury, associated facial fractures, and intraorbital hematoma may be assessed.
Axial and coronal views 3-mm cuts review the orbit, and 1-mm axial cuts may be used to assess the optic canal. Coexistent cervical injury may preclude direct coronal projections. Reconstructed coronal views may be needed in patients with neck injury. See the images below.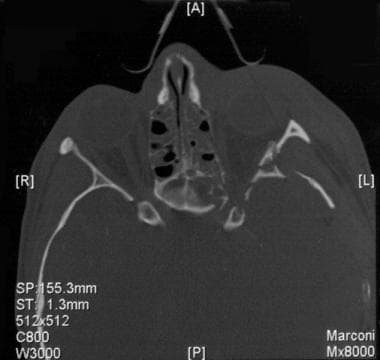 Axial CT scan exhibiting a left apex fracture through the optic canal. Note associated lateral wall and medial wall fractures. This patient also required a craniotomy for a subdural hematoma.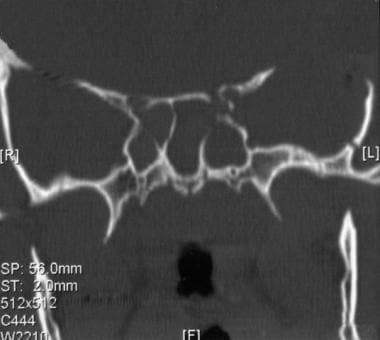 Coronal reconstruction of CT scan of left orbital apex fracture through the optic canal. This patient presented with an orbital apex syndrome. Note the displaced bone fragment from the lateral wall of the sphenoid sinus.
Plain radiography
The orbital apex may be visualized with 2 radiographic projections, the angled anteroposterior (AP) view for the superior orbital fissure and the oblique view for the optic foramen.
MRI
The poor resolution of bone on MRI significantly limits its role in general orbital trauma. However, in the context of orbital apex trauma and traumatic optic neuropathy, better soft tissue differentiation may be obtained. In particular, MRI reveals the abnormal signal indicative of recent hemorrhage in optic nerve sheath hematoma. [16, 17, 18]
Angiography
Angiography may be considered in patients with orbital apex fractures and with clinical features consistent with a carotid artery injury, revealing carotid artery dissection, carotid artery spasm, or carotid-cavernous fistula.
Other Tests
Visual field assessment: Automated static threshold perimetry (eg, Humphrey Visual Field analysis) or kinetic perimetry (eg, Goldmann perimetry) may be used in patients with adequate cooperation and fixation to document visual field disturbance with optic neuropathy. No specific visual field loss pattern is pathognomonic for traumatic optic neuropathy.
Formal color testing: Dyschromatopsia is expected in optic neuropathy, and it may be formally documented with use of the Farnsworth-Munsell 100 hue test or the Farnsworth panel D-15. These tests require patient cooperation and may not be appropriate in the acute setting.
Documentation of oculomotility disturbance: Serial documentation of a field of binocular single vision allows assessment of progression of diplopia. In patients with normal retinal correspondence, other methods of serial documentation include the Hess screen.
Beta-2 transferrin is a definitive test for CSF rhinorrhea.
Electrophysiology: Visual-evoked potentials (VEP) may assess the integrity of the visual pathway and are able to compare pathways from each eye. They are a consideration in patients with altered level of consciousness or in whom bilateral optic neuropathy is suspected.
What would you like to print?