Workup
Laboratory Studies
The only lab studies are those needed for clearance for surgery (eg, CBC count, sequential multiple analysis, chest x-ray, bleed times).
Imaging Studies
For most orbital fractures, the imaging study of choice is CT scan. A CT scan with axial and coronal views is optimal. Ask for thin cuts (2-3 mm) with specific attention to the orbital floor and optic canal. [6, 7] See the image below.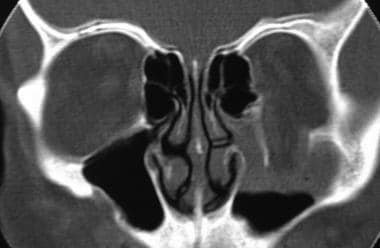 Coronal CT scan of orbits demonstrating loss of orbital floor on the left in contrast to the normal orbital floor on the right.
When the patient has severe head and neck trauma, the radiologist may have difficulty positioning the patient to obtain coronal views. Because these views are generally the most helpful for evaluating the integrity of the orbital floor, the surgeon may ask the radiologist to obtain very thin axial cuts to allow reconstructed coronal views to be obtained.
Procedures
Forced duction testing may be performed in the office to confirm that limited extraocular movements are due to restriction of the inferior rectus muscle instead of third nerve branch palsy. Testing should be performed after the orbital edema subsides, usually 10 days to 2 weeks after the trauma.
Testing should be performed at the beginning of a surgery to repair the floor fracture as well as at the end of the case. This will assure the surgeon that he has completely reduced the herniated tissue and that any residual motility deficit is neurologic and not mechanical.
What would you like to print?