Workup
Laboratory Studies
The only laboratory tests needed are those for preoperative evaluation as required by the surgery facility.
Imaging Studies
Orbital imaging is appropriate.
Radiographic evaluation of the fracture is mandatory and may include both plain films and a CT scan. Typically, CT scan is the study of choice. There is little role for MRI in the management of these injuries. [16]
A Waters view radiograph may show evidence of the zygomatic fracture and subsequent displacement, as shown below.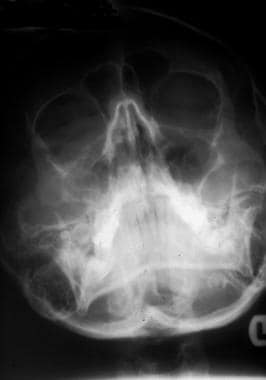 Waters view demonstrating a zygomatic complex fracture involving the zygomaticofrontal suture, inferior orbital rim, and opacification of the maxillary sinus.
CT scans (orbit and sinuses) have now essentially replaced plain films as the standard imaging study in both evaluation and treatment planning. CT scans are generally easier to read than plain films and give more helpful information. See the images below.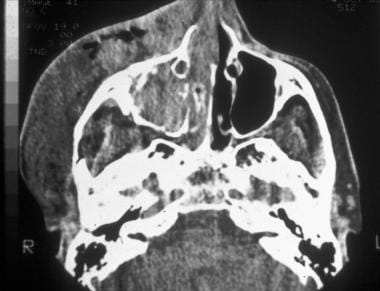 CT scan of the orbit demonstrating disruption of the zygomatic arch.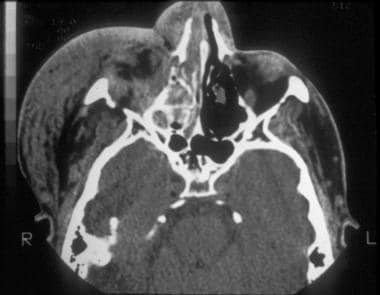 CT scan demonstrating disruption of the lateral wall of the orbit and medial inferior orbital rim.
An axial CT scan with 1-mm sections and a coronal CT scan with 3-mm cuts (facial series) should be obtained to best delineate the anatomy. The CT scan accurately reveals the extent of orbital involvement and the degree of displacement of the fractures. The integrity of the mandible as well as of the temporomandibular joint should be evaluated.
CT scans are vital in planning the operative approach. The CT scans should be available for review in the operating room. Furthermore, evaluation with CT scans is helpful for the approximately 50% of patients who have concomitant intracranial injury.
Ultrasonography could be useful as a screening tool to aid in the detection of zygoma and orbital rim fractures. With experience, ultrasonography could also be used for intraoperative evaluation after a closed reduction where direct visualization of alignment is not possible. [17]
Staging
Several classifications of zygomatic fractures have been described in the literature, but none seem to be universally accepted. Most classifications are based on the degree of comminution, whether the fracture is simple or compound, and the site of the fractures. In 75% of cases, these fractures are displaced inferiorly, medially, and posteriorly. [3]
What would you like to print?