Workup
Imaging Studies
Radiography
Radiographs often show radiolucent defects where the cyst has eroded into bone. These defects can be large with distinct margins and may show sclerotic changes.
CT or MRI studies
CT or MRI studies have largely supplanted plain radiography for evaluating dermoid cysts.
A review of 160 CT studies of orbital dermoids revealed that 65% were lateral and 30% were medial to the globe, only one was entirely behind the globe, 85% had changes in adjacent bone, 73% had a visible wall, 27% had a CT attenuation similar to orbital fat, 14% had calcification, 5% had a fluid level, and 20% had abnormal soft tissue outside the cyst. [6] The cyst lumen is generally homogeneous but can also be heterogeneous depending on the amount of lipid and keratin within it. The lumen does not enhance with contrast. [7]
On MRI, features include a cystic appearance, internal fat attenuation (T1 hyperintensity), internal calcification, and fluid levels. [8] The wall of the cyst but not the lumen may show enhancement with gadolinium. These features are uncommon in rhabdomyosarcoma. On MRI diffusion-weighted imaging, dermoids are high in signal intensity.
Ultrasonography
Ultrasound characteristics of dermoid cysts include a smooth contour and variable echogenicity. [9]
Color Doppler imaging
Color Doppler imaging of dermoid cysts shows no intralesional blood flow, which can help differentiate them from hemangioma and rhabdomyosarcoma. [9]
Histologic Findings
The external layer of the cyst has variable thickness and may be exceedingly thin. The cyst is generally connected to periorbita by fibrovascular tissue. Epidermoid cysts have a lining of epithelial cells, usually stratified, that produce keratin. Dermoid cysts contain blood vessels, fat, collagen, sebaceous glands, and hair follicles. The material in the cyst varies from a tan, oily liquid to a white or yellow substance that resembles cottage cheese or even a relatively solid mass. Often, high cholesterol content is present. The cysts commonly are inflamed and may contain free blood. See the image below.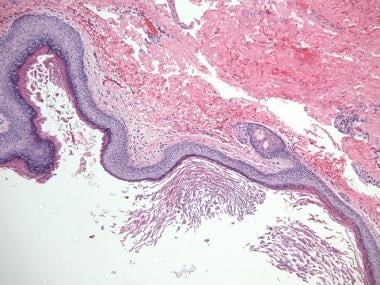 Orbital dermoid.
What would you like to print?