Treatment
Medical Care
Medical therapy should be directed toward complete control of the tumor and the preservation of as much useful vision as possible. Treatment is usually individualized to the specific patient.
External beam radiation therapy
Incidence of local control is high and retinal late effects are minimal with radiation doses of 4000-4500 cGy used with 200 cGy fractions. However, morbidity and mortality associated with external beam radiation therapy (EBRT) are significant. EBRT results in cessation of bone growth. Therefore, children with retinoblastoma who are treated with EBRT have significant midface hypoplasia. (The younger the child is when EBRT is instituted, the more dramatic the outcome.) More importantly, EBRT has been shown to increase the risk of developing second cancers almost 6-fold during the lifetime of these patients. Today, neoadjuvant chemotherapy (chemoreduction) has superseded EBRT in order to (hopefully) circumvent these terrible adverse effects of EBRT. Nevertheless, EBRT is still indicated in selected circumstances, as follows:
For eyes with significant vitreous seeding

For children who have progression of disease while undergoing chemoreduction

For tumors extending up to or beyond the cut margin of the optic nerve of an enucleated eye (The best method of treatment is being debated in such a case.)
Radioactive isotope plaques
Use of radioactive 60 Co (cobalt); radioactive 125 I (iodine), which is presently the most used; radioactive 192 Ir (iridium); or radioactive 106 Ru (ruthenium)
Radioactive 125 I plaque treatment is recommended for treatment of one larger tumor or a limited number of moderately sized tumors (< 3) present in noncritical areas.
Advantage - Locally directed treatment to the tumor, minimizing radiation to the normal tissue
Disadvantage - Incomplete treatment, high dose to local sclera, significantly less irradiation for anterior lesions, and difficulty placing posterior plaques
Chemotherapy
Primary neoadjuvant chemotherapy or chemoreduction has been the most significant recent advance in the treatment of retinoblastoma. This is typically the principle mode of treatment for eyes in intraocular groups C and D. However, our understanding of dose, duration, and end points are still evolving with this relatively new treatment modality.
Prophylactic chemotherapy is recommended if a tumor is in the optic nerve past the lamina cribrosa because these cases have a poor survival prognosis.
Use of neoadjuvant chemotherapy has the advantage of limiting the necessity for EBRT and reducing the possibility of EBRT-related complications.
Chemotherapy also may be used prior to EBRT, as completed by Kingston and associates in an attempt to improve local control and visual outcome in children with group V tumors, using carboplatin, etoposide, and vincristine, followed by 40-44 Gy of EBRT. [17]
Shields and associates used carboplatin, etoposide, and vincristine chemotherapy, followed by cryotherapy, photocoagulation, and 125 I plaque treatment in an attempt to improve outcome for eyes with more advanced retinoblastoma commonly treated with enucleation. [18]
Current studies completed by the Retinoblastoma Study Group show the promising use of chemotherapy (carboplatin, vincristine sulfate, and etoposide phosphate) as a primary mode of treatment in reducing tumor bulk, followed by various forms of local approaches (radiotherapy [external beam or plaque], cryotherapy, thermotherapy, and photocoagulation) that can be used for final tumor control.
Some reports suggest the addition of cyclosporine in combination with the chemotherapy regimen of carboplatin, etoposide, and vincristine. These reports showed that this addition enhances the efficacy of chemotherapy and eliminates the need for radiation.
Abramson and colleagues have demonstrated successful salvage of eyes typically enucleated for advanced disease. [19] Intra-arterial chemotherapy for advanced retinoblastoma offers another weapon in the arsenal of therapies for retinoblastoma. However, there are still potential complications to consider, and, consequently, this procedure should be performed at tertiary care institutions that specialize in the care of patients with retinoblastoma.
Novel therapy
A study by Yi Qu et al used immunohistochemical analysis of normal retina and retinoblastoma tumor specimens acquired from multiple centers in order to evaluate the pathological associations of the nuclear factor-κB (NF-κB) subunits and retinoblastoma. The data point to the fact that therapeutic strategies targeting NF-κB together with other therapies may represent a novel approach to retinoblastoma therapy. [20]
Suzuki et al conducted a study with selective arterial injection involving a balloon catheter and melphalan. It achieved a success rate of 98.8% and had few severe adverse events, including secondary neoplasms. The rate of preservation was more than half for treated eyes, and more than half of the eyes without macular tumors maintained a visual acuity of more than 0.5. No severe eye damage or severe systemic events were detected; secondary neoplasms were observed but no more frequently than otherwise expected. [21]
Surgical Care
Surgical removal of the tumor has been the standard management of very unfavorable retinoblastoma cases.
Enucleation
Enucleation is performed when there is no chance of preserving useful vision in an eye.
Patients generally requiring enucleation are those who present with total retinal detachments and/or the posterior segment is full of the tumor, in which case it is clear the patient cannot retain any form of useful vision.
Kletke et al found that macular sparing, optic nerve visibility, and/or less than one quadrant of retinal detachment at diagnosis were predictors of low-risk histopathologic features at primary enucleation, suggesting safe trial eye salvage. [22]
Significant orbital growth retardation remains after enucleation for retinoblastoma. [23] The younger the patient is at the time of surgery, the more growth retardation occurs.
Cryotherapy
Cryotherapy can be used primarily for small anteriorly located tumors, remote from the disc and macula but also may be indicated for recurrence after radiation therapy.
Cryotherapy is performed transsclerally. Under direct visualization, freezing is carried out until the ice ball incorporates the entire tumor. A refreeze-thaw cycle is repeated 3-4 times.
Complete disappearance of the tumor with a flat pigmented scar is the sign of successful treatment. This can be repeated if the tumor does not respond initially.
Photocoagulation
Photocoagulation can be used as primary therapy for small posteriorly located tumors.
There is a danger of producing large field defects near the disc and decreased vision resulting from macular pucker by photocoagulation near the macula.
The technique is performed by placing a double row of confluent burns around each tumor using a photocoagulator.
It is important not to do direct treatment on the tumor itself because the light color of the tumor generally precludes absorption of sufficient energy and there is a danger of exploding the tumor with spread of viable tumor debris into the vitreous and other parts of the retina.
Successful treatment with photocoagulation takes weeks to evolve and consists of complete disappearance of the tumor, which is replaced with a flat area.
Photocoagulation can also be used for tumor recurrences after EBRT.
Exenteration
Exenteration is still performed, especially in most underdeveloped countries, when extension of the tumor into the surrounding areas is considerable.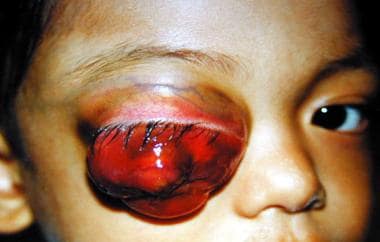 Status post (S/P) enucleation for retinoblastoma, right eye retinoblastoma, recurrence, right eye. History: IJ, 3-year-old male with chief complaint of right orbital mass. At age 2 months, opacity in right eye is noted. Five months prior to admission (PTA), consultation with an ophthalmologist for proptosis, right eye. Four months PTA, the patient underwent enucleation, right eye, with no alleged tumor involvement of the tumor resection margins on histopathology. One month PTA, gradually enlarging orbital mass, right side, was noted. Examination: Visual acuity right eye, not applicable (S/P enucleation); visual acuity left eye, at least 6/12 (20/40). No masses are seen in left eye on indirect ophthalmoscopy. Diagnostics: Skeletal survey showed lytic lesions on the humerus, femur, and pubic bones.
Consultations
Patients with retinoblastoma should be evaluated and treated by a team of medical professionals, including an ophthalmologist (preferably an ocular oncologist), pediatrician, oncologist, radiologist, and pathologist. Given that this is a relatively uncommon disease, patients should try to seek attention from physicians with subspecialty training and experience in retinoblastoma, and who are actively participating in organizations that explore up-to-date treatments for retinoblastoma.
The pathologist plays a special role in the treatment of a patient with retinoblastoma. The surgical specimens should be evaluated with care to guide the clinicians with the appropriate postsurgical management.
Appropriate consultations are needed to provide much needed information to each other. In some instances, frozen sections are requested after enucleation or exenteration.
Complications
Secondary nonocular tumors can develop in survivors of retinoblastoma. In order of decreasing frequency, they are as follows: osteosarcoma, various soft tissue sarcomas, [24] malignant melanoma, various carcinomas, leukemia and lymphoma, and various brain tumors. (See Special Concerns.)
Cataract formation: Radiation doses of 800 cGy to the lens using dose rates of 150-300 cGy/min usually lead to cataract formation in 18 months to 3+ years.
Vascular complications: Retinal vascular damage and hemorrhage may be seen after external beam radiation using 70-75 Gy with 200-350 cGy per fraction.
Bone, dental, and soft tissue effects: Hypoplasia of bone and soft tissue structures after treatment with radiation doses exceeding 3500 cGy may occur. The maxillary molar tooth buds located high in the maxilla just inferior to the posterior apex of the orbit may become irradiated with treatment. Numerous reports of failure of tooth eruption have been noted in patients with retinoblastoma treated with irradiation.
Prevention
Frequent ophthalmologic examination is indicated for children at elevated risk.
Estimation of risk can be completed using molecular genetics.
DNA testing can be a cost-effective component of the care of patients with retinoblastoma and their relatives.
Diagnosing the tumor as early as possible is important to prevent progression leading to metastasis and ultimately death.
Long-Term Monitoring
Patients with treated retinoblastoma as well as siblings who are at risk of inheriting the tumor need to be monitored indefinitely.
Patients and siblings of patients in whom the risk of retinoblastoma cannot be ruled out by genetic studies should be monitored with examination under anesthesia every 3-4 months until age 3-4 years, after which they are examined under anesthesia every 6 months until age 5-6 years and then annually thereafter. At about age 8 years, most patients are able to tolerate a dilated fundus examination in the office without anesthesia and can be examined annually in the office thereafter.
Visual acuity, alignment, and general ocular health should be should be periodically examined in office. The patient and parents should be questioned about and warned about signs of secondary nonocular tumors during these examinations.
Formal examination under general anesthesia is completed 6 months after completion of radiation therapy.
For classic regression patterns, see the image below.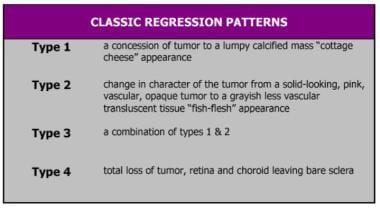 Classic regression patterns of retinoblastoma
As long as the tumor is not enlarging, it can be considered to be locally controlled by radiation therapy.
Further Inpatient Care
Inpatient care is mostly supportive during the period of recuperation after surgery or during chemotherapy.
Daily attention to the cleansing and dressing of a postenucleated eye or postexenterated orbit is necessary.
Inpatient & Outpatient Medications
Only supportive medications during chemotherapy or after surgery are needed. These include antinausea agents, broad-spectrum antibiotics, and painkillers.
What would you like to print?