Overview
Background
Acute retinal necrosis (ARN) can lead to uveitis, retinal detachment, and blindness. Acute retinal necrosis was first described in the Japanese literature in 1971 and termed Kirisawa uveitis. During the past 3 decades, acute retinal necrosis syndrome has been a source of fear, frustration, and fascination for many ophthalmologists. Unfortunately, it can be a visually devastating condition for the patient.
A necrotic retina is shown in the image below.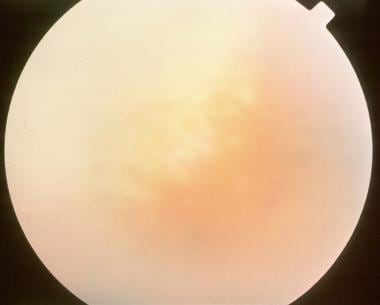 The white area is necrotic retina.
Pathophysiology
Epidemiology
Frequency
United States
Acute retinal necrosis accounts for 5.5% of uveitis cases over a 10-year period. [1]
International
In Switzerland, acute retinal necrosis accounts for 1.7% of uveitic cases.
Mortality/Morbidity
Significant visual loss may occur. Retinal detachment is a frequent complication (~50%) [2, 3, 4] and is a cause of legal blindness in some bilateral cases of acute retinal necrosis.
Race
No clear racial predilection exists.
Sex
This condition appears to have a predilection for males; however, the extent is not clear.
Age
Acute retinal necrosis is a disease of young healthy individuals aged 20-50 years.
A bimodal age distribution possibly exists, peaking at approximately ages 20 and 50 years. This distribution may be related to differences in etiologic agents. When varicella-zoster virus or herpes simplex virus type 1 is involved, the median age is 57 and 47 years, respectively. When herpes simplex virus type 2 is involved, the median age is 20 years.
What would you like to print?