Workup
Laboratory Studies
Fluorescein angiography is of value if the age-related macular degeneration (AMD or ARMD) patient notes a recent onset or worsening of vision associated with metamorphopsia. Metamorphopsia may indicate the onset of choroidal neovascularization. Clinical evidence for neovascularization includes retinal pigment epithelium (RPE) elevation, subretinal hemorrhage, and/or the presence of exudate.
Fluorescein angiography is performed by injecting 3 mL of 25% sodium fluorescein into a peripheral vein, followed by a rapid sequence of angiography images. Fluorescein is a vegetable-based dye that is activated by light at a particular wavelength, which causes emission at a higher wavelength. Using the appropriate blocking and transmission filters, the photographer is able to capture an image of the dye in the blood vessels and, later, as the dye leaks, images of the retina and the choroid.
Some complications of fluorescein angiography may occur. The dye is relatively safe. Occasionally (< 5%), patients may have nausea or vomiting shortly after dye injection. Infrequently, patients may develop an allergic reaction to the dye and have hives, angioedema, venous dilation, and, very rarely, death (< 1/250,000). No cross-reactivity occurs between this dye and iodine. The dye is cleared by renal excretion and is safe in patients on dialysis.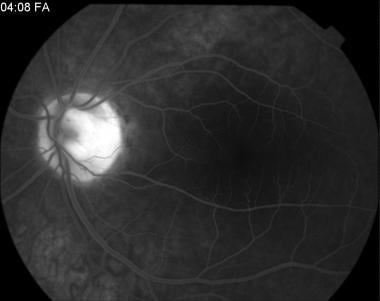 In angiography, fluorescein dye is passed through a peripheral vein and transmits through the vascular system. The dye fluoresces in the vasculature, as seen here. No vascular prominences are seen in the macula or in any areas of dye pooling or staining. The abnormal vessels in the optic nerve, however, do show dye leakage.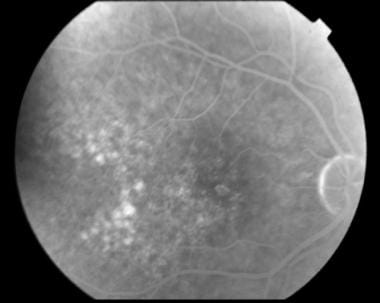 Staining of drusen. Drusen absorb dye and, in the late frames of the angiogram, show hyperfluorescence. This staining is distinguished from the leakage that occurs when the dye spreads outside the boundary of the lesion.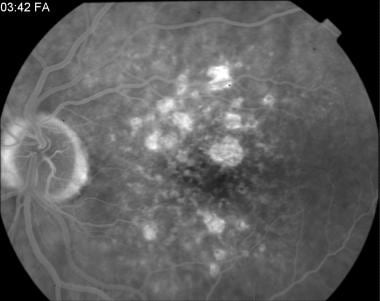 The atrophic retinal pigment epithelium (RPE) demonstrates staining of the underlying choroidal vasculature. Normally, the intact RPE masks the presence of choroidal fluorescence. However, when the RPE atrophies, the underlying dye appears as an area of hyperfluorescence in the early stages of angiography. In the late stages, the drusen lose fluorescence in concert with (or with a small time lag) the rest of the retinal layers.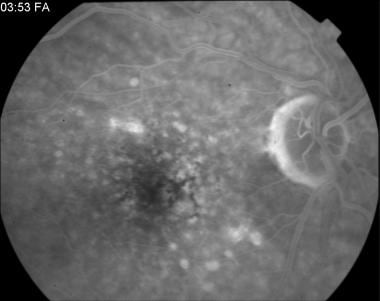 The atrophic areas are easily distinguished by the hyperfluorescence of the retinal pigment epithelium (RPE) in the mid phase of the angiogram. Hypofluorescence of dye, due to masking caused by the increased pigmentation, is seen. No areas of frank dye leakage or exudative age-related macular degeneration (ARMD) are apparent. A "hot cross bun" pattern of dry ARMD-related pigment changes is evident near the fovea.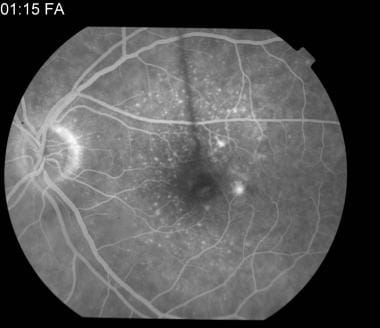 Fluorescein angiogram 4 minutes after injection of dye on 67-year-old woman showing pigment epithelial detachments.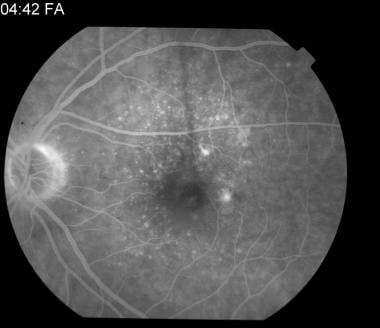 A later frame of the angiogram demonstrating the absence of dye leakage outside the lesion, with staining of the areas of atrophy (window defects) in the macular region.
Indocyanine green (ICG) angiography uses ICG, which is a water-soluble tricarbocyanine dye, rather than fluorescein. ICG is almost completely protein-bound and is retained in the choroidal circulation after intravenous injection, making it useful for imaging choroidal circulation.
Imaging Studies
Dry age-related macular degeneration (AMD or ARMD) is followed best by accurate fundus photography. [24]
Performing tests (eg, fluorescein angiography) on a routine basis is not necessary.
The physician is sometimes at a quandary when a patient describes loss of vision or new onset of metamorphopsia. The patient sometimes notes such changes as geographic atrophy (GA) progresses; unfortunately, it is almost impossible to discern these symptoms from the symptoms that occur when neovascularization has occurred. Therefore, a patient with a new onset of metamorphopsia or a sudden decrease in vision may require a fluorescein angiogram to distinguish exudative AMD versus the indeterminable progression of GA.
Recently, optical coherence tomography (OCT) has advanced to permit noninvasive visualization of the retinal and superficial choroidal vessels within the macula via OCT angiography. OCT angiography uses complex mathematical computation in a subtraction analysis to image these small vessels noninvasively with high resolution so that no dye injection is required. OCT angiography may be helpful in both detection of early conversion to wet AMD or to follow response of wet AMD to treatment.
Other Tests
Reports on age-related macular degeneration (AMD or ARMD) have examined the thickness of the retina with optical coherence tomography (OCT). This study has shown decreased reflectance at the level of the rod-cone layer indicating that atrophy is present in this layer.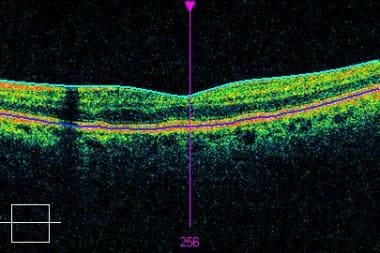 High-definition optical coherence tomography scan of a 67-year-old woman showing retinal pigment epithelium mottling and pigment epithelial detachments temporal to fixation consistent with dry macular degeneration.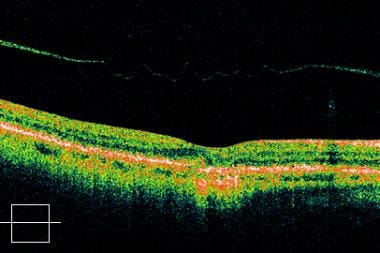 High definition optical coherence tomography right eye demonstrating retinal pigment epithelium atrophy and changes in the deeper layers of retina. The absence of intraretinal cysts, subretinal fluid, or sub-retinal pigment epithelium fluid indicates the absence of wet age-related macular degeneration.
Multifocal electroretinography (MERG) may be performed on the retina to evaluate the functional response of rods and cones.
The above 2 tests are not required in the evaluation of AMD, but they have been performed by various authors to follow the progression of disease.
Fundus autofluorescence (FAF) is a noninvasive retinal imaging modality used in clinical practice to provide a density map of lipofuscin, the predominant ocular fluorophore, in the retinal pigment epithelium.
Procedures
Amsler grid evaluation, slit-lamp biomicroscopy, and fluorescein angiography in age-related macular degeneration
The cornerstone of evaluation of dry AMD consists of visual acuity measurement and evaluation by Amsler grid. The biggest treatable risk for visual loss in dry AMD is the development of neovascularization. Studies have shown Amsler grid evaluations, if performed properly, are quite sensitive in detecting change. The specificity of this test is somewhat limited. Patients with dry AMD often note Amsler grid changes that are temporary, and good observers can detect progression of their dry AMD on the grid.
New metamorphopsia is a good indication for performing fluorescein angiography. This test is the most sensitive and specific way to evaluate for choroidal neovascularization.
Histologic Findings
The earliest morphologic features of dry age-related macular degeneration (AMD or ARMD) consist of the accumulation of 2 kinds of lesions (ie, basal laminar deposits, basal linear deposits) just beneath the RPE layer. The accumulation of these deposits is often uneven and associated with RPE hyperplasia and migration. This condition is clinically evident as pigment clumping. As these deposits slowly increase, they can be seen as soft drusen and/or localized RPE detachments.
As these drusen enlarge, they can cause the development of new blood vessels (wet AMD) and/or the slow demise of the overlying photoreceptor cells. Photoreceptor cell loss can be accompanied by the thinning (atrophy) of RPE cells, as well as underlying choroidal circulation. The end stage of these changes is the presence of a very thin choroidal layer with the absence of small choroidal vessels underlying an area of atrophic RPE. The rod-cone layer overlying this zone is atrophied, and the middle retinal layers show signs of degeneration. This end stage gradually enlarges and is seen clinically as GA.
Staging
Dry AMD has multiple clinical features that include drusen, alterations in the retinal pigment epithelium (RPE) resulting in hyperpigmentation or hypopigmentation of the macula, and RPE atrophy. The most frequently used classification system for dry AMD was described in the Age-Related Eye Disease Study (AREDS) and includes 4 categories. [15]
Category 1: No AMD characterized by no or few small drusen (< 63 microns)

Category 2: Early AMD characterized by multiple small drusen, few intermediate drusen (63-124 microns), or mild RPE abnormalities

Category 3: Intermediate AMD characterized by multiple intermediate drusen, at least one large druse (>124 microns), or geographic atrophy (GA) not involving the center of the fovea

Category 4: Advanced AMD characterized by GA involving the foveal center
What would you like to print?