Workup
Imaging Studies
Ocular coherence tomography
Ocular coherence tomography (OCT) allows high-resolution cross-sectional imaging of the retina. OCT allows the physician to detect the presence of a macular hole as well as changes in the surrounding retina.
OCT can distinguish lamellar holes and cystic lesions of the macula from macular holes.
Also, the status of the vitreomacular interface can be evaluated. This allows the clinician to evaluate the earliest of the stages of a macular hole as well as evaluate for other vision-limiting conditions associated with macular holes, such as a surrounding cuff of subretinal fluid.
Fluorescein angiography
Fluorescein angiography (FA) may be a useful test in differentiating macular holes from masquerading lesions, such as CME and choroidal neovascularization (CNV).
Full-thickness stage 3 holes typically produce a window defect early in the angiogram and do not expand with time as depicted below. The arteriovenous phase of the angiogram best demonstrates a granular hyperfluorescent window associated with the overlying pigment layer changes.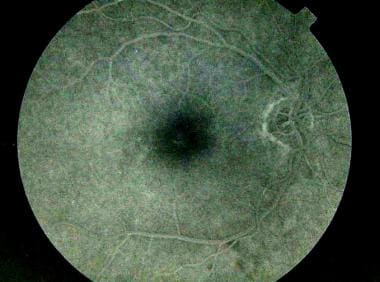 Fluorescein angiogram showing a central window defect.
No leakage or accumulation of dye is observed as opposed to other lesions.
In CME, a gradual accumulation of dye occurs in the cystoid spaces, eventually demonstrating a petaloid appearance late in the angiogram.
B-scan ultrasonography
B-scan ultrasonography may be helpful in elucidating the relationship of the macula to the vitreous; therefore, it may be helpful in staging the disease but is not sensitive to distinguish a true macular hole from masquerading lesions.
Other Tests
Amsler grid abnormalities, although sensitive for macular lesions, are not specific for macular holes. Plotting of small central scotomas caused by full-thickness macular holes using the Amsler grid is difficult because of the poor fixation in the affected eye. However, bowing of the lines and micropsia frequently are appreciated. This could be attributable to the surrounding area of retinal edema and intraretinal cysts, which could be seen in macular holes as well as other lesions like CNV.
Microperimetry and multifocal electroretinography have also been used to evaluate patients with idiopathic macular holes. These studies show loss of retinal function corresponding to the macular hole with subsequent recovery of function following surgical repair of the hole.
Fundus autofluorescence results are abnormal in patients with full-thickness macular holes. There is a strong subfoveal autofluorescence signal in full-thickness macular holes that resolves upon anatomic hole closure. [6]
What would you like to print?