Workup
Imaging Studies
Ultrasound
On certain occasions, the media may not be clear, impairing a thorough retinal examination with the binocular indirect ophthalmoscope. An ultrasound is a useful adjunct in these situations.
Ultra–high-frequency sounds travel to the back of the eye as the probe emits them. Once a structure is contacted by the sound waves, the sound wave is attenuated and reflected back to the probe. The pattern of these waves is specific for certain tissues. Thus, localization and tissue characterization is possible using this technique. Typically, an A scan and a B scan are obtained. For instance, retinal tissue usually shows a large spike in the A scan, reflecting an increased acoustic density of the tissue. The B scan shows a composite picture of the globe and its intraocular contents.
Sometimes, it may be difficult to differentiate a retinal detachment from a thickened, partially detached posterior hyaloid. In this case, A-scan and B-scan findings often overlap. Tissue mobility during scanning may help to differentiate the 2two. Usually, a RRD has a characteristic undulating motion after a sudden saccade, whereas a thickened posterior hyaloid moves in a brisker manner but with less excursion. Results from a B scan are shown below.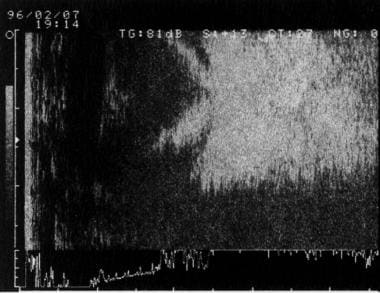 This patient had a vitreous hemorrhage that prevented visualization of the retina. A B-scan ultrasound reveals a retinal detachment.
Fluorescein angiography (FA)
Cystoid macular edema may complicate the postoperative course of an eye that has undergone retinal reattachment surgery. FA is a useful adjunct in helping to diagnose this condition.
Optical coherence tomography (OCT)
Occasionally, certain eyes appear to have complete retinal reattachment, but the visual acuity recovery appears to be incomplete or delayed. OCT helps to reveal subfoveal fluid in these eyes. [15] Spectral domain (SD) OCT also is used to prospectively study the restoration of the foveal architecture following macular reattachment. [16]
Other Tests
Electroretinogram (ERG)
When a patient presents with a dense vitreous hemorrhage or a cataract that precludes direct visualization of the retina, an ultrasound of the posterior pole is indicated. Sometimes, differentiating a RRD and a thickened posterior hyaloid that is partially detached using ultrasound is difficult. In these circumstances, an ERG is a useful adjunct in the evaluation of a patient suspected of having a RRD. If a good response from the ERG is obtained, the retina probably is attached. If the electric response from the retina is attenuated to a great degree, the retina probably is detached.
Histologic Findings
During separation of the neurosensory retina from the RPE, the choroidal blood flow to the outer retinal layers is lost. The RPE also loses its ability to modulate the health of the outer segments of the photoreceptors. Initially, the outer segments of the photoreceptors are lost. After successful retinal reattachment, the outer segments may regenerate. As the detachment becomes more chronic, atrophy of the entire photoreceptor layer, cystic degeneration, macrocyst formation, demarcation lines, and even rubeosis iridis may be seen.
What would you like to print?