Workup
Approach Considerations
Important aspects of workup regarding diabetic retinopathy include fasting glucose and hemoglobin A1c, fluorescein angiography, optical coherence tomography, and B-scan ultrasonography.
Fasting Glucose and Hemoglobin A1c
Fasting glucose and hemoglobin A1c (HbA1c) are important laboratory tests that are performed to help diagnose diabetes. The HbA1c level is also important in the long-term follow-up care of patients with diabetes and diabetic retinopathy.
The Data From an Epidemiological Study on the Insulin Resistance Syndrome (DESIR) Study evaluated diabetic retinopathy in 235 individuals with diabetes and 227 individuals with impaired fasting plasma glucose levels. [32] The study found that the risk of developing diabetic retinopathy at 10 years was higher in individuals with a fasting plasma glucose level of more than 108 mg/dL and HbA1c level of more than 6%. Controlling diabetes and maintaining the HbA1c level in the 6-7% range are the goals in the optimal management of diabetes and diabetic retinopathy. If the levels are maintained, then the progression of diabetic retinopathy is reduced substantially, according to The Diabetes Control and Complications Trial.
Fluorescein Angiography
Fluorescein angiography is an invaluable adjunct in the diagnosis and management of diabetic retinopathy. Microaneurysms appear as pinpoint hyperfluorescent lesions in early phases of the angiogram and typically leak in the later phases of the test.
Blot and dot hemorrhages can be distinguished from microaneurysms as hypofluorescent rather than hyperfluorescent. Areas of nonperfusion appear as homogeneous hypofluorescent or dark patches bordered by occluded blood vessels.
Intraretinal microvascular abnormalities are evidenced by collateral vessels that do not leak, usually found in the borders of the nonperfused retina. Neovascular tufts leak dye because of their high permeability; they start as hyperfluorescent areas that increase in size and intensity in the later phases of the test. (See the images below.)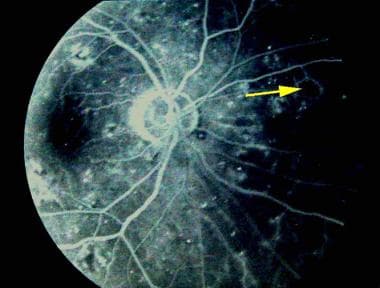 Fluorescein angiogram demonstrating an area of capillary nonperfusion (arrow).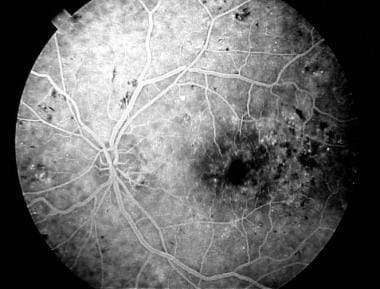 Fluorescein angiogram demonstrating foveal dye leakage caused by macular edema.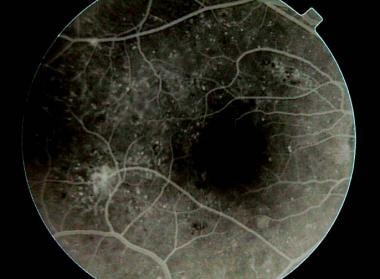 An area of neovascularization that leaks fluorescein on angiography.
Optical Coherence Tomography
Optical coherence tomography (OCT) uses light to generate a cross-sectional image of the retina. This is used to determine the thickness of the retina and the presence of swelling within the retina as well as vitreomacular traction. This test is particularly used for the diagnosis and management of diabetic macular edema or clinically significant macular edema.
B-scan Ultrasonography
B-scan ultrasonography can be used to evaluate the status of the retina if the media is obstructed by vitreous hemorrhage.
What would you like to print?