Overview
Background
Purtscher retinopathy is a hemorrhagic and vasoocclusive vasculopathy, which, in 1912, was first described as a syndrome of sudden blindness associated with severe head trauma. These patients had findings of multiple white retinal patches and retinal hemorrhages that were associated with severe vision loss. [1, 2, 3]
Since its original description, Purtscher retinopathy has been associated with traumatic injury, primarily blunt thoracic trauma and head trauma, and numerous nontraumatic diseases.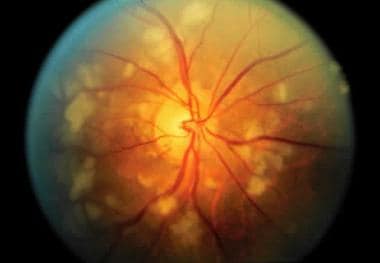 Characteristic fundus findings of Purtscher retinopathy. Multiple cotton-wool spots surround the optic nerve after blunt thoracic trauma.
Purtscher-like retinopathy is seen in diverse conditions, including acute pancreatitis; fat embolization; amniotic fluid embolization; preeclampsia; hemolysis, elevated liver enzymes, and low platelets (HELLP) syndrome; and vasculitic diseases, such as lupus.
Pathophysiology
The original findings of white lesions in the retina associated with intraretinal and preretinal hemorrhages and papillitis were believed to be caused by lymphatic extravasation from trauma. These lesions are known as Purtscher flecken (larger infarcts of the retinal capillary bed) and cotton-wool spots (small retinal microinfarcts at the level of the nerve fiber layer). Fluorescein leakage in Purtscher retinopathy suggests that an acute endothelial cell injury is caused by trauma, possibly predisposing the retinal vessels to occlusion. [4, 5, 6]
The exact pathophysiology remains somewhat controversial, and different mechanisms have been proposed. The condition has been associated with various vasculopathies, including cryoglobulinemia, iron-deficiency anemia, thrombotic thrombocytopenic purpura, and drug-induced hypersensitivity, among others. [7, 8, 9, 10]
The most accepted mechanism is leukoembolization that causes arterial occlusion and infarction of the microvascular bed. Leukocyte aggregation, which is induced by complement C5a, is believed to be the most likely mechanism of embolization because of its known association with trauma, acute pancreatitis, and vasculitic diseases.
Other possible sources of emboli include fat emboli in cases of long bone fractures and perhaps pancreatitis from enzymatic digestion of omental fat, amniotic fluid embolization during childbirth and postpartum, air emboli from traumatic chest compression, and granulocyte aggregation resulting from complement activation.
Other proposed mechanisms of vascular occlusion include angiospasm resulting from an acute rise in venous pressure from compressive chest injuries or possibly acute head injuries and endothelial cell damage resulting from acutely increased intraluminal pressure. A recent paper modeling shear stress in the retina suggests that Purtscher retinopathy may be a rheological event at a retinal posterior pole foci of vascular endothelial dysregulation, followed by downstream endothelin-induced vasculopathy. [11]
Epidemiology
Frequency
United States
Not reported
International
Not reported
Mortality/Morbidity
Bilateral manifestations are seen most commonly, but unilateral findings have been reported.
Decreased vision occurs in the affected eyes, generally in the range of 20/200 to counting fingers. Vision often improves over several months to a range of 20/30 to 20/200, depending on the severity of the retinal findings. Case reports of Purtscher retinopathy associated with preeclampsia have demonstrated poor visual outcomes in more than one half of these patients. [12]
Race
Not reported
Sex
Not reported
Age
Not reported
What would you like to print?