Workup
Laboratory Studies
Acute posterior multifocal placoid pigment epitheliopathy (APMPPE) is diagnosed from its typical clinical appearance and disease course. No test is pathognomonic or diagnostic for this disease.
The following tests may be ordered to help rule out other diseases that may have somewhat similar findings:
Antinuclear antibody (ANA)

Antineutrophil cytoplasmic antibodies (ANCA)

Angiotensin-converting enzyme (ACE)

Rapid plasma reagin (RPR)

Purified protein derivative (PPD) skin test

Complete blood count (CBC)

Cytomegalovirus (CMV) antibodies

Anticardiolipin antibodies
Imaging Studies
A CT scan or MRI is indicated in those patients with severe headache or CNS symptoms.
A cerebral arteriogram may be indicated when cerebral vasculitis is suspected.
Other Tests
Studies that may assist in the diagnosis of APMPPE include the following:
Lumbar puncture: Lymphocytic pleocytosis and elevated protein frequently present in spinal fluid if headache is present.

Urinalysis: Transient proteinuria, casts, and lymphocytes may indicate a subclinical microvascular nephropathy.
Fluorescein angiography
Early lesions: Characteristic findings of early hypofluorescence of the lesions are followed by later hyperfluorescence, as shown below, with or without central staining.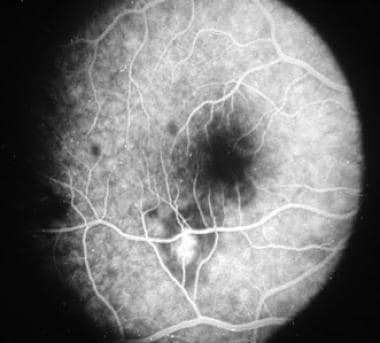 Fluorescein angiography showing peripheral hypofluorescence and central leakage of the lesion inferior temporal to the macula.
Older lesions: Such lesions may show window defects in RPE.
Fluorescein angiogram of the patient above in late phase showing late staining of placoid areas.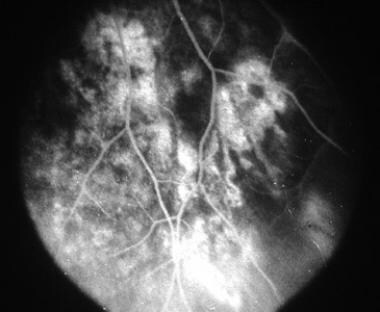 Fluorescein angiography of same patient in late phase showing areas of late staining.
Indocyanine green (ICG) angiography
Early lesions: Numerous round hypofluorescent choroidal defects frequently outnumber those seen on fluorescein angiography. Larger choroidal vessels can be visualized in the hypofluorescent areas, suggesting nonperfusion of choroidal lobules as the source of the typical APMPPE lesions.
Older lesions: Partial or complete resolution of the hypofluorescent choroidal areas occurs, and the choroidal findings observed with ICG angiography disappear or resolve earlier than fluorescein angiographic findings. In resolution, the lesions observed with ICG angiography may remain identical to those seen ophthalmoscopically and to the fluorescein angiographic changes.
Fundus autofluorescence
Fundus autofluorescence (FAF) has been used for the evaluation of the retinal pigment epithelium (RPE) in degenerative, inflammatory, and neoplastic disease conditions. The FAF signal is derived primarily from lipofuscin accumulation within the RPE and may be indicative of altered structure and function. [9, 10, 11]
FAF imaging of active placoid lesions shows hypoautofluorescence with relative hyperautofluorescence along their edge. As the disease progresses, hyperautofluorescence become more generalized over the lesions and gradually changes to hypoautofluorescence once fully healed. These lesions may be larger than the area of lesions identified by FA/ICG angiography at peak activity.
Electroencephalography
Electroencephalography may show diffuse slowing of wave patterns.
Electroretinography
Electroretinography (ERG) findings may be minimally subnormal. [12]
Electro-oculography
Electro-oculography (EOG) findings may have substantial reduction of light-to-dark ratio studies, which show diffuse functional abnormality of the RPE. Functional recovery may be slow, and, in some instances, it may take up to a year for full recovery.
Visual fields
Visual fields may show paracentral scotomata early; some visual defects may be permanent.
Dark adaptation
Dark adaptation may show delayed in the acute phase, which can return to normal with time after recovery from the acute lesions.
Optical coherence tomography
Spectral domain optical coherence tomography (SD-OCT) imaging can demonstrate structural retinal changes involving the photoreceptors and RPE layers during the APMPPE disease process. [13, 14, 15]
Serial OCT is useful in the noninvasive follow-up; it may assist in determining prognosis/staging of disease.
Stage 1 acute-phase placoid lesions appear as a prominent elevation and disruption of the inner segment/outer segment (IS/OS) junction, with an accumulation of hyperreflective material intertwined with a variable amount of subretinal fluid. This is followed by a rapid flattening of the elevation.
Stage 2, the subacute phase, appears as a distinct separation between the IS/OS junction and the RPE with thinning of the outer nuclear layer.
Stage 3, the late phase, is characterized by accentuated hyperreflectivity of the RPE with partial disappearance of the IS/OS junction.
Stage 4, the last phase, demonstrates nearly complete resolution of the previous findings, with reappearance of IS/OS junction and the RPE as two separated distinguishable layers. The IS/OS junction and the RPE almost regain their normal appearance.
After disease resolution, some healed areas continue to demonstrate areas of severe photoreceptor atrophy and loss of the RPE.
Optical coherence tomography angiography
Optical coherence tomography angiography (OCTA) is a noninvasive imaging modality that is used to visualize vasculature in fine detail in various layers of retina and choroid and allows assessment of the retinal and choroidal microvascular flow in a three-dimensional pattern. OCTA has been used to evaluate various retinochoroidal diseases for better understanding of the pathogenesis, natural course, diagnosis, and management.
OCTA has been reported to show evidence of choriocapillaris flow abnormalities in acute and healed APMPPE lesions. In acute lesions, significant loss of choriocapillaris flow was reported, whereas healed lesions showed distinct small vascular flow channels with intervening no-flow zones. These findings suggest decreased blood flow consistent with choriocapillaris changes leading to a primary ischemic insult to the RPE rather than a primary RPE inflammatory etiology. [2, 16, 17, 18, 11]
Stiles-Crawford effect
The Stiles-Crawford effect shows early profound disorientation of the photoreceptors.
Histologic Findings
No histopathology of ocular tissue has been published. Cerebral pathology of a patient with cerebral vasculitis showed granulomatous changes associated with giant cells beneath the RPE with no vasculitic changes in choroidal vessels. [19]
What would you like to print?