Workup
Laboratory Studies
No laboratory studies assist in the diagnosis of age-related macular degeneration (AMD), although genetic testing is available that may reveal some predisposition to the disease.
Imaging Studies
After a thorough dilated examination of the fundus with slit lamp biomicroscopy, stereo color photography of the fundus, rapid-sequence fluorescein angiography (FA), and optical coherence tomography (OCT) are performed on many patients with signs and symptoms of exudative AMD.
FA is an office-based procedure to help identify and confirm the source of the CNV. During the procedure, fluorescein dye is injected intravenously and serial photographs with a blue filter of the retina are taken to document the progression of the dye through the choroidal and retinal vasculature. Abnormalities are identified in areas where the dye collects (hyperfluorescence) or is absent (hypofluorescence).
Findings on FA consistent with exudative AMD include the following: increasing hyperfluorescence secondary to dye leakage from the CNV and hypofluorescent blockage from subretinal hemorrhage. Additional findings consistent with any form of AMD include the following: hyperfluorescence of drusen and RPE atrophy and hypofluorescence of RPE hypertrophy.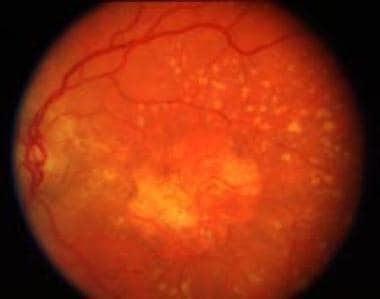 Color photograph of the fundus shows nonexudative age-related macular degeneration (AMD) with geographic atrophy of the retinal pigment epithelium (RPE) and drusen. Absolute atrophy of the RPE occupies the foveal region in this case of nonexudative AMD. The central atrophic region causes a corresponding central scotoma. Note the large choroidal vessels, which are visible through the RPE defect. Drusen surround the region of geographic atrophy. Photo by Tim Steffens.
A disciform scar, which is the end stage of exudative AMD, is hyperfluorescent from fluorescein staining. Depending on the distance from the foveal avascular zone, the leakage is classified as subfoveal, juxtafoveal (1-199 µm), or extrafoveal (200-250 µm). CNV sometimes is defined as classic or occult based on the FA leakage pattern.
Classic CNV results in discrete and early hyperfluorescence with late leakage of fluorescein dye into the surrounding interstitial spaces.
Occult CNV is categorized into 2 basic forms, as follows: late leakage of undetermined source or fibrovascular PED. Both forms manifest as a region of ill-defined leakage in the early and late frames without a distinct source of leakage.
When a treatment other than a vascular endothelial growth factor (VEGF) inhibitor is planned, angiography customarily is performed within 72 hours of treatment because the morphology and resulting treatment parameters can evolve rapidly.
Indocyanine green (ICG) angiography can be performed as an adjunctive study in patients with subretinal hemorrhage, suspected retinal angiomatous proliferation, or polypoidal choroidal vasculopathy.
The near-infrared light (795-810 nm) absorbed by ICG tends to penetrate hemorrhage and RPE better than the shorter wavelength that is absorbed by fluorescein.
Unlike fluorescein, ICG is strongly bound to plasma proteins, which prevents diffusion of the compound through the normally fenestrated choroidal capillaries and improves delineation of choroidal detail. [54]
Optical coherence tomography (OCT) is a useful noninvasive adjunct for identifying retinal and subretinal pathology secondary to CNV. OCT provides a cross-sectional view of the retina with an axial resolution of about 4 µm. OCT can identify soft drusen, RPE detachments, subretinal and intraretinal fluid, CNV, and cystoid macular edema, as well as the integrity of the photoreceptor and RPE layers. [55, 56, 57, 58] OCT is useful for monitoring therapeutic response. [57, 59, 60]
OCT angiography is a newer technology that uses laser light reflectance off moving red blood cells to create an image of the retinal and choroidal vasculature. It has been used to diagnose and classify choroidal neovascular membranes without the need for intravenous dye. [61]
What would you like to print?