DDx
Diagnostic Considerations
Autosomal-recessive bestrophinopathy
Autosomal-recessive bestrophinopathy results from a homozygous or compound heterozygous BEST1 mutation. The age of onset is between 4 and 40 years, and the condition results in vision deterioration to below 20/70 within a few years. Fundus examination reveals irregular RPE and white subretinal deposits in the macula and midperiphery. Affected individuals may not have vitelliform lesions. EOG is severely reduced, and the pattern ERG is markedly abnormal. [19]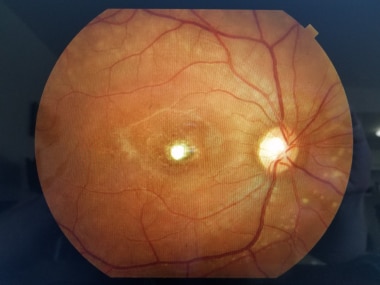 Autosomal-recessive bestrophinopathy: Atrophic central lesion and white subretinal deposits along the vascular arcades in a 14-year-old female with 20/70 vision and no family history of Best macular dystrophy.
Differential Diagnoses
Adult-Onset Vitelliform Macular Dystrophy (Pattern Dystrophy)

Autosomal-Recessive Bestrophinopathy

Basal Laminar Drusen

Central Serous Chorioretinopathy With Subretinal Fibrin

Fundus Flavimaculatus (Stargardt Disease)

Resolving Subretinal Hematoma
What would you like to print?