Follow-up
Further Outpatient Care
Ophthalmic follow-up care depends on stage of disease (ie, active vs atrophic retinitis), and CD4 count.
Transplant-related CMV retinitis may occur late after transplantation. In a large series of pediatric allogeneic hematopoietic stem cell transplantation, CMV retinitis developed at a median of 199 days after transplantation. In addition, this occurred with a higher CD4 T-cell count (≥200/μL) and a lower CMV load than is generally associated with AIDS or with other organ system involvement following transplantation. This indicates the need for dilated examination, particularly if viremic. [4]
Further Inpatient Care
Placement of long-term intravenous access for medication delivery
Inpatient & Outpatient Medications
Medications described in the prior section are used on an outpatient basis after initiation in-hospital. See Medication.
Deterrence/Prevention
CMV retinitis occurs in immunocompromised individuals. Treatment of underlying disorders can prevent the development of retinitis. Prevention practices to reduce the transmission of HIV would concomitantly reduce the incidence of CMV retinitis.
Complications
Untreated retinitis will progress to blindness, from retinal necrosis, optic nerve involvement, or retinal detachment. [128, 129]
CMV retinitis can relapse despite ongoing treatment. Drug levels need to be assessed. Reinduction, a change in medication, combination drug therapy, or an ocular implant are alternatives for management.
Retinal detachment is a potential complication of CMV retinitis, with a 1-year risk of 5-50%. Repair requires laser photocoagulation or vitrectomy with silicone oil tamponade. [130, 20]
Drug resistance
Resistance to ganciclovir, [109] foscarnet, [131, 132] or cidofovir can occur since these drugs are administered long term. The chance of this occurring increases with time. In a study of 76 newly diagnosed patients treated for CMV retinitis with intravenous ganciclovir, resistant isolates were obtained from blood or urine samples in 5.4% of patients at 3 months, 11.4% of patients at 6 months, and 27.5% of patients at 9 months.
Management of drug resistance leading to reactivation of CMV retinitis or occurrence in the other eye involves combination therapy. [133, 134, 135, 136] Ganciclovir and foscarnet are synergistic and may be combined in intravenous or intravitreal therapy.
Prognosis
Untreated retinitis will progress to blindness, from retinal necrosis, optic nerve involvement, or retinal detachment. [137] Of treated patients, 80-95% will respond, with resolution of intraretinal hemorrhages and white infiltrates (see image below). If treatment is discontinued and the individual is still immunocompromised (ie, CD4 < 50), then the retinitis will recur in 100%. Prior to the advent of HAART, 50% of patients would experience recurrence within 6 months despite maintenance therapy. This rate is reduced if the CD4 count is elevated.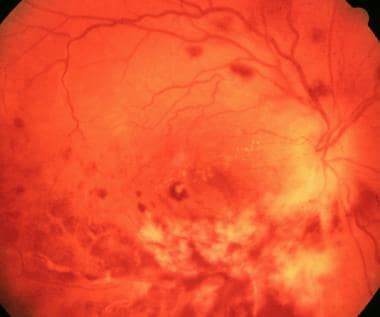 White granular retinitis with intraretinal hemorrhage.
If a retinal detachment occurs, repair with vitrectomy and silicone oil tamponade will result in at least a 70% reattachment rate. [138]
Patient Education
Visual symptoms that require a repeat examination are vision loss, development of a visual field defect, new floaters, and photophobia.
Provide education on the following:
Medication use and possible adverse effects

Education on care of long-term intravenous access site

Education on HIV transmission
What would you like to print?