Presentation
History
Valsalva retinopathy usually manifests as preretinal hemorrhage secondary to rupturing of superficial retinal vessels from physical exertion. The mechanism of Valsalva maneuver is characterized by a sudden rise in intrathoracic or intraabdominal pressure against a closed glottis, which leads to a rapid rise of intravenous pressure within the eye, causing retinal vessels to spontaneously rupture.
Patients with Valsalva retinopathy often present with loss of vision in one eye, but bilateral clinical findings are common. The degree of vision loss depends on the size and location of the preretinal (or, less commonly, subretinal) hemorrhage. Patients usually describe an antecedent Valsalva-like maneuver (eg, coughing, vomiting, heavy lifting, straining in the bathroom, vigorous sexual activity, labor and delivery). The severity of the Valsalva maneuver is not directly correlated with the severity of Valsalva retinopathy.
Some individuals with Valsalva retinopathy may experience spontaneous vision loss without a history of Valsalva maneuver. Without a definitive history of physical exertion, retinal vascular disease should be considered and other systemic conditions investigated. Furthermore, patients receiving anticoagulants may develop a similar clinical picture without a history of unusual exertion.
Patients with Valsalva retinopathy often present with the following symptoms:
Floaters

Red-tinged hue to the vision

Cloudy or hazy vision

Partial loss of vision

Complete loss of vision
Ocular Examination and Clinical Features
The clinical signs of suddenly increased systemic venous pressure often include the eye and skin. A subconjunctival hemorrhage may be evident, and skin petechia of the hand and neck may be present.
A comprehensive ocular examination is imperative and should include visual acuity testing, pupil testing, anterior segment examination, and a detailed posterior segment examination.
The "classic" clinical appearance of Valsalva retinopathy on dilated fundus examination is a well-circumscribed preretinal hemorrhage in either the subhyaloid or sub–internal limiting membrane (ILM) space. Interestingly, Valsalva retinopathy has a predilection for the macula region (both premacular and paramacular). Often, the ruptured vessels in the perifoveal vessels can cause a sudden and painless loss of central vision. Uncommonly, subretinal hemorrhage may occur.
Retinal edema in the macular region with associated edematous transudates and superficial intraretinal hemorrhages have been described.
Ocular findings and visual symptoms depend on the severity of the Valsalva force and the underlying status of the retina vasculature. Hemorrhages can vary in size, and, in many cases, a large preretinal hemorrhage encompassing several disc diameters may be observed.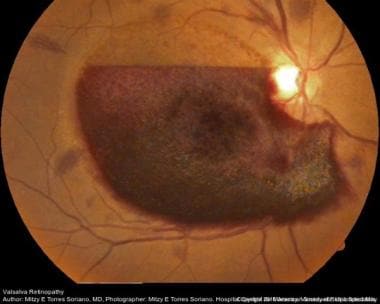 Subhyaloid, sub–internal limiting membrane (ILM) hemorrhage in eye with Valsalva retinopathy. This image was originally published in the ASRS Retina Image Bank. Mitzy E. Torres Soriano, MD. Valsalva Retinopathy. Image Number 18218. © the American Society of Retina Specialists.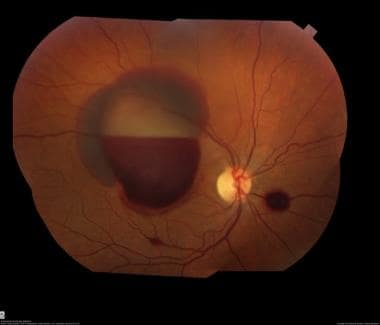 Subhyaloid, sub–internal limiting membrane (ILM) hemorrhage showing a fluid level and yellowish color as it settles over time. This image was originally published in the ASRS Retina Image Bank. Kathy Karsten, COT. Subhyaloid Hemorrhage, Right Eye. Number 23763. © the American Society of Retina Specialists.
Causes
The underlying etiology of the Valsalva maneuver most commonly is related to heavy lifting, vomiting, coughing, unusual physical exertion, and straining on the toilet. Other causes, such as sneezing, compressive trauma, labor, vigorous sexual activity, labor, and rollercoaster riding, have been described.
The pathophysiology of Valsalva retinopathy is related to a sudden increase in intraabdominal pressure in a closed glottis.
Physical Examination
Physical examination of the skin may reveal petechiae. See Ocular Examination for clinical features of the eye examination.
Complications
Complications of Valsalva retinopathy may include the following:
Permanent vision loss

Hemorrhaging within and under the retina, destroying the cellular structure of the retina

Slightly reduced visual acuity secondary to either incomplete blood resorption or mild retinal pigment epithelium changes in or around the macula

Possible toxic damage to the retina due to prolonged contact of retina with hemoglobin and iron, causing irreversible visual impairment

Bilateral choroidal detachment

An Nd:YAG laser membranotomy producing epiretinal membrane formation with internal limiting membrane wrinkling as a late postoperative complication (although its frequency has not yet been identified)
The final visual outcome often depends on the location of the hemorrhage and the layer of retina involved (subretinal, intraretinal, preretinal). Specifically, subretinal hemorrhage in the macula most likely causes permanent vision loss.
What would you like to print?