Workup
Laboratory Studies
Culture an intraocular foreign body (IOFB) or a sample of vitreous if an infection is suspected. Remember that a positive result does not mean that an infection is occurring and that a negative result does not preclude the possibility of endophthalmitis. [7]
Imaging Studies
CT scans are the imaging study of choice for IOFB localization. A consultation with the CT technician is helpful in selecting the optimal section so as to reduce the risk for a false-negative result. A helical CT scan is the most efficient method to establish a diagnosis. Helical CT scans have a very high identification rate. With conventional CT scans, cuts of 0.5 mm are advised.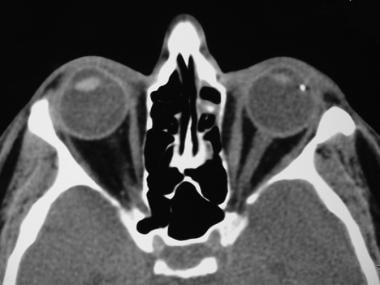 Metal intraocular foreign body located in the left temporal pars plana region seen on axial CT scan.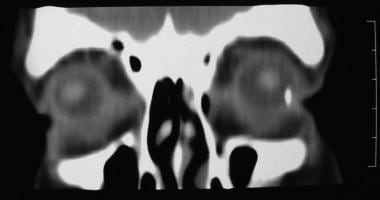 Same metallic intraocular foreign body as in previous image, as seen on coronal CT scan view.
Plain x-ray is useful if a metallic IOFB is present and a CT scan is unavailable.
MRI generally is not recommended for metallic IOFBs.
Ultrasound is a useful tool in localizing IOFBs, and its careful use is possible even if the globe is still open; alternatively, intraoperative use after wound closure can be attempted. The ultrasound biomicroscope may help with IOFBs in the anterior segment. [8, 9]
Other Tests
Electroretinography is useful if a chronic IOFB is found and siderosis threatens or is present.
What would you like to print?