Presentation
History
Acquired partial lipodystrophy (APL) usually begins in childhood. In most reports, disease onset occurs when patients are younger than 16 years.
The onset usually follows an acute, febrile viral illness, most commonly measles. [3] Minor surgical procedures and psychological stress have also been reported before the onset of fat loss. Lipodystrophy progresses slowly and occurs over a period of a few months to 2 years. Seventy-five percent of patients have been found to have significant fat loss when younger than 13 years.
APL is characterized by a fat loss that spreads through the cephalocaudal distribution from the face, neck, shoulders, arms, and forearms and that extends to the thoracic region and upper abdomen. Occasionally, fat loss may involve the groin or thighs. The hips and legs are usually spared, as shown in the image below. After puberty, women have a tendency to accumulate fat (lipohypertrophy) disproportionately in the hips and legs. [27]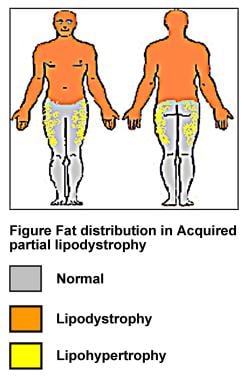 Fat distribution in acquired partial lipodystrophy.
The process does not affect patient growth, and children usually experience developmental milestones with no difficulties. No pain is associated, but patients may occasionally complain of muscle weakness.
Patients with APL do not usually experience the metabolic abnormalities observed in persons with other forms of lipodystrophy. However, inquiring about a history of menstrual irregularities, hirsutism, diabetes mellitus, and dyslipidemia is important, because metabolic abnormalities have been reported in these patients, and therapeutic interventions are available for these diseases. In addition, looking for evidence of renal disease, which occurs in approximately 20% of patients, is essential. Most patients are asymptomatic until the development of advanced renal impairment or acute decompensation. [4]
Hepatomegaly has been reported in over 60% of patients. However, this finding might be due to associated autoimmune diseases.
Patients with APL may present with a history that is suggestive of autoimmune or rheumatologic disease.
Physical Examination
Patients with acquired partial lipodystrophy (APL) usually have normal growth and secondary sexual characteristics. No specific bony abnormalities are present.
General inspection may reveal features of one of the associated autoimmune diseases. Hepatomegaly might be present. Acanthosis nigricans and increased skin tags are very rare; they indicate the presence of insulin resistance.
Exposing the patient properly for examination is very important; otherwise, the diagnosis can be easily missed. The best exposure during examination is achieved when the patient wears a gown exposing the extremities and trunk.
These patients usually have characteristic body changes, including loss of fat and deposition of fat. Loss of fat occurs in the face (around the cheeks and temples; eg, sunken cheeks), neck, shoulders and upper extremities, and upper abdomen. Breasts may lose fat and consist only of firm glandular tissue. Prominent veins in the arms with a muscular appearance (not associated with heavy exercise or muscle-building routines) are very characteristic of this syndrome. Fat deposits can occur in the hips, lower extremities, breasts (in men and women), or other scattered areas around the body. These patients do not have cushingoid features.
What would you like to print?