Workup
Laboratory Studies
Depending on the presentation of vitreous wick syndrome, also known as vitreous touch syndrome, specimens (eg, swab, vitreous wick, or aqueous) should be obtained from the external and internal eye for the following studies:
Gram stain or Giemsa stain

Cultures and sensitivities

Calcofluor white (if fungal infection is suspected)
Slit-Lamp Examination
In the Seidel test, a strip of fluorescein is placed on the area that is suspected of containing a leak, and the dye color is then observed in white light. If a leak is present, the dye changes from orange (concentrated) to green (diluted) and exhibits a waterfall-like effect at the leaking zone. The egress of fluid is noted best under blue light.
On slit-lamp biomicroscopy, the vitreous wick may have the appearance of a mucoid substance. The examiner may tease the wick with a cotton applicator or a cellulose sponge while taking note of synchronous movement of the iris or of the vitreous strand in the anterior chamber (see the image below). A peaked pupil may also indicate a vitreous strand in the anterior chamber.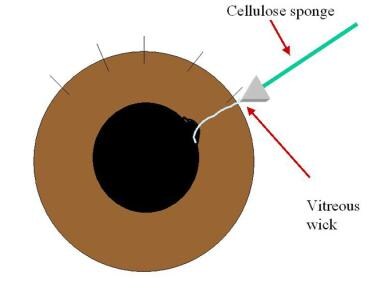 Cellulose sponge teasing the vitreous wick. Image courtesy of Manolette Roque, MD, MBA, Roque Eye Clinic.
What would you like to print?