Workup
Radiography
Radiographs of the elbow in the anteroposterior (AP), lateral, and, if required, oblique views should be obtained to provide a clear assessment of the extent of bony injury. Oblique views are especially important in minimally displaced fractures because in a true lateral view, the radial head overlaps the coronoid. To avoid this problem, Greenspan and Norman described the radiocapitellar view, in which the elbow is flexed to 90º and placed flat on the table with the x-ray beam directed obliquely toward the shoulder. [26, 27] This separates the radial head from the coronoid.
Regan and Morrey classified coronoid fractures depending on the size of the fragment, as follows [15] :
Type 1 - Avulsion of the tip of the coronoid process (see the first image below); Linscheid et al did not consider this to be an avulsion, in that the brachialis is attached to the base of the coronoid

[17]

Type 2 - Single or comminuted fragment involving less than 50% of the coronoid (see the second image below)

Type 3 - Single or comminuted fragment involving more than 50% of the coronoid (see the third image below)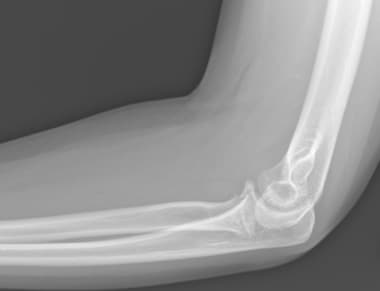 Type 1 coronoid fracture: avulsion fracture at tip of coronoid.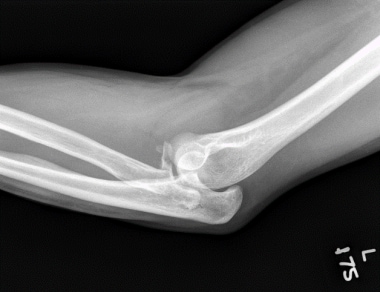 Type 2 coronoid fracture: unstable elbow fracture dislocation with fracture involving <50% of coronoid height and associated radial head fracture.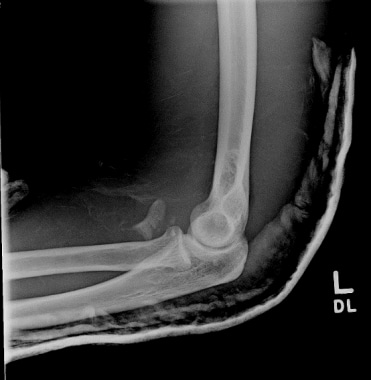 Type 3 coronoid fracture: fracture involving >50% of coronoid height.
CT and MRI
Computed tomography (CT) may be useful in complex fracture dislocations to delineate the fracture patterns and for preoperative planning. [28, 29]
Rhyou et al studied rates of associated ligamentous injury in isolated and combined coronoid fractures and found the following [30] :
Complete lateral ulnar collateral ligament rupture (94.1%)

Complete medial collateral ligament rupture (17.6%)

Medial bone contusion (70.6%)

Lateral bone contusion (17.6%)
For magnetic resonance imaging (MRI) findings in elbows with a radial head fracture, see Kaas et al. [31]
What would you like to print?