Workup
Imaging Studies
The minimum radiographic workup for a patient with an injured extremity should include radiographs in the anteroposterior (AP) and lateral planes. (See the image below.) Traction on the affected extremity helps define the fracture lines. When standard radiographs do not provide enough information, oblique radiographs should be obtained.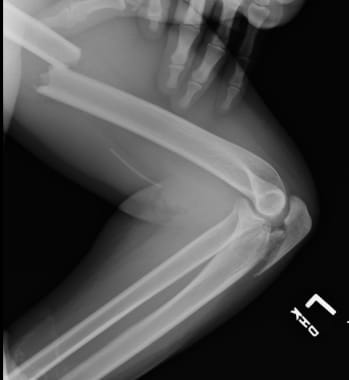 Lateral radiograph of concomitant ipsilateral midshaft humerus and olecranon fractures.
Patients with a persistent pulseless extremity despite fracture reduction should undergo arteriography to rule out vascular injury if a delay in operative intervention is anticipated.
What would you like to print?