Treatment
Approach Considerations
The goals of olecranon fracture treatment must be individualized to the needs of the patient. In young active individuals, restoration of the articular surface, preservation of motor power, restoration of stability, and prevention of joint stiffness are important. In older patients, minimization of morbidity is the most important goal. An understanding of the extent of associated injuries is critical before treatment is initiated. Additional fractures or disruptions of collateral ligaments render the elbow unstable.
Nondisplaced olecranon fractures with intact extensor mechanisms (as demonstrated by the ability to actively extend the elbow) are generally treated nonoperatively. Nonoperative treatment is often desirable in patients with significant associated medical conditions and in low-demand elderly patients. [5] Stable (Mayo type 1 fractures) are treated nonoperatively. [16] (See Nonoperative Therapy.)
Surgical treatment is indicated for the following:
Fractures with significant displacement (>1-2 mm)

All patients lacking active extension of the elbow

Most fractures associated with elbow instability

Cases in which nonoperative treatment has failed
Controversy exists regarding the amount of acceptable articular displacement for closed treatment. Certainly, several millimeters of displacement is usually well tolerated. Degenerative changes occur in fewer than 20% of these patients.
The method chosen for open treatment of olecranon fractures is also controversial. Decisions regarding fragment excision versus internal fixation often are based on the percentage of joint-space involvement.
In 1947, McKeever and Buck stated that as much as 80% of the trochlear notch can be excised without compromise of elbow stability, provided that the coronoid and the distal trochlea are preserved. One patient developed anterior instability after excision of 75% of the articular surface. The consensus suggests that at least 50%, but likely less than 80%, of the articular surface can be excised, and a good result can still be obtained. [17]
Future treatment of olecranon fractures may very well involve percutaneous fixation accompanied by arthroscopic assistance.
Nonoperative Therapy
In patients with significant associated medical conditions, nonoperative treatment is often desirable. Healing of contused soft tissue is of paramount importance. Nonoperative treatment of even significantly displaced olecranon fractures is reasonable in patients with severe medical illness, steroid use, or dementia. Skillful neglect is the treatment of choice for these patients. An Ace wrap with sufficient padding to protect the elbow is the only requirement.
Patients with wide separation of fracture fragments lose much, but not all, of their elbow extension power. Late pain from a nonunited displaced olecranon fracture generally is not a problem, but the extensor power is compromised. Approximately 70% of the extensor power is estimated to be lost when the fracture is displaced more than 1.5 cm.
Gallucci et al evaluated 28 patients older than 70 years who had displaced olecranon fractures that were treated by early mobilization. [18] Of these patients, 22 developed minimally symptomatic nonunion, which did not warrant operative intervention in any cases. Patients had 15-140º of range of motion (ROM) with an average pain score of 1/10. The authors concluded that nonsurgical functional treatment was reasonable for elderly patients.
Similarly, Duckworth et al reported satisfactory long-term outcomes following nonoperative management of isolated displaced olecranon fractures in elderly low-demand patients. [19] In this study, 91% of patients were satisfied with their outcome.
Nondisplaced fractures (< 1-2 mm displacement) with intact extensor mechanisms may be treated nonoperatively. The patient must be able to actively extend the elbow. In such cases, 7-10 days of casting usually suffices. The elbow can be placed at any degree of flexion. Displacement generally can be reduced by placing the elbow in more extension. Patients can be comfortable with the elbow extended 135°. However, it is often more convenient to immobilize the elbow at 90°.
Regaining both flexion and extension can be difficult. At first, patients are cautioned to limit flexion to 90°, at least until evidence of radiographic healing is satisfactory. Repeat x-rays should be obtained to be sure the fracture does not displace. The paient can usually be allowed to lift at 6-8 weeks.
Surgical Options
As noted (see Nonoperative Therapy), nonoperative care is usually successful in managing nondisplaced stable fractures with an intact extensor mechanism. However, surgical intervention is usually required for fractures with significant displacement (>1-2 mm) or comminution.
Excision and triceps advancement may be indicated for severely comminuted fractures or for patients with osteoporotic bone. Open reduction with internal fixation (ORIF) is preferred for displaced intra-articular fractures. Intramedullary screw fixation, with or without a wire or cable, is secure. Tension-band wiring is especially useful for transverse fractures.
Plate fixation with a lag screw provides excellent stability for oblique fractures. Plate fixation is especially recommended for extensive comminuted or unstable oblique fractures not amenable to other types of treatment. Plate fixation also may be preferable in the face of an associated coronoid fracture. [9, 11, 14, 20, 21, 22, 23] Intramedullary rod techniques have also been suggested.
In determining the appropriate surgical approach, it is important to consider the following:
Patient age

Patient health

Bone quality

Fracture pattern

Ligamentous stability
In general, tension-band wiring is preferred for transverse fractures in older patients, whereas plate fixation is preferred for multifragmented fractures in younger patients. [24]
Careful evaluation of the dorsal cortex on preoperative x-rays assists in preoperative planning to choose the surgical technique. The tension-band techniques convert dorsal distraction forces to compressive forces at the articular surface and fracture site. If the dorsal cortex is comminuted, mechanical stability is lost. Therefore, if there is an intact dorsal cortex, tension-band wiring is an excellent choice for fixation, but if the dorsal cortex is comminuted, the surgeon should consider a plate or an intramedullary device instead.
The surgeon should also evaluate the fracture-line orientation: If the fracture is transverse, then a tension-band wire is effective; if it is oblique, a lag screw technique should be considered; and if it is comminuted, then usually a plate is the best option. [25]
A 2014 Cochrane review of trials of surgical interventions for treating olecranon fractures in adults did not find sufficient evidence to indicate that any particular surgical approach was clearly superior to any of the others. [26]
Excision and Triceps Advancement
A midline posterior surgical incision is used curved radially to avoid the subcutaneous tip of the olecranon.
Excision of the fracture fragment and reattachment of the triceps tendon may be indicated in a select group of elderly patients with osteoporotic bone with low functional demands in whom the olecranon fracture involves less than 50% of the joint surface or when the fragment is too small or comminuted for successful internal fixation. [20, 23, 27, 17] Excision of more than 50% of the olecranon leads to instability of the elbow joint. [20]
Integrity of the collateral ligaments, the intraosseous membrane, and the distal radioulnar joint (DRUJ) must be established before excision is considered; otherwise, instability can result. The triceps is reattached with nonabsorbable sutures that are passed through drill holes in the proximal ulna. The drill holes are placed so that the triceps will insert anteriorly just off the articular margin of the olecranon articular surface, in essence extending the articular margin. More posterior reattachment of the triceps tendon leads to elbow weakness. [20]
Weakening of the extensor mechanism is a drawback of excision and triceps advancement. However, comparison of the isometric strength of patients treated by excision with those who had internal fixation showed no differences. Excision and triceps advancement may be followed by immediate motion if the suture repair of the triceps is secure.
An example of olecranon excision in a 79-year-old man that went on to nonunion despite excellent tension-band wiring is shown in the images below.
Tension-Band Wiring
A tension-band wire is the most common fixation technique for noncomminuted fractures. The goal is to convert the extensor force of the triceps to a dynamic compression force along the articular surface. Tension-band wiring is indicated for displaced fractures proximal to the coronoid process that are not at risk of compressing the olecranon fossa. Tension-band wiring is contraindicated if the articular surface is comminuted and unstable. [23, 28, 29, 30, 31] Takada et al described a minimally invasive technique for tension-band wiring. [32]
The fracture is usually reduced with a pointed reduction forceps. The surgeon may drill a dorsal cortical hole distally for purchase of the reduction prong.
Next, two smooth Kirschner wires (K-wires) are drilled obliquely through the triceps tendon into the olecranon into the anterior cortex, with great care taken to bury the wires beneath the tendon and firmly impact them into the bone; otherwise, the wires certainly will migrate posteriorly and can become an irritant or possibly a source of infection. (See the image below.) The best mechanical stability is achieved with a configuation in which the K-wires engage both cortices (the tip of the olecranon proximally and the anterior cortex distally). Intramedullary configurations have worse mechanical stability. [33, 34, 24]
Migration of K-wires can occur in as many as 71% of patients. The wires are three times more likely to back out if they are not anchored in the anterior cortex.
K-wires help to hold the tension-band wire in place as it loops around the tip of the olecranon. Placing the pins under the tendon also minimizes strangulation of the tendon. A transverse bicortical drill hole through the ulna at 1-2 cm distal to the articular surface provides the distal fixation point. (A unicortical drill hole increases the risk of stress fracture through the hole.)
Next, a 18- or 20-gauge wire (or a braided cable) is looped under the K-wires and through the distal transverse hole in a figure-eight pattern. An IV cannula can be used to guide the wire. Tightening the wire creates interfragmentary compression. Using two knots results in more rigid fixation than using a single knot and provides symmetric tension at the fracture site. The key is to place the tension-band wire as dorsally as possible on the surface of the olecranon. [35] An example of a tension-band technique is shown in the images below.
Another example of tension-band wiring technique is shown in the images below.
Tension-band wiring is best for transverse fractures, but if it is used for an oblique fracture, a lag screw placed across the fracture site can provide additional compression and stabilization. [12]
The challenges associated with appropriate technical placement of the hardware are frequently underestimated. Despite good functional results, Schneider et al found technical imperfections to be common. [36]
Plate Fixation
Plate fixation is most commonly recommended for treatment of comminuted fractures for which tension-band wire fixation is not feasible. It also is indicated for treatment of fractures that involve the coronoid process or extend distal to the coronoid process, including those extending into the shaft and for those associated with Monteggia fracture-dislocations of the elbow. Additionally, plates are sometimes indicated for oblique fractures when tension-band wiring may not provide ideal compression across the fracture site.
An example of a plate used for fixation of an olecranon fracture extending distal to the coronoid process is shown in the images below.
An example of a plate used for fixation of a comminuted olecranon fracture is shown in the images below.
The surgeon should first anatomically reduce and provisionally fix the intra-articular fragments and then attach the articular construct to the shaft. Indirect reduction techniques preserving soft-tissue attachments should be used when possible. [25] The surgeon should not narrow the olecranon-to-coronoid distance (the trochlear/semilunar notch). It should be restored to within a few millimeters of the correct anatomic distance. In comminuted fractures, the ulnar nerve is at risk and should be isolated and avoided.
Some authors have used one-third tubular 3.5-mm dynamic compression or pelvic reconstruction plates for comminuted fractures. Minifragment 2.7-mm plates can be used for smaller patients. Specialized olecranon plates are also available (see the image below).
The proximal end of the one-third tubular plate can be modified to make a hook-plate that provides additional fixation for small fragments. The last hole in the plate, where it has been bent to make a hook, provides a good location for an intramedullary screw. Bone grafting sometimes is necessary in comminuted fractures. Bridge plating is recommended in highly comminuted fractures where interfragmentary compression will not be possible. Periosteal attachments should be preserved.
An example of bridge plating for a comminuted fracture resulting from a gunshot wound is shown in the images below.
Plates may be placed either posteriorly or laterally. The subcutaneous location of posterior hardware raises concerns about prominence necessitating subsequent removal of fixation. [37, 10] Lateral plating is less prominent and may cause less implant pain and require late removal less often. Lateral plates also allow bicortical screw fixation proximally.
To avoid intra-articular placement of hardware, the surgeon can only use unicortical screws proximally with posterior plating. Posterior plates act as tension bands. Lag screws through either position of the plate provide interfragmentary compression, but the posterior plate usually has a more advantageous position for oblique fractures, allowing a coronoid screw, an intramedullary screw, and olecranon tip screws. There is no mechanical difference between posterior and lateral placement. [38] (See the images below.)
Classically, the Monteggia fracture-dislocation is a fracture of the proximal third of the ulnar shaft with dislocation of the radial head. The Monteggia variant in which the olecranon is fractured (instead of the proximal diaphysis) usually requires ORIF with plate fixation. Usually, with an anatomic reduction, the radial head will reduce. The most common cause of an irreducible radial head is malreduction of the ulna.
Another Monteggia variant includes fracture of the olecranon with fracture of the radial head. Treatment of the ulna is again with ORIF. Treatment of the radial head depends on the fracture pattern and could include ORIF, replacement with a prosthesis, or excision. Repair is preferred.
An example of a Monteggia variant treated with radial head repair is shown in the images below.
An example of a Monteggia variant treated with radial head replacement is shown in the images below.
A raft technique using K-wires to support the articular surface adds additional stability in comminuted fractures treated with plate fixation. [39]
A screw was used in the same way to raft or support the articular surface in this example below.
Intramedullary Screw Fixation
Use of a single large-diameter cancellous screw for repair of olecranon fractures has been advocated for a long time. The Rush brothers wrote that intramedullary insertion of a Steinmann pin was the beginning of the Rush pin technique of fracture fixation in 1936. They claimed this to be the first American case of intramedullary pinning. They found that Steinmann pins were difficult to use and designed their own pins. When 6.5-mm AO/ASIF screws became available, they were used more commonly. [22]
In the frontal plane, there is 4° of valgus angulation in the ulnar shaft with respect to the sigmoid notch (see the image below). When intramedullary screws are used, they must be properly placed along the intramedullary shaft axis to avoid displacement of the fracture. With the advent of cannulated screws, it is much easier to correctly place the screw in the medullary canal of the ulna simultaneously, accommodating the bow in the ulna and achieving anatomic reduction. If the screw is too long, it can cause a medial shift of the tip of the olecranon, leading to malunion or nonunion. [40]
The 7.3-mm cannulated AO screws are the most secure. In placing the screws, it is important to keep in mind that if the screw diameter is large, there will be increased torque forces instead of compression as the screw is tightened, but if the canal diameter is too large, the screw will also have poor purchase and therefore inadequate compression. A screw that is too large can also split or crack the distal olecranon or proximal shaft, causing increased comminution of the fracture site or extending the fracture distally. Screw fixation is a technically demanding technique.
Biomechanically, screw fixation (see the image below) does not provide as secure a fixation as tension-band wiring, and it carries a higher rate of fixation failure.
However, by adding a tension band around the screw, improved fixation can be obtained. The most secure technique is placement of a large-diameter cannulated screw with a braided cable (see the images below). A 1.6-mm cable is adequate and much stronger than an 18-gauge wire. [31]
Nondisplaced stress fractures of the olecranon are rare injuries that occur with valgus extension overload in baseball players. ORIF with cannulated screws has been shown to be an effective treatment for refractory nonunion of these fractures, resulting in healing in 94% of patients and allowing return to competitive play in an average of 29 weeks. [41]
Intramedullary Rod Fixation
Although intramedullary rod systems are usually used for olecranon osteotomies, they are also an option for fixation of stable olecranon fractures. These systems minimize articular stepoff after osteotomy, and the connection between the nail and its end cap provides compression across transverse fractures. Because the nail is buried in the medullary canal below the surface of the bone, there is less soft-tissue hardware irritation than there is with other techniques. Fixation is more stable than with intramedullary screws because the distal locking screw of the implant prevents toggling of the bone, regardless of the size of the canal.
The entry portal is established with a drill by using minimally invasive techniques over a guide pin placed percutaneously. (Alternatively, an awl may be used to open up the proximal olecranon.) Details of insertion vary by manufacturer. [42]
Nowak et al found that fixation with intramedullary nails (see the image below) was more rigid than fixation with precontoured locking compression plates. [43]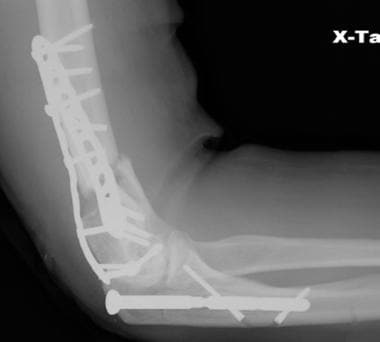 Intramedullary rod fixation of olecranon osteotomy used in repair of distal humerus fracture.
Cerclage With Wire or Suture
Historically, cerclage fixation of olecranon fractures has yielded poorer results than tension-band wiring, plate fixation, or intramedullary fixation. Cerclage does not provide interfragmentary compression and does not solidly hold comminuted fragments in position. However, two relatively recent studies implied that there remain indications for cerclage.
Phadnis et al compared the rates of reoperation in 138 consecutive Mayo type 1 and 2 olecranon fractures (stable) and 30 olecranon osteotomies, using tension-band wiring (89 patients), plating (38 patients), and suture fixation (without any metal) (41 patients). [5] They found the reoperation rate to be significantly higher for tension-band wiring (36%) than for plating (11%) or suturing (2%). Revision fixation was required in both the tension band wiring group and the suture group.
The outcome measures in this study were number of reoperations and radiographic evidence of union. [5] The authors did not assess adequacy of reduction (malunion or malalignment), including failure to assess stepoff at the articular surface, nor did they assess shortening of the olecranon. The authors also did not evaluate functional clinical results (eg, strength, stiffness, crepitus, or the development of later arthritis).
Wenger et al compared cerclage wire fixation with tension-band wiring in elderly patients with stable displaced olecranon fractures (Mayo type 2) and found the former to yield lower reoperation rates. [16] Unfortunately, a significant proportion of their elderly, medically fragile patient population died before follow-up, and as a result, the authors were unable to assess functional outcomes. [16]
Postoperative Care
Operative management of olecranon fractures should provide sufficient fixation for immediate motion. Typically, patients are immobilized for only a brief time to assist wound healing and are then started on ROM exercises at 10 days. However, muscle strengthening is not emphasized until bone healing is visualized radiographically. Patients may return to work involving vigorous use of the extremity at 3-4 months postoperatively.
Complications
Symptomatic hardware requiring removal is the most frequent complication after internal fixation, occuring in 22-80% of patients. Hardware problems have occurred in as many as 80% of patients with Kirschner tension-band wires. Wire migration occurs with soft-tissue irritation, wire breakage, or fracture displacement. [34]
Patients must be counseled about the possibility of symptomatic hardware when internal fixation is offered. [25, 24]
Secondary surgery is performed in 41% of patients after olecranon fracture fixation. Symptomatic painful hardware is the most frequently reported indication for such surgery. Secondary surgery after olecranon fracture fixation is required more frequently after tension-band wiring than after plate fixation. There is a 13% incidence of major complications, distributed equally among techniques. Younger patients require more reoperations. [24]
Pins can migrate and protrude through the skin. [16] Although anchoring the pins in the anterior cortex during tension-band wiring helps prevent pin migration, pins that are too long can impinge on the radial neck and causing motion loss or pain, or they can damage the biceps tendon or the supinator muscle, thereby also causing pain. [32]
Hardware complications generally occur less frequently with intramedullary screw fixation. Plate and screw fixation carries a moderate risk of subsequent need for hardware removal.
An example of an olecranon fracture treated with plate fixation that required eventual hardware removal after healing is shown in the images below. Because of comminution, this specialized olecranon plate was placed more proximally than usual to obtain better stabilization of the fragments.
Loss of motion is a common problem following fractures of the elbow but is usually not a significant issue for olecranon fractures. Generally, patients lose 15° of extension and, occasionally, a small amount of supination. Motion tends to improve progressively with time for up to 2 years.
Heterotopic ossification occurs in 13-14% of patients. Reported rates of infection following operative treatment are in the range of 0-6%. Reflex sympathetic dystrophy occurs on rare occasions. Ulnar neuritis occurs in 2-12%.
Generally, nonunion occurs in fewer than 5% of patients. When nonunions are treated by internal fixation with or without bone grafting, good-to-excellent results are obtained in approximately two thirds of cases. Nonunion can occur even in patients treated nonoperatively.
An example of nonunion after closed treatment of an olecranon fracture is shown in the images below. The nonunion was successfully treated by means of double plating (for rotational stabilization).
An example of nonunion after tension-band wiring of an elderly patient is shown in the images below. Successful treatment was accomplished with olecranon fragment excision.
An example of a nonunion following intramedullary fixation of an oblique olecranon fracture is shown in the image below. The screw did not have adequate purchase in the distal medullary canal.
What would you like to print?