Workup
Radiography
Standard anteroposterior (AP) and lateral radiographs of the elbow are sufficient for evaluation of isolated olecranon fractures. Direct supervision of the x-ray process may be necessary to ensure that true AP and lateral radiographs are obtained. The radiocapitellar view may be helpful for delineation of the radial head and capitellar fractures. (See the images below.)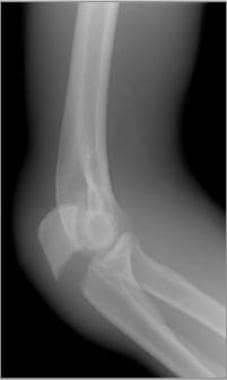 Typical relatively transverse olecranon fracture.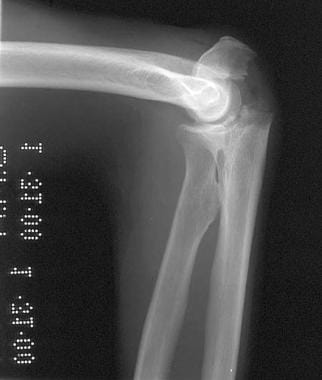 Lateral radiograph of elbow in 78-year-old man who fell on his outstretched hand. Displaced fracture of olecranon was noted.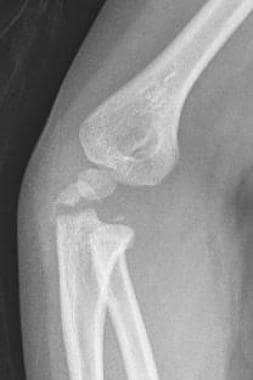 Pediatric olecranon fracture.
MRI may be necessary to diagnose an olecranon stress fracture that may not be seen on plain radiographs. [6]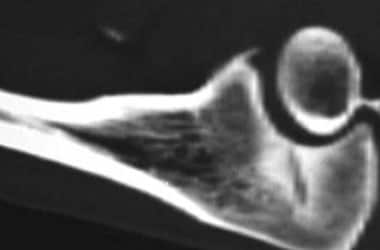 MRI showing olecranon stress fracture.
Staging
Classification helps decide treatment options. Both acute fractures and stress fractures occur. Several classification systems have been suggested for acute fractures.
The Arbeitsgemeinschaft für Osteosynthesefragen (AO)/Association for the Study of Internal Fixation (ASIF) classification, used by the Orthopaedic Trauma Association (OTA), divided these fractures into three broad categories, as follows [12] :
Type A - Extra-articular fractures

Type B - Intra-articular fractures

Type C - Intra-articular fractures of both the radial head and the olecranon
Schatzker developed a classification with six types, as follows (types A, B, and C are intra-articular fractures) [13] :
Type A - Simple transverse fracture

Type B - Transverse impacted fracture

Type C - Oblique fracture

Type D - Comminuted fracture

Type E - More distal fracture, which actually is extra-articular

Type F - Fracture dislocation
Colton developed a classification with four fracture types, as follows:
Type I - Avulsion

Type II - Oblique

Type III - Associated dislocation of the elbow

Type IV - Multisegmented
The Mayo Clinic classification specified three fracture types, as follows [14] :
Type I - Nondisplaced (12%)

Type II - Displaced but stable (82%)

Type III - Associated instability of the elbow (6%)
Benetton et al studied these four systems of classifying olecranon fractures with a view to determing their intraobserver and interobserver reliability. [15] They noted the following findings:
Colton classification - Substantial intraobserver and interobserver agreement for specialists and nonspecialists

Schatzker classification - Fair agreement for both specialists and nonspecialists

Mayo classification - Fair concordance for both specialists and nonspecialists

AO-ASIF classification - Moderate agreement for specialists; slight intraobserver agreement for nonspecialists
What would you like to print?