Treatment
Approach Considerations
The use of nonoperative versus operative interventions for calcaneus fractures remains a controversial topic. [2] Treatment goals of operative modalities include the following:
Restoration of heel height and length

Realignment of the posterior facet of the subtalar joint

Restoration of the mechanical axis of the hindfoot
With these treatment goals in mind, the following approaches have been supported. [28, 29]
Extra-articular fractures are generally treated in a closed manner. Exceptions include fractures of the sustentaculum tali with displacement of more than 2 mm, posterior avulsion fractures, and significant fractures of the calcaneal body.
Intra-articular fractures may be treated in a closed fashion, but they are more commonly treated with a combination of open reduction, ostectomy, osteotomy, internal fixation, and/or arthrodesis of the subtalar and calcaneocuboid joints. Nondisplaced (Sanders type I) intra-articular fractures are generally treated in a closed fashion. Severely comminuted (Sanders type IV) intra-articular fractures may be treated with a combination of open reduction and internal fixation (ORIF) and arthrodesis of the subtalar joint. [30]
Other factors influencing the choice between nonoperative and operative intervention include the following:
Patient age

Comorbid health conditions

Concurrent injuries
Surgery for calcaneus fractures should be delayed, ideally for 10-14 days, in the presence of significant edema or fracture blister formation. [31] Exceptions to this rule include open fractures and the presence of a compartment syndrome in the foot, which should prompt immediate surgery for appropriate intervention. [32]
In their report of a prospective, randomized study, Buckley et al suggested that the functional results after operative fixation of displaced intra-articular calcaneus fractures were better than those undergoing nonoperative treatment, in selected groups. [33] Further prospective studies are required to validate these results. [34]
Zhang et al performed a meta-analysis of seven randomized controlled trials (N = 908) comparing operative treatment of displaced intra-articular calcaneal fractures with nonoperative treatment. [35] Although correctly performed surgery yielded improvements in shoe wear and gait patterns, these benefits were countered by increases in complications (primarily wound-related). Treatment groups did not differ significantly with respect to American Orthopaedic Foot and Ankle Society (AOFAS) score, Short Form (SF)-36, return to work, rate of subsequent talar fusion, or incidence of reflex sympathetic dystrophy.
A subsequent systematic review and meta-analysis by Selim et al (13 studies; N = 1251) found that for displaced intra-articular calcaneus fractures, operative treatment had advantages over nonoperative treatment with respect to comfort of shoe wear and return to desired activity level; neither approach was shown to be superior with respect to other studied variables (eg, AOFAS score, Visual Analogue Scale [VAS] score, residual pain, and development of arthritis). [36]
Nonoperative Therapy
Nonoperative treatment of calcaneus fractures requires the cooperation of a multidisciplinary team involving an orthotist, a physical therapist, an occupational therapist, and a surgeon familiar with the pattern of injury involved.
Most extra-articular calcaneus fractures are managed nonoperatively, provided that the injury does not change the weightbearing surface of the foot and provided that it does not alter hindfoot biomechanics. [37] Severely comminuted intra-articular fractures may be managed nonoperatively, particularly when reconstruction is likely to be unsuccessful. [38]
Closed reduction may be attempted by plantarly displacing both the forefoot and the hindfoot to reverse the mechanism of injury, which allows for elevation of the posterior facet. However, this approach rarely results in durable maintenance of the reduction.
Many authors recommend short leg casting and no weightbearing for 2 weeks, followed by range-of-motion (ROM) exercises. Progressive weightbearing should begin at 8 weeks, with full weightbearing by 12 weeks.
Surgical Therapy
Multiple surgical approaches are available for treatment of calcaneus fractures, ranging from minimally invasive techniques [39, 40, 41] (eg, percutaneous fixation [22] ) to extensive open techniques. Open techniques may be performed by using medial, lateral, or combined approaches, depending on the extent of injury and the location of the fracture fragments. [42, 43, 23, 44] (See the images below.)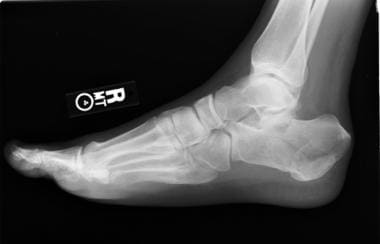 Calcaneus fractures. Avulsion-type fracture of calcaneus, sustained when patient fell 6 ft from ladder onto solid ground. Because of distraction of fracture fragments, injury was treated with open reduction and internal fixation.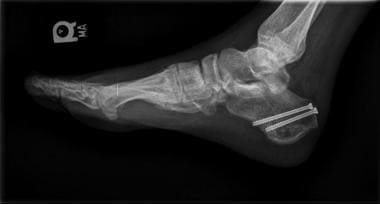 Calcaneus fractures. Status post open reduction and internal fixation.
ORIF of a calcaneus fracture is made difficult by the complex anatomy, the presence of soft cancellous bone (which is not amenable to screw fixation), and the high incidence of postoperative wound infection and breakdown.
Most reports suggest that the functional outcome is related to the accuracy of the subtalar joint reduction, the restoration of normal heel morphology, the status regarding subfibular decompression, and the implementation of postoperative measures to decrease swelling.
Operative details
Preoperatively, a comprehensive physical examination must be undertaken. One should exercise care to avoid overlooking additional injuries of the musculoskeletal system. Some 10-15% of trauma patients with a fracture of the calcaneus have a concomitant spinal injury. A full history, including documentation of preexisting medical conditions such as diabetes or vascular disease, should not be unnecessarily delayed.
A multidisciplinary team consisting of the surgeon, the anesthesiologist, and the physician who is providing preoperative clearance should all be involved in planning the procedure (if indicated). Knowledge of the relevant anatomy is important, as is having clear and comprehensive images of the injury. Thorough imaging allows for careful determination of the surgical approach and for planning of a staged procedure, if necessary.
The timing of surgery is an important factor in determining surgical success, as measured by long-term functional outcomes. Ideally, surgery should occur within 3 weeks after injury. This period allows for any swelling and fracture blisters to resolve completely, but the procedure is still sufficiently early to prevent premature healing and coalescence of the fracture fragments. In the absence of fracture blisters, the return of normal skin wrinkling is an indication that significant swelling has resolved and operative intervention may proceed.
Compared with open procedures, closed reduction with percutaneous fixation has a lower risk of wound complications, a shorter operating time, and more rapid healing because the soft tissue is handled less. [45, 46, 47] This approach is indicated in patients with significant comorbidities, soft-tissue compromise or impaired healing, or true tongue-type fracture patterns. [48] The goals of this approach include improvement of heel alignment and reduction of the posterior facet. Unfortunately, the limited exposure that this technique affords sometimes prevents adequate reduction and fixation of the calcaneal injury. If anatomic joint reduction is sought, ORIF may be a preferred option.
Calcaneal ORIF has improved as a result of enhanced preoperative evaluation with computed tomography (CT). Enhancements in equipment and surgical technique, particularly in the area of soft-tissue handling, have also improved its surgical success rates. Another valuable development has been the use of subtalar arthroscopy (as Rammelt et al described [49] ) for accurate evaluation of the posterior facet after the initial reduction is performed. [50, 51]
The most popular incision for exposure during ORIF of calcaneus fractures is an extensile lateral approach. [42] This approach allows the surgeon to visualize the entire fracture. It also allows complete reduction from the tuberosity to the anterior process and the calcaneocuboid joint. In addition, this approach permits indirect reduction of the medial wall and the sustentaculum.
The extensile lateral approach should include a full-thickness skin flap. Gentle tissue handling is a must, and adequate wound closure is equally important. Flap closure that avoids excessive tension on the skin is critical to prevent skin necrosis. [52] The use of thin plates in calcaneal fixation has significantly addressed the issue of excessive skin tension, hardware prominence, and subsequent wound breakdown.
Zwipp et al described the use of a locking nail system for internal fixation of 106 displaced intra-articular calcaneal fractures (15 percutaneously and 91 via a sinus tarsi approach), in an effort to reduce the complications associated with extensile approaches. [53] They noted a low incidence of soft-tissue complications (superficial wound edge necrosis, 1.9%; deep infection, 0.9%), improved Böhler angles (from 7.3º to 31.2º at 3 months), and good AOFAS scores (89.5 at 6 months and 92.6 at 12 months). They further noted that the locking nail was not designed to accomplish reduction and that joint congruity and calcaneal shape must be restored before nails are inserted.
A study by Zhong et al suggested that local administration of epsilon-aminocaproic acid could help reduce postoperative blood loss after ORIF in patients with closed Sanders III or IV calcaneal fractures without increasing the incidence of wound-associated complications. [54]
Postoperative Care
A small suction drain is frequently used after ORIF. This drain is typically removed when less than 10 mL of drainage fluid is collected over 8 hours.
Postoperatively, the foot is elevated with the ankle in the standard neutral position of a 90° angle between the foot and the tibia. This position is maintained for up to 72 hours to reduce postoperative swelling.
Early ROM exercises are encouraged after the surgical incision has begun healing, usually 10-12 days after surgery. A well-fitting orthosis is provided for comfort and to prevent gastrocnemius-soleus contracture. Sutures are removed at 2-3 weeks, but weightbearing is delayed for up to 12 weeks, depending on the original degree of comminution and the subsequent rigidity of the fixation.
Complications
A frequent complication of a calcaneus fracture is chronic disability due to the pain of an improperly functioning subtalar or calcaneocuboid joint. [55, 56]
Specific complications after ORIF of calcaneus fractures include the following:
Infection

Pain

Swelling

Delayed wound healing

Nonunion of the fracture fragments
Lateral impingement of the peroneal tendon can occur as a result of decreased calcaneal height. Occasionally, damage to the sural nerve occurs with a lateral surgical approach. [57]
Minimally invasive surgical approaches to calcaneus fractures may be associated with lower complication rates. [58, 59]
Long-Term Monitoring
An entire year may be required to fully assess patients for residual disability that occurs after a fracture of the calcaneus. [60, 34]
Supervised physical therapy may be of substantial benefit, both during the nonweightbearing period and during the active weightbearing recovery phase.
What would you like to print?