Presentation
History
The most typical presentation of hallux rigidus is pain on the top of the great toe in an active, middle-aged individual. In addition, patients may also complain of diffuse, lateral forefoot pain resulting from increased weightbearing on the lateral foot to offload the hallux. The pain is worse with certain activities and with certain shoes. Hallux rigidus has been associated with a history of athletic activities involving running or kicking. Whether running is a true cause of the disorder or a factor that aggravates the symptoms is not known.
Dysesthesia along the dorsomedial hallux occasionally occurs as a result of compression by shoes or stretching of the dorsomedial cutaneous nerve. Complaints of stiffness and motion loss are not common, except in adolescents, who often present with complaints of a rigid first metatarsophalangeal (MTP) joint. Dorsal pain caused by external pressure over a prominent osteophyte frequently accompanies other presentations. Diffuse arthritic pain usually occurs late and is associated with more severe degenerative changes.
Physical Examination
At physical examination, the presence of a tender dorsal osteophyte at the first MTP joint (see the images below) usually confirms the diagnosis of hallux rigidus. First MTP dorsiflexion (DF) is limited by periarticular osteophytes, and pain often occurs at maximum DF. Dorsal pain with maximum plantarflexion (PF) is common and likely represents irritation of the extensor hallucis longus (EHL) as it passes over the dorsal osteophyte. Pain and crepitus that occur throughout the entire range of motion (ROM) indicate late-stage degenerative arthritis of the first MTP joint. The patient's gait may be slightly antalgic, and limitation of MTP joint DF at toe-off may be noted.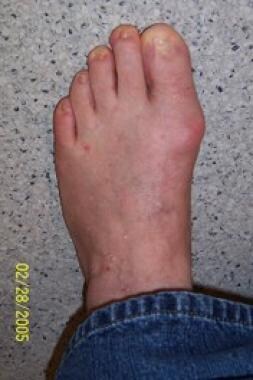 A patient who presented with a tender, palpable dorsal osteophyte at the first metatarsophalangeal joint on physical exam.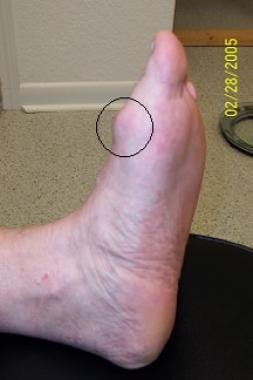 A patient who presented with a tender, palpable dorsal osteophyte at the first metatarsophalangeal joint on physical exam.
Classification
In 1988, Hattrup and Johnson described the following radiographic classification system for hallux rigidus:
Grade 1 - Mild changes with a maintained joint space and minimal spurring

Grade 2 - Moderate changes, joint-space narrowing, bony proliferation on the metatarsal (MT) head, and phalanx and subchondral sclerosis or cysts

Grade 3 - Severe changes with significant joint-space narrowing, extensive bony proliferation, and loose bodies or a dorsal ossicle
In 1999, Coughlin and Shurnas proposed a classification system based on ROM, as well as on radiographic and examination findings, as follows [19] :
Grade 0 - DF of 40-60° (20% loss of normal motion), normal radiographic results, and no pain

Grade 1 - DF of 30-40°, dorsal osteophytes, and minimal to no other joint changes

Grade 2 - DF of 10-30°, mild flattening of the MTP joint, mild-to-moderate joint narrowing or sclerosis, and dorsal, lateral, or medial osteophytes

Grade 3 - DF of less than 10°, often less than 10° PF, severe radiographic changes with hypertrophied cysts or erosions or with irregular sesamoids, constant moderate to severe pain, and pain at the extremes of the ROM

Grade 4 - Stiff joint, radiographs showing loose bodies or

osteochondritis dissecans

(OCD), and pain throughout the entire ROM
What would you like to print?