Workup
Imaging Studies
In patients with hallux rigidus, radiographs show a variable degree of degenerative changes. Early changes typically include dorsal and marginal osteophytes with well-maintained joint space. More severe degenerative changes are seen in more advanced cases. These changes include narrowing of the joint space, marginal osteophytes, sclerosis, joint irregularities, cystic degeneration, degenerative involvement of the sesamoid and/or the first metatarsal (MT) head joint, and sesamoid enlargement. (See the images below.)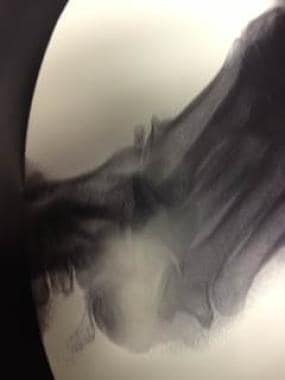 Dorsal exostoses base of proximal phalanx and first metatarsal head blocking dorsiflexion and causing impingement.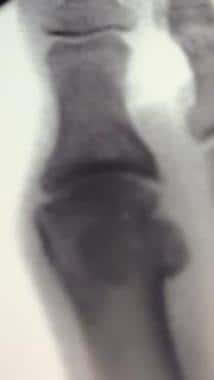 Joint-space narrowing, marginal osteophytes, and irregularity of the first metatarsal phalangeal joint.
Hallux valgus deformity can accompany hallux rigidus, though it is not common. Hallux valgus interphalangeus is more commonly seen.
Magnetic resonance imaging (MRI) may be useful in assessing for early-stage disease.
What would you like to print?