Treatment
Approach Considerations
Indications for surgery include the following:
Open fracture

Displaced fracture - Articular fragments with a gap of more than 2 mm or step of more than 1 mm; rotational malalignment

Vascular compromise

Compartment syndrome
The presence of soft-tissue swelling and/or blisters, peripheral vascular disease, and/or wound infection are contraindications for extensive surgery (eg, open reduction and internal fixation [ORIF]). External fixation with use of a hybrid frame or a cast can be used in such situations. [29]
Minimally invasive plating techniques have been introduced in the past few years, and these help to minimize soft-tissue trauma and periosteal stripping.
Use of a computed tomography (CT) C-arm intraoperatively may increase the accuracy of articular reduction.
Arthroscopy may be used intraoperatively to aid visualization of the reduction. [30, 31]
Plating of the fibula is controversial (see Surgical Therapy below).
Initial Management
Prehospital care
Prehospital care depends on other associated injuries, but if an isolated lower limb fracture is suspected, the following steps are important:
Check for any neurovascular compromise

Correct any gross limb deformity

Elevate and support the limb in a temporary splint

Cover open fractures with sterile dressings

Apply local pressure to control any active bleeding

Administer pain-relieving medication
Emergency department care
Prehospital care is administered if not previously instituted.
Antibiotic prophylaxis includes cephalexin for mildly to moderately contaminated wounds, with the addition of an aminoglycoside for highly contaminated wounds. Administer vancomycin and gentamicin if the patient is allergic to penicillin.
Leave fracture blisters intact. Once ruptured, blisters are more likely to become contaminated by skin flora.
For open fractures, obtain a digital photograph for the record before sterile dressings are applied to help minimize the number of times the dressings are taken down before definitive debridement.
Tetanus immunization status should be checked. If the patient has not been immunized or if there is gross contamination, tetanus immunoglobulin should be administered.
Radiographs are obtained and consultations requested (see Consultations below).
Medical Therapy
Pain relief is necessary. Antibiotic prophylaxis is used for open fractures and for internal fixation. Conservative treatment may be indicated in undisplaced fractures, which can be managed with cast immobilization. Some method of prophylaxis for thromboembolic disease must be utilized; however, the optimal protocol is unknown. The method to be employed should be decided on and implemented through discussion with all involved providers. [32]
General Surgical Considerations
Timing of surgery
Poor timing is associated with poor outcomes. Soft tissues must be ready for the second insult dealt by surgery. [29]
The nature and timing of surgery are based on the following:
Duration elapsed from the time of injury

Condition of the soft tissues

Presence of any other additional injuries

Presence of open wound or vascular compromise
Open fractures necessitate urgent and thorough debridement. In the case of vascular injury or compromise, vascular surgery is needed to restore blood flow. If adequate soft-tissue cover cannot be achieved, plastic surgery is required.
Stabilization of fracture
Definitive surgery to restore the fragments and stabilize the fracture is delayed to allow soft tissues to recover from the traumatic injury. Adding surgical insult to already injured or compromised soft tissues leads to a higher incidence of wound complications and poor outcomes; therefore, surgical intervention is staged. [33, 34, 35, 36]
Preliminary stabilization is usually achieved with an external fixator, with or without fixation of the fibular fracture. [37] This is performed in the presence of soft-tissue swelling (see the image below). It helps with pain relief and in the resolution of soft-tissue swelling. It helps dressing changes and wound healing in open fractures. It prevents length-countering contractures in soft tissue, which can make subsequent surgery difficult.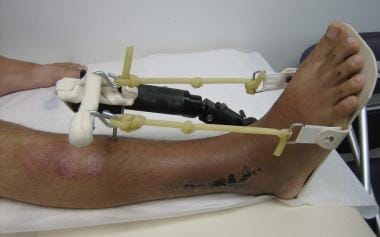 External fixator stabilizing pilon fracture. Swelling has resolved, and blisters have healed.
The aim is to maintain alignment, not necessarily at this stage itself, to accurately reduce the articular surface. When pin-site placement is considered, further surgery (eg, rotational flaps or incisions for ORIF) must be considered. Excessive distraction at the ankle joint is avoided because it can cause traction neuropathy and compartment syndrome.
Definitive surgery is undertaken when the condition of the soft tissues is optimized. This is usually when the blisters have epithelized or healed and the skin is wrinkled.
Several options are available to help reduce extremity swelling after trauma. Schnetzke et al conducted a prospective randomized controlled study (N = 100; dislocated ankle fracture, n = 40; pilon fracture, n = 20; intra-articular calcaneal fracture, n = 40) comparing vascular impulse technology (VIT) with elevation for reducing swelling in lower-extremity joint fractures. [38] The primary endpoint was the time from admission until operability. Across all three fracture groups, the mean time until operability was 8.2 days with VIT and 10.2 days with elevation; in the pilon fracture subgroup, this figure was was 9.8 days with VIT and 12.5 days with elevation.
Many options for definitive surgery are available, including the following [39, 40] :
ORIF

External fixation (either spanning the ankle or not)

Limited internal fixation with external fixation

Percutaneous plating
Surgical Therapy
Preparation for surgery
Consent is essential and includes a fully informed discussion to explain the nature of the injury; the options, risks, and benefits; the need for bone grafting; the likely rehabilitation plan; the potential for amputation, either acutely or in the future; and the prognosis.
Careful and detailed planning of the procedure, based on findings from radiography and CT, is necessary to anticipate any difficulties and save time. Determine (1) the sequence and strategy for reducing and stabilizing the fragments and (2) the choice of implants and alternatives.
The surgery is performed on a radiolucent table with a fluoroscope and portable radiograph machine available. Antibiotic prophylaxis is administered at the time of anesthesia induction.
Positioning
The procedure is performed with the patient placed supine with a bump under the ipsilateral hip; this allows access to both sides of the ankle. The opposite leg heel is elevated to relieve pressure on the calf and prevent deep vein thrombosis. All bony prominences are padded.
A thigh tourniquet placed after elevation helps achieve exsanguination for a bloodless field. In addition to the extremity, the iliac crest area should be prepared and draped in a sterile fashion in case a bone graft is required.
Choice of surgical approach
The surgical approach depends on the fracture pattern, the method of stabilization, and the implant choice. Essentially, the aim is to restore the tibial articular surface and stabilize the articular block to the metaphysis in an anatomic alignment. Restoration of fibular length may aid in this process. [41]
Percutaneous or minimally invasive fixation
The articular fragments can be reduced by closed techniques or through minimally invasive methods by using Kirschner wires (K-wires) to "joystick" them into position. Once they are aligned, cannulated screws can be inserted under fluoroscopic guidance. This percutaneous technique, as described by Syed and Panchbhavi, can be used in minimally displaced fractures. [42] An arthroscope may also be used for visual confirmation that reduction is satisfactory.
If a satisfactory reduction of the articular surface is obtained, the articular block can be stabilized to the metaphysis and held in acceptable anatomic alignment by means of external fixation. However, this method of percutaneous reduction and stabilization is not suitable for fractures with significant comminution or die-punched articular fragments; this would require open reduction (see the images below).
A cadaver study by Graves et al evaluated the use of lateral intraoperative fluoroscopy to assess reduction of the tibial plafond articular surface after malreductions were created by displacing a 5-mm osteochondral segment. [43] Even on a perfectly lateral fluoroscopic image of the ankle, it was difficult to discern rotational or translational displacement of a 5-mm osteochondral fragment. Thus, even with what appears to be a perfect lateral fluoroscopic view intraoperatively, displacement may still be present. When small osteochondral fragments are present, direct visualization of the articular surface is necessary to confidently establish that an anatomic reduction has been achieved.
Open technique
The location and number of incisions for an open approach is best decided on the basis of the fracture pattern. However, most often, an anteromedial incision overlying the distal tibia just lateral to the tibial crest and following the tibialis anterior tendon provides adequate exposure for open reduction of the tibial articular fragments. Do not create skin flaps, but dissect down to the bone, staying medial to the tibialis anterior and in the fracture plane.
This incision is similar to the incision used in total ankle replacement, and, if reasonable restoration of the ankle is achieved and the ankle becomes arthritic at some point in the future, ankle replacement remains an option. Similarly, just as in total ankle replacement, avoid any tension on the skin. Place one or two deep retractors to open up the deep soft tissue for visualization, but take care to ensure that the retractors do not rest against or apply tension to the skin.
A pilon fracture with a large posterior fragment deserves special attention. Accurate reduction of the posterior fragment, especially the proximal displacement and rotation, can be difficult through anteriorly placed approaches. In such situations, a posteromedial approach between the posterior tibialis and flexor digitorum longus tendons or a posterolateral approach in between the peroneal and the Achilles tendon provides direct visualization not only for anatomic reduction but also for application of a posterior plate, which serves as a buttress.
Reduction of fracture fragments
The anterior lateral and medial fracture fragments are held apart to visualize the impacted central fragments and the posterior fragment. Sometimes, the posterior fragment must be derotated in the sagittal plane and held temporarily with K-wires. If any central fragments are impacted, they must be disimpacted, and the resulting cavity in the metaphysis is grafted with bone using an autogenous graft. This can be augmented with synthetic substances such as calcium sulfate, which will set fast and provide some immediate stability for the screw fixation. Then, the anterolateral fragment and medial fragment are restored and held temporarily with K-wires.
Internal fixation
Cannulated screws over washers can be inserted in the appropriate direction in a lag-screw fashion by using fluoroscopic guidance in different planes to assess proper placement across fracture planes and into intact bone. Once the articular block is adequately reduced, it is stabilized to the metaphysis.
Stability of both the medial and lateral columns is important to prevent a varus or valgus deformity. Also important is stability in the sagittal plane. Often, comminution is present in the anterior cortex of the distal tibial metaphysis and at the junction of the metaphysis and diaphysis. Collapse of the anterior column can result in recurvatum deformity.
Internal fixation, external fixation, or both can be used to provide stability to the medial, lateral, anterior, and posterior columns of the tibia. [44, 45] The choice of fixation depends on the condition of the soft tissues and the experience of the surgeon. [46]
For internal fixation, a low-profile contoured plate can be introduced over the medial aspect of the tibia through the existing exposure and advanced percutaneously proximally into the metaphysis, thus limiting the soft-tissue stripping over the bone and limiting soft-tissue injury (see the images below). A smaller anterolateral tibial plate may also be necessary to reduce and hold the anterolateral column out to length.
A study by Yenna et al found that distal tibia extra-articular fractures stabilized with anterolateral or medial locking plate constructs demonstrated no statistically significant difference in biomechanical stiffness during compression and torsion testing in a saw-bone pilon fracture model. [47]
Locking contoured plates have threads within the screw holes that engage heads of screws to create a fixed-angle construct that improves fixation in osteopenic bone and multifragment fractures. They also have a broader distal end, providing more than a single hole along the width of the plate and thus providing additional purchase in the shorter distal cancellous metaphyseal fragment.
External fixation
An external fixator can also be used to stabilize and align the reconstructed articular block to the metaphysis. The fixator may span the ankle joint and incorporate the foot to give additional stability to the reconstruction, but this limits ankle movement.
A nonspanning fixator allows for early range of motion (ROM) and cartilage nutrition, and it limits arthrofibrosis. A variety of external fixator frames are available, but a hybrid fixator is commonly used. [48, 49]
The wires used should be inserted carefully so as not to damage any tendons or neurovascular structures. [50] Usually, one wire is passed through the articular block from posterolateral to anteromedial, starting just anterior to the fibula or through the fibula if the fibula is not plated. To avoid injury to peroneal tendons and the sural nerve, it should not be started posterior to the fibula. A second wire is passed in a posteromedial-to-anterolateral direction, starting in the posteromedial aspect of the tibia anterior to the neurovascular bundle.
The wires are placed parallel to and approximately 20 mm proximal to the ankle joint. Olive wires can be used to aid compression across fracture planes or to hold alignment. A ring is attached to the proximal aspect of these wires.
Two 5-mm half pins are inserted in the tibia proximal to the fracture in a sagittal plane. Carbon fiber rods link the half pins to the ring, and the attachments are tightened after reduction of any malalignment, which is checked using fluoroscopy and confirmed with plain radiography.
Fibular plating
Fibular fracture fixation is also important. It may be used to restore the length of the lateral column of the tibia indirectly via ligamentotaxis on the Chaput fragment anterolaterally and the Wagstaffe fragment posteriorly. It also provides additional strength to the entire reconstruction, especially if some screws are directed into the tibia and through the fibular plate. It helps to prevent valgus deformity. [51]
The incision to fix the fibula should be positioned slightly posterior to the lateral aspect in order to maximize the width of the skin bridge between this incision and the one on the tibia.
Problems can arise with the fibular plating. A straight or noncontoured plate can push the tibial articular fragment medially and can resist reduction.
Anatomic restoration of length, contour, and axial rotation of the fibula can be challenging in cases of severe comminution or segmentation of the fibula. Restoration of fibular length is difficult without plating the fibula. However, when an external fixator is used in such a way that it incorporates and distracts the talus, it can indirectly restore fibular length by applying traction on the fibula through the intact talofibular ligaments.
Also, some overall symmetrical shortening of both the tibia and fibula is acceptable. In fact, shortening is preferred if restoration of the leg length by just a few centimeters means a more extensive surgery with devitalization of fracture fragments.
Biz et al reported a retrospective, observational, case series study on medium-long-term radiographic and clinical outcomes after surgical treatment of intra-articular tibial pilon fractures by three different techniques. [52] In this study, 94 articular pilon fractures (34 type 43-B, 60 type 43-C) were evaluated with a mean follow-up of 56.34 months (range, 33-101) after either ORIF (n = 63 [67%]), minimally invasive plate osteosynthesis (MIPO; n = 17 [18.9%]), or external fixation (n = 14 [14.1%]).
According to Ovadia and Beals' criteria, good results were reported in 61 cases (64.89%), fair results in 26 (27.66%), and poor results in seven (7.45%). [52] Mean American Orthopaedic Foot and Ankle Society (AOFAS) score was 82.41 for MIPO, 79.83 for ORIF, and 50.57 for external fixation. Early or late complications were noted in 39 patients (41.49%). Radiographic outcomes were inversely proportional to the fracture comminutions and were statistically different between internal and external osteosynthesis but comparable between ORIF and MIPO techniques. On the other hand, clinical outcomes were closely related to soft-tissue conditions and the anatomic reconstruction of the joint.
In a systematic review and meta-analysis of five studies (239 fractures), Malik-Tabassum et al compared postoperative outcomes of ORIF with those of circular external fixation (CEF) in the treatment of tibial plafond fractures. [53] Rates of nonunion, malunion, superficial infection, deep infection, and secondary arthrodesis did not differ between the two groups. ORIF was associated with a higher rate of unplanned metalwork removal and a lower rate of posttraumatic arthritis. CEF was associated with lower functional outcome scores in one study but not in three others. There was an overall preference for treating more severe injuries with CEF. Both procedures were found to be acceptable treatment options.
Wound closure
Meticulous soft-tissue handling is important throughout the surgery. The anterior joint capsule is closed, but the anterior tibial fascia is left open to prevent postoperative compartment syndrome.
Skin should be closed under no tension. The tibial wound is closed first. The preferred technique is an Allgöwer modification of the Donati stitch that uses nylon or polypropylene suture and that has the knots on the lateral flap of the tibial wound.
If necessary, the fibular wound can be left open and closed after a few days. Sterile dressings are used to cover incisions and wounds, but the pin sites for a frame are left open.
A well-padded, below-knee, posterior splint reinforced with two side splints is applied with the ankle held at 90°.
Postoperative Care
Vascularity and sensation in the toes is documented in the immediate postoperative period.
Postoperative analgesia is administered as required, usually with a patient-controlled device. Another alternative is the continuous popliteal block, which is also used for anesthesia at the time of surgery. Given that compartment syndrome is a clinical diagnosis, the role of regional anesthesia must be considered carefully; it may interfere with the ability to detect compartment syndrome.
The leg is kept elevated. Regular observations are made to ensure early detection of a compartment syndrome. Active exercises are encouraged, and antithrombotic measures are instituted as necessary.
Patients are discharged home when comfortable. They should not bear weight on the operated leg until advised to do so.
Complications
The rate of severe complications after ORIF of tibial plafond fractures ranges from 10% to 55%; some of these complications can lead to amputation. [7, 29]
Soft-tissue complications include the following:
Wound dehiscence

Superficial skin necrosis at suture line

Full-thickness skin loss

Wound infection

Damage to superficial nerves, neuroma, hypersensitivity, or chronic regional pain syndrome
Bony complications include the following:
Pin-track infection

Avascular necrosis of fragments devitalized by injury or surgery

Malunion leading to deformities; these can be in single or multiple planes such as a varus, valgus, recurvatum, procurvatum, rotation, or shortening of the tibia and/or the fibula

Articular incongruity

Posttraumatic arthritis
An open-label randomized clinical trial conducted by the Major Extremity Trauma Research Consortium (METRC) enrolled 980 patients with an operatively treated tibial plateau or pilon fracture who met the criteria for a high risk of infection and followed them for 12 months. [54] The patietns were treated according to a standard infection prevention protocol either with (n = 481; treatment group) or without (n = 499; control group) 1000 mg of intrawound vancomycin powder. The primary outcome was a deep surgical-site infection (SSI) within 182 days of definitive fracture fixation; secondary outcomes included superficial SSI, nonunion, and wound dehiscence.
Within 182 days, deep SSI was observed in 29 of 481 patients in the treatment group and 46 of 499 in the control group. [54] The time-to-event estimated probability of deep SSI was 6.4% in the former and 9.8% in the latter. Post-hoc analysis of the effect of vancomycin powder on gram-positive and gram-negative-only infections indicated that the treatment effect was due to reduction of gram-positive infection. The study concluded that for patients with operatively treated tibial articular fractures at a high risk of infection, intrawound vancomycin powder at the time of definitive fixation reduced the risk of a gram-positive deep SSI.
In a retrospective case-control study, Spitler et al examined risk factors for deep infection in 150 patients who underwent operative treatment of OTA/AO 43C pilon fractures. [55] The outcomes measured were as follows:
Deep infection - The overall rate of deep infection was 16.7%

Patient demographics - Deep infection was not associated with body mass index, tobacco use, or diabetes

Gustilo-Anderson classification - Gustilo-Anderson type 3A and 3B fractures were significantly more common in patients with infection, but the overall open fracture rate did not differ significantly between groups

Location of open fracture wounds - Medial and anterior locations were significantly associated with deep infection, but lateral location was not

Surgical approaches - In closed fractures, anteromedial and anterolateral approaches were not significantly associated with deep infection, but a posterolateral approach was
In this study, the only independent risk factors for deep infection were segmental bone loss and the need for soft-tissue coverage. [55] High-grade open pilon fractures were found to be at risk for deep infection, with medial or anterior open fracture wounds particularly vulnerable. Anteromedial or anterolateral surgical approaches should be chosen on the basis of the fracture pattern and the degree of soft-tissue injury; the posterolateral approach should be used with caution. Factors related to the injury itself appeared to be the most important variables driving deep infection.
A prospective study by Willey et al demonstrated significant early joint-space narrowing in 20 patients with surgically treated intra-articular tibial pilon fractures by using weightbearing CT scans obtained 6 months after injury. [56] Joint space was measured by four reviewers at nine discrete regions of the tibiotalar articulation on sagittal images. The mean tibiotalar joint space was found to be 21% less in the injured ankles than in the contralateral uninjured ankles. The largest decrease in joint space between the injured and uninjured ankles was seen in the middle-lateral and middle-central regions of the joint.
Implant-related complications include the following:
Loosening

Failure or breakage of metal

Infection
Sommer et al performed a study aimed at defining parameters that could better assess the reduction quality and at investigating the influence of reduction quality on functional outcomes. [57] Patients with unilateral pilon fracture of AO/OTA type 43-B or 43-C were consecutively recruited to the study and followed for 2 years after surgery. Postoperative radiographs of the injured and contralateral joints were evaluated and 13 radiologic parameters measured by two independent surgeons. The reliability of the measurements for each parameter was assessed by the Intraclass Correlation Coefficient (ICC), and four parameters with the highest ICC scores were deemed most reliable and were selected for further analysis.
Functional outcome was assessed by using the Foot and Ankle Ability Measure (FAAM) for daily living and sports activities. [57] The four most reliable radiologic parameters, together with three possible baseline confounders (age, AO/OTA fracture type, and open vs closed injury), were subjected to both univariate and multivariate analysis for their association with the FAAM scores. Secondary outcome measures, including pain, ankle range of motion (ROM), quality of life (QoL), and adverse events, were also reported.
Length of the lateral malleolus (LLM), anterior distal tibia angle, anterior talar shift, and length of the medial malleolus had the highest reliability scores on ICC assessment (0.76, 0.72, 0.58, and 0.45, respectively). [57] Only LLM exhibited a statistically significant association with the 2-year FAAM results. At 2-year follow-up, the injured joints achieved an average ROM of 70.7% as compared with the contralateral joints, and patients did not regain preinjury QoL overall. Multivariate analysis showed that LLM (independent of age, AO/OTA fracture type, and open vs closed injury) was a reliable indicator of reduction quality and a prognostic factor for patient outcome in pilon fracture surgery.
Consultations
Consult an orthopedist.
Consult a plastic surgeon when soft tissues are lost, compromising cover over exposed bone and/or tendons.
Consult a vascular surgeon. Blood flow to the foot may be compromised in the case of severe deformity. If it is not restored and/or if an open wound with vascular injury is present, angiography may be necessary along with involvement of the vascular surgeon.
Long-Term Monitoring
Pin-site care requires daily irrigation and regular removal of any crust to prevent pin-site infection.
The incision sites are inspected at 1 week, and sutures are removed when incisions have healed, in approximately 2 weeks. The temporary splint is changed to a cast at this stage.
Depending on the stability and type of fixation, ankle range-of-motion exercises are started as soon as feasible.
Fracture alignment and healing are checked with serial radiography.
Weightbearing is not commenced until plain radiography demonstrates evidence of bony healing.
In patients with preexisting peripheral neuropathy, such as patients with diabetes mellitus for more than 10 years, prolonged protection in a removable cast or a boot is necessary to prevent late displacement, refracture, or both.
What would you like to print?